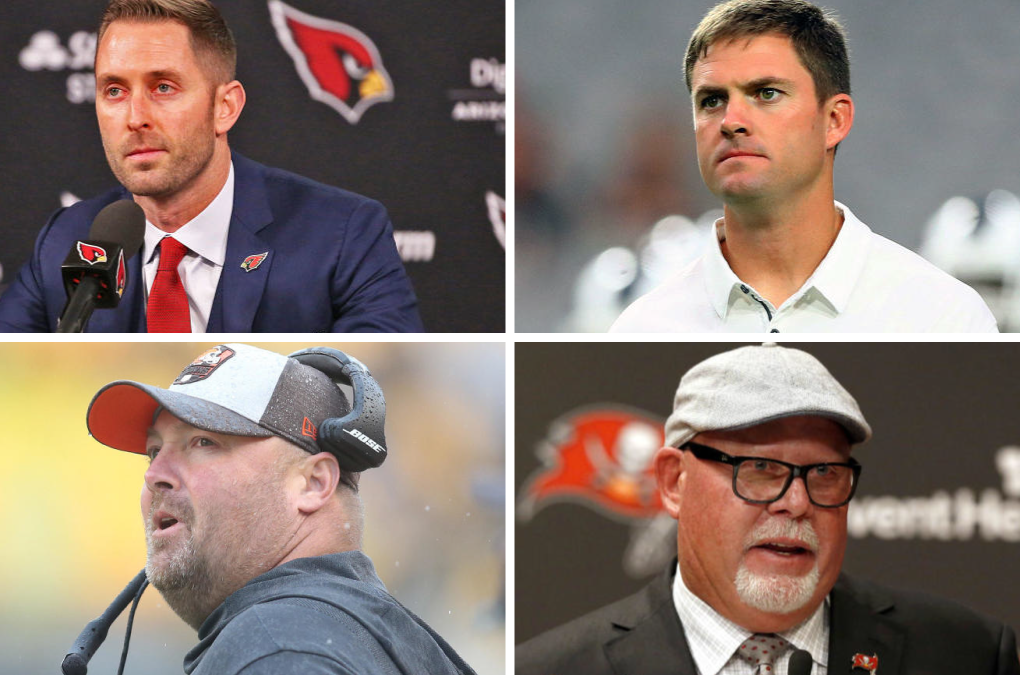 Profiling the First-Year Head Coaches of the 2019 Season
After a string of fresh-faced coaches found early success like Doug Pederson, Sean McVay, and Matt Nagy, franchises around the NFL began to feel the pressure to find their next gridiron, mad scientist. It wasn't long until several teams took action.
Out of the 15 worst ranked teams in the NFL, seven pulled the trigger. In total, eight teams, or 25% of the league, will be starting the season with a new head coach.
Freshman Head Coaches
Vic Fangio – Denver Broncos
Brief Bio: Vic Fangio's first coaching job came in 1979. Besides his year as Stanford's defensive coordinator (2010), Fangio's been in the NFL since 1986. During that time he has either been a linebackers coach or a defensive coordinator, most recently with the Chicago Bears (2015-2018).
In the 2018 season, Fangio won the AP NFL Assistant Coach of the Year award. Under his leadership, the Bears' defense was ranked first in points allowed and third in yards allowed. Prior to his time with the Bears, he helped the Panthers reach the NFC Championship game as defensive coordinator.
State of the Team: Behind Tim Tebow and then Peyton Manning, Denver won their division for five consecutive years (2011-2015). Since then, the Broncos haven't finished better than third in the AFC West. In the 2017 season, they were outscored by 97 points. Fangio will be the third head coach of the Broncos in the last four seasons. Most recently booted was Vance Joseph, who finished with an overall record of 11-21.
Behind Von Miller, Bradley Chubb, and Todd Davis, Denver's defense was high-average last season. Denver's offense didn't give them much help with an average drive consisting of 5.63 plays and lasting for 2:30. Undrafted rookie RB, Phillip Lindsay, quickly became the focal point of the franchise finishing the year with 1,037 rushing yards and ten total touchdowns.
In a trade with the Baltimore Ravens, the Broncos acquired veteran QB, Joe Flacco.
Brian Flores – Miami Dolphins
Brief Bio: From 2004 to 2018, the entirety of Brian Flores' football career was spent with the New England Patriots, up until his hiring by the Miami Dolphins. Chronologically, in those 15 seasons, Flores served as a scout, special teams assistant, offensive assistant, defensive assistant, safeties coach, linebackers coach, and defensive play caller. Flores is also the proud owner of four Super Bowl rings during his time in Foxborough.
In Super Bowl XLIX, Malcolm Butler picked off what would have been a game-winning touchdown by Seahawks' QB, Russell Wilson. Flores was one of the defensive minds, along with Ernie Adams (research director) who had prepared the Patriots' secondary for a play such as the one Butler found himself in.
In 2018, the Patriots were ranked seventh in points allowed and were the third-least penalized defense in the league.
State of the Team: The Miami Dolphins find themselves at the beginning of a rebuild. After trading QB, Ryan Tannehill to the Tennessee Titans, Miami signed Ryan Fitzpatrick to a two-year, $11 million contract that is littered with incentive bonuses. While Fitzpatrick can win games, by no means is he the future of the team.
Fitzpatrick will serve the role as stand-in quarterback as Flores becomes familiar to his new role and the Dolphins begin to fill in the missing pieces. Ultimately Miami's main mission will be finding their next shot-caller. *See 'Adam Gase' section for more
Patriots opponents could never be sure what defense Brian Flores would throw at them in 2018. Flores is importing that philosophy to Miami for 2019. Strap yourself in. https://t.co/wcMdj8VxwU

— Hal Habib (@gunnerhal) March 26, 2019
Kliff Kingsbury – Arizona Cardinals
Brief Bio: Kingsbury, a former QB, was selected by the New England Patriots in 2003. After hanging up his pads in 2007, Kingsbury began his coaching career in 2008 at the collegiate level. After serving as Texas Tech's head coach from 2013-2018, the Cardinals called his number.
During his time at Tech, he coached both Baker Mayfield and Patrick Mahomes; both credit him for much of their development.
State of the Team: With Kliff Kingsbury's expertise and focus in the aerial attack, current QB, Josh Rosen's future has come into question. Rosen was selected in the 2018 NFL draft and failed to meet any of his projected benchmarks. Reports have circulated that the Cardinals could draft Kyler Murray to replace Rosen.
Outside of the QB position, WR Larry Fitzgerald and RB David Johnson will be returning for another season. Without Johnson's 940 rushing yards, and Fitzgerald's 734 receiving yards, the Cardinals had only 402 rushing yards and 2,150 receiving yards. In short, Arizona has a long road of restructuring ahead of them.
Freddie Kitchens – Cleveland Browns
Brief Bio: A Crimson Tide great, former QB Freddie Kitchens started his coaching career at Glenville State in 1999. Kitchens made his way to the NFL in 2006 via the Dallas Cowboys as their tight end coach. From 2007-2017, he acted as TE, QB, and running back coach at various points. In 2018, he signed with the Cleveland Browns as an associate head coach and running backs coach.
After the Browns' coaching shakeup midway through the season, Kitchens was promoted to offensive coordinator. His familiarity with both Baker Mayfield and the Browns' facility and culture will serve him well in his transition to head coach.
Kitchens has coached under Nick Saban, Bill Parcells, and Bruce Arians, to name a few.
State of the Team: The Cleveland Browns have the fifth-best Vegas odds to win the Super Bowl in 2020. Their offensive infantry includes Baker Mayfield, Jarvis Landry, Odell Beckham Jr, Nick Chubb, and David Njoku. Their defensive squad is nearly as lethal. Defensive end, Myles Garrett, led the team in approximate value, finishing the season with 13.5 sacks and 44 combined tackles.
Matt LaFleur – Green Bay Packers
Brief Bio: In 2008, LaFleur made his first entrance into the NFL with the Houston Texans as their offensive quality control coach. From 2015-2016 he was the Falcon's QB coach followed by offensive coordinator positions with the Rams (2017) and Titans (2018).
During his time with the Falcons, QB Matt Ryan won a league MVP and led Atlanta to a Super Bowl. In LA, LaFleur's offense was ranked first in points scored, and sixth in passing touchdowns. LaFleur saw less success in Tennessee in part due to an injured starting quarterback.
State of the Team: After a disappointing 2017 season when QB, Aaron Rodgers, went down injured, the 2018 season equally disappointed. Green Bay missed the playoffs with a 6-9-1 record. 2018 marked the first season in Rodgers' career as a starter, since his first, where the Packers finished below .500.
The head coaching switch for some felt long overdue; Mike McCarthy had been the head coach since 2006, winning one Super Bowl. The shift in head coaches to a predominantly pass-heavy, Sean McVay product is tailored for Rodgers. However, the Packers' front office will need to stay busy strengthening both sides of their roster if they want to be contenders in the near future.
When new Packers' HC Matt LaFleur talks to Aaron Rodgers next week at the start of the offseason program, it will be only their second-ever face-to-face meeting. This is LaFleur on their first: 👇https://t.co/xN21ct4wQC

— Adam Schefter (@AdamSchefter) April 2, 2019
Zac Taylor – Cincinnati Bengals
Brief Bio: Another product of the Sean McVay coaching tree, Zac Taylor worked for the LA Rams from 2017-2018. Prior to the Rams, he worked as a QB coach and offensive coordinator for the Miami Dolphins from 2012-2015. Both Taylor and Kingsbury played for the Winnipeg Blue Bombers in 2007 at the QB position.
As the Rams' QB coach last season, he helped improve Jared Goff's QBR from 52.1 in 2017 to 65.4 in 2018. Goff also threw for nearly 1,000 additional yards compared to 2017.
State of the Team: Marvis Lewis was the ninth coach in Bengals history and led the franchise for 16 seasons. In that time the Bengals made seven playoff appearances and had seven winning seasons along with four seasons with six or fewer wins. Never did the Bengals advance past the Wild Card round in those seven postseason runs.
Last season the Bengals arguably had the worst defense in the NFL. They allowed the most yards per game and the third most points per game. In regards to talent, the Bengals have one of the most dangerous WRs in A.J. Green, a dominant RB in Joe Mixon, and an average QB in Andy Dalton. As is with several teams in this list, a long rebuilding process is head of these coaches.
Veteran Head Coaches
Adam Gase – New York Jets
Brief Bio: Since his college days, Gase skipped the pads and went right for the clipboard. While a student at Michigan State, Gase worked as an assistant to the coaching staff. After graduating in 2000, Gase packed his bags to follow Nick Saban to LSU. Gase entered the NFL first with the Detroit Lions before moving around. Eventually, he made his way to the Denver Broncos.
After serving two years as the WR coach and three years as QB coach, Gase was named offensive coordinator in 2013. During the 2013 season under Gase's leadership, the Broncos set the NFL record for points scored by a team in a season.
Gase's first head coach promotion came in 2016 with the Miami Dolphins. In his three seasons with Miami, Gase finished with a 23-25 regular season record. His first season as HC, in 2016, resulted in the Dolphins' first playoff appearance since 2008. Despite having talents like Jarvis Landry and Danny Amendola, Gase couldn't find a way to win consistently with Ryan Tannehill.
2019 will be Gase's fourth consecutive season as a head coach in the AFC East.
State of the Team: The Jets fired their former head coach, Todd Bowles, after finished last in the AFC East for three consecutive seasons. Bowles spent a total of four years in New York as head coach. In the 2018 NFL Draft, the Jets selected QB, Sam Darnold followed by the Le'Veon Bell free agency signing almost a year later.
Measured in yards acquired and allowed, the Jets had the 29th ranked offense, and the 25th ranked defense in 2018. New York will hope to make their first playoff appearance since 2010 behind Gase, Darnold, and Bell.
Adam Gase was very thoughtful and insightful with his answers this morning. My biggest takeaways: CJ Mosley's leadership was a huge factor in his signing. He is excited about offense's potential. Every practice is going to be like a game between the O and D.

— Brian Costello (@BrianCoz) March 26, 2019
Bruce Arians – Tampa Bay Buccaneers
Brief Bio: Bruce Arians' football life would need to be written in chronicles. His coaching career began while Gerald Ford was in the oval office. Arians' has held fifteen different coaching titles and is the only interim head coach in NFL history to win Coach of the Year. He's won two Super Bowls his trademark saying is, "no risk-it, no biscuit."
After serving as interim head coach of the Colts in 2012, Arians led the Cardinals from 2013-2017. During his five years in Arizona, the Cardinals made it to the playoffs twice, and in 2015 had the first-ranked offense in yards acquired. In 2014, he won the AP Coach of the Year award for the second time.
Arians' NFL head coaching record combined is 58-33-1. As an assistant coach, Arians won two Super Bowls with the Pittsburgh Steelers. His first was as their WR coach in the 2005 season, and then as offensive coordinator in 2008.
State of the Team: Except for 2016 when the Bucs were 9-7, Tampa Bay hasn't had a winning season since 2010. They haven't won their division since 2007; in fact, over the last 11 seasons, Tampa Bay has been dead last in the NFC South. Arians will be replacing Dirk Koetter who had the job for three seasons. Koetter's total point differential during those seasons was -130.
Last season, the Buccaneers were ranked first in offensive passing yards and fourth in passing attempts. In contrast, they 29th in rushing yards and 22nd in rushing attempts. Tampa Bay will look to Arians to balance their offensive attack, along with some personnel additions, specifically in the backfield.
Photo Credit
Featured image courtesy of Smashdown Sports News (K. Kingsbury; Z. Taylor; F. Kitchens; B. Arians) via Flickr
Stay informed, follow our NFL Department and Lauren on Twitter for upcoming stories and news!
Subscribe to get the latest news from TSJ at the TSJ 101 Sports TV YouTube channel!