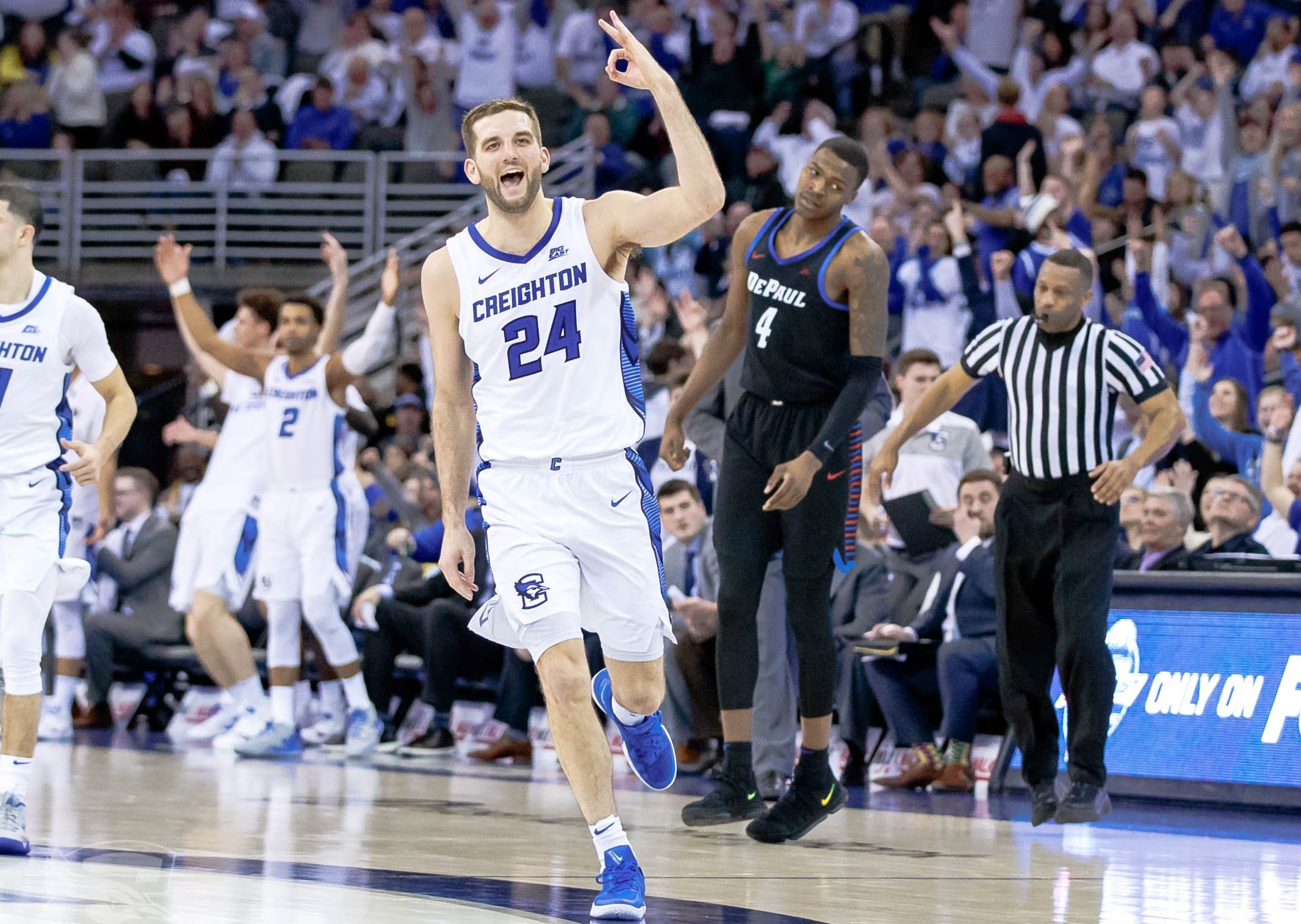 Mitch Ballock
Mitch Ballock, shooting guard for Creighton University, came into the 2018-2019 campaign fresh off of Big East All-Freshman honors. The 6'5″ sweet stroking southpaw is averaging 11 points, three assists and four rebounds per game. Mitch has been especially effective from three-point range. He currently sits second in the Big East at 43% from deep. The former Gatorade Kansas Player of the Year brought with him tons of expectations. Luckily for Coach McDermott and the Bluejays faithful, Mitch is here to deliver!
Tough Love
Mitch discovered his love for basketball on a 20-by-30 foot slab located in his backyard. Being the youngest of four brothers forced Ballock to become acclimated to playing above his age group with what his father explained as tough love. No open jump shots, and no easy layups. Here is where Ballock was able to hone his craft and prove he had what it takes to "hang with the older kids."
Early Bird Gets the Worm
Ballock's athleticism was apparent from an early age. In sixth grade, Mitch was already dunking a basketball. This led to Creighton University offering a scholarship a year before his Varsity debut. Blue Jays head coach Greg McDermott reached out to Mitchell's AAU coach before the scholarship was offered. McDermott did not want the early scholarship offer to deter Mitchell from continuing to work on his game. However, as coach McDermott would soon find out, Ballock was a gym rat. Scholarship or not, working on his game was what Mitchell was all about. Due to McDermott's early contact with Ballock, he was able to land the four-star recruit. Equally impressive was the ability to keep a school such as Kansas from flipping Mitchell, who ended up being a Top 50 recruit upon graduation.
Big East Record
Creighton University has been given new life thanks to a five-game winning streak coming into the Big East Tournament. Winning streaks of this magnitude don't occur without some big-time performances. None bigger then Ballock's performance in the last regular season game of the year against Depaul. Mitch shot 12-of-14 overall from the floor and 4-of-5 from the charity stripe. Those numbers alone would seem like a great night at the office. However, in the process of a career-high 39 point performance, he managed to drain 11-of-12 three-pointers! Not only is that a record for Creighton but the Big East as a whole. Mitch is also the only guy in the last nine years to score 39+ points on 14 shots or less with less than 10 free throws made.
What the Future Holds
Creighton is now looking to make a deep run into the NIT Tournament. Mitch will look to continue his growth as both a player and team leader for the Bluejays. Ballock made a considerable jump from his freshman to sophomore year. Expect the same going into his junior year with the potential to garner All Big East honors. Creighton might very well be invited to the big dance next year, and Mitch Ballock will be a big reason why!
Written by Joseph Osuna
Follow us on YouTube and Twitter
Photo Credit
@BluejayMBB via Twitter