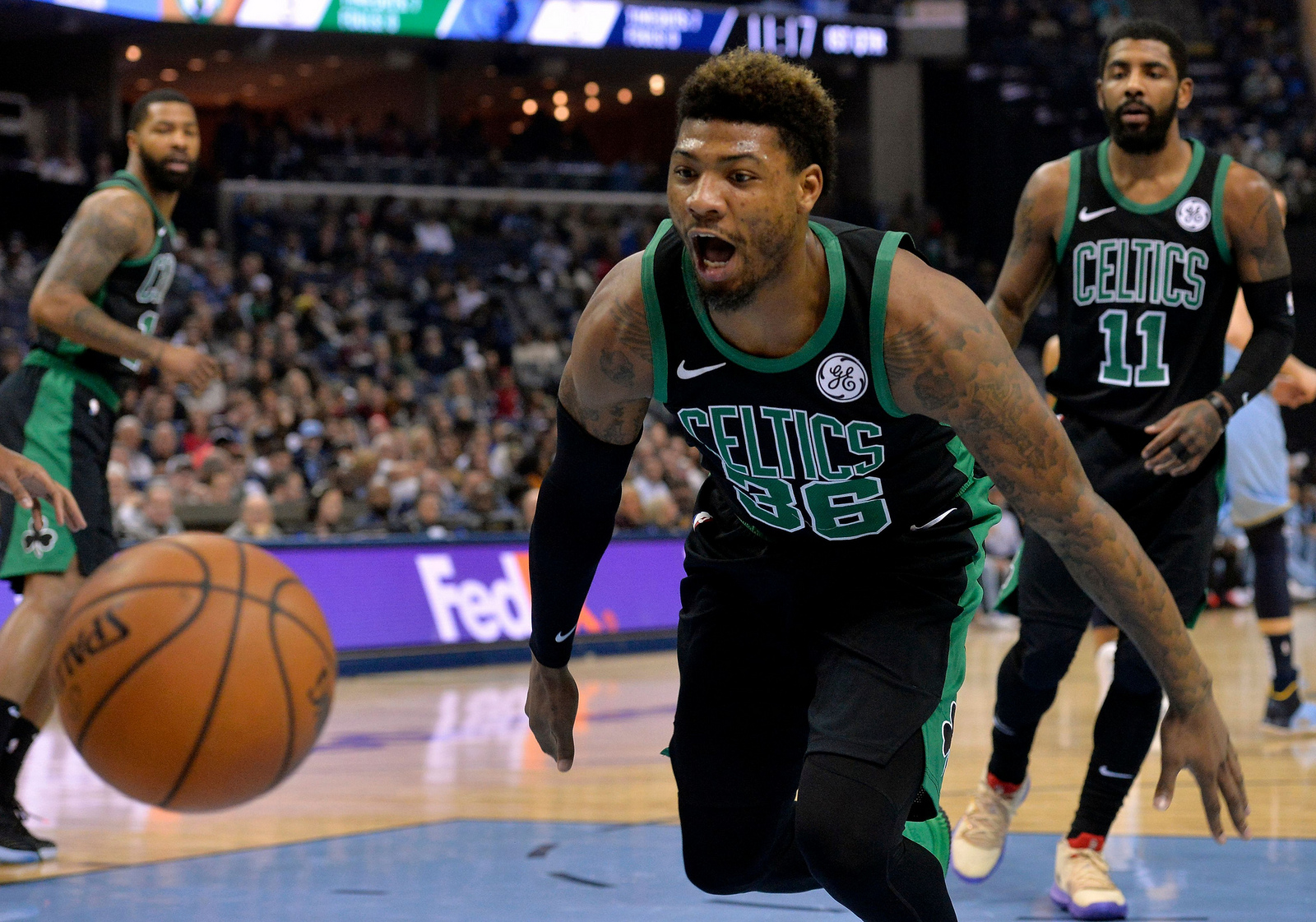 Celtics Mount Huge Comeback Behind Irving's 26, Top Grizzlies 112-103
The Boston Celtics found themselves in the Grindhouse, taking on the Memphis Grizzlies. The Grizzlies were in control early in the game. By halftime, they had mounted a double-digit lead. The game looked like another loss for Boston. However, Kyrie Irving made sure that didn't happen. Irving and the rest of the Celtics came alive in the second half, and started to hit their shots. It took until the closing moments of the game, where Boston would pull away.
What is significant about this win is how good Boston's defense was in the second half. Led by Marcus Smart, the Celtics became incredibly active in the passing lanes and on the backboards. Furthermore, they became scrappy, drawing offensive fouls whenever they could. This has become a trend with Boston, as they do a good job forcing turnovers while protecting the ball.
Celtics vs Grizzlies: Size Doesn't Matter
With old-man Al Horford only playing 23 minutes and Baynes and Williams being injured, the Celtics were short handed in the frontcourt. Head coach Brad Stevens decided to give undersized forward Yabusele some extended playing time. Yabu got on the court for a total of 16 minutes, one of the longest stretches of his career. If we are being brutally honest about his play, he wasn't very good. He scored 3 points and grabbed 4 rebounds, but was easily outmatched in the paint. Memphis actually owned the paint all night. However, this is exactly what Boston wanted.
Obviously, the Grizzlies were busy dominating the paint, which wasn't surprising. The Celtics, however, were hitting shots from deep. It is no secret that three-pointers are more valuable than layups, and Memphis was cold from the perimeter. They only shot 26% and were ran off the three-point line all night (except Dillon Brooks). This game plan gave the undermanned and undersized Celtics the victory.
Player of the Game: Kyrie Irving
He is always good scoring the ball. Being a microwave and run starter is in his DNA. That's why last night, we are focusing on Irving's playmaking. He finished with 13 assists, and was keeping everyone involved. Making crisp, and smart passing to any player with a glimpse of an open shot. It also won't be before long that he is announced as a starting guard for the all-star team.
Honorable Mention: Marcus Smart
Looking Forward to the Next Game
The Celtics celebrate New Years Eve in San Antonio. They will take on the always consistent Spurs. It will be a battle against the skilled and dominant frontcourt of San Antonio. However, Stevens will be ready to plan against this. Expect Boston to end this year with a victory in Texas.
Photo Credit
Highlight Store via Flickr