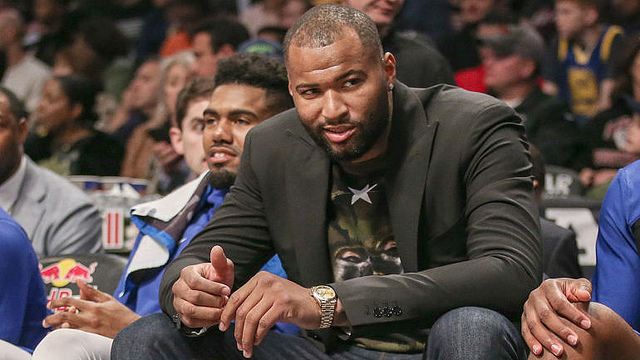 Big Men Fall Hard And Can Sustain Serious Injuries
In a game as physical as basketball, it's easy to sustain injuries. But for a big man in the NBA, a serious injury is very hard to fully recover from. That goes for Golden State Warriors big man DeMarcus Cousins, who's on his way back from an Achilles injury. Obviously, there aren't any guarantees that Cousins will be the same player he was before the injury. It's because the bigger the man, the bigger the challenge is to fully recover from any serious injury, especially an Achilles injury.
Last January, Cousins suffered a left ruptured Achilles tendon in a game against the Houston Rockets. He was attempting to rebound the ball after missing one off his own free-throws. Cousins landed hard on his left foot. He couldn't put any pressure on his left leg and could only hop upon his right leg. Cousins was having another All-Star year with the Pelicans, but the injury quickly ended his season.
A Sudden End Brings About Change For Cousins
Although an Achilles injury can be a serious injury, a simple surgery can easily repair it. The hard part for an athlete sustaining this type of injury is the recovery process. The process for recovery takes up to a year with a period of immobilization and physical therapy. Therapy is important for an athlete to regain ankle range of motion and leg strength.
Cousins has zero doubt that he will fully recover and return to the game as the same player. However, the Pelicans didn't think so and they cut ties with him. Cousins called Warriors General Manager Bob Meyer to discuss business. Afterwards, he joined the Warriors in an epic move that sent shockwaves throughout the league.
Cousins Included In Team Practices, Set To Return Soon For Warriors
Cousins has been participating in team practices and seems to be performing in his usual dominant form. This has certainly not been an easy year for the Warriors big man, but things have significantly improved for him. Cousins practiced with Kevin Durant and he dunked on him while being defended efficiently. He's set to return by January of next year, but Steve Kerr will not push him until he's 100% ready. In the event that Cousins can remain healthy, his future is definitely looking bright.
Photo Credit
James Anderson via Flickr