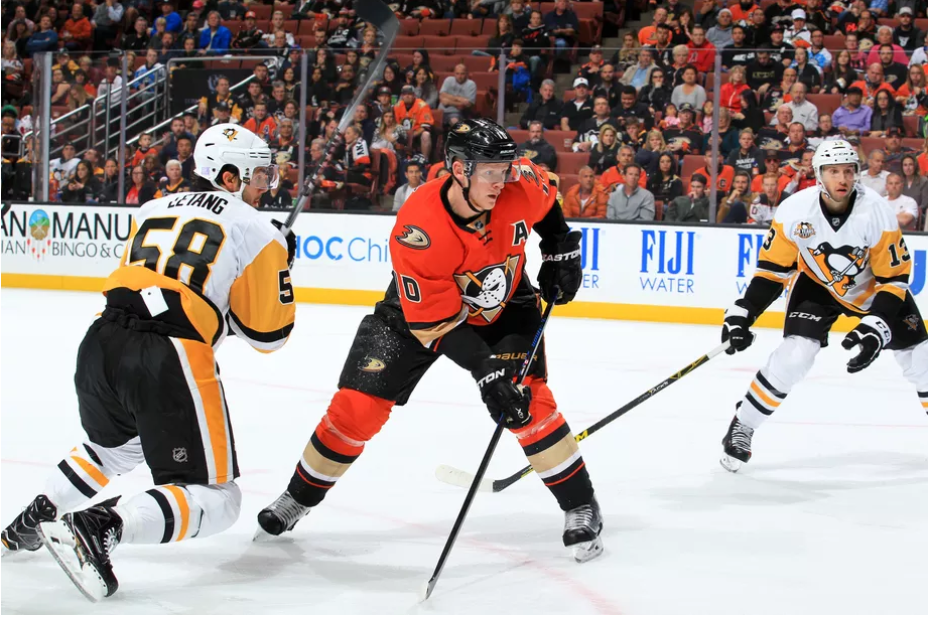 The Anaheim Ducks scored four straight goals to defeat the Pittsburgh Penguins, 4-2. This brings the Ducks to nine wins in the last 10 games.
After trailing 2-0 in the first period with goals from Evgeni Malkin and Bryan Rust, the Ducks exploded in the second period. Adam Henrique cut the lead in half with a power-play goal at 2:07 of the second period. Kiefer Sherwood tied the game at 2 shortly after, at 5:33 in the second period. Ondrej Kase stayed hot and gave the Ducks the lead with a minute remaining in the second period.
Ryan Getzlaf sealed the Penguin's fate with an empty-net goal with less than a minute remaining in the game.
John Gibson, tonight's hometown hero, made 28 saves to keep the Ducks on a winning streak of four straight.
With tonight's road win, the Anaheim Ducks tie the second-longest streak with six straight. The Ducks have 12 total comeback wins, which is tied for second in the NHL. Anaheim has trailed in eight of the last ten wins, even by multiple goals. Nine of the wins were tied games or a deficit in the third period. The Comeback Kids from the past seem to have returned.
Upcoming Schedule
The Ducks play the back end of back-to-back games tomorrow, December 18, against the New York Rangers. Anaheim will travel to Boston on Thursday, December 20, to take on the Bruins before facing the Sabres in Buffalo on Saturday, December 22. The Ducks will close out the road trip in California, taking on the rivals in San Jose on December 27. Anaheim will finally return home to face the Coyotes on December 29.
Overall Standings
The Anaheim Ducks overtook the San Jose Sharks to move into sole possession of second place in the Pacific Division, three points behind the first place Calgary Flames. With 43 points, the Ducks have a 10-4-5 home record and a 9-7-0 away record.
Social Media
Follow Sarah on Twitter @sarahamiles
Photo Credit
Photo Courtesy of Hooks Orpik