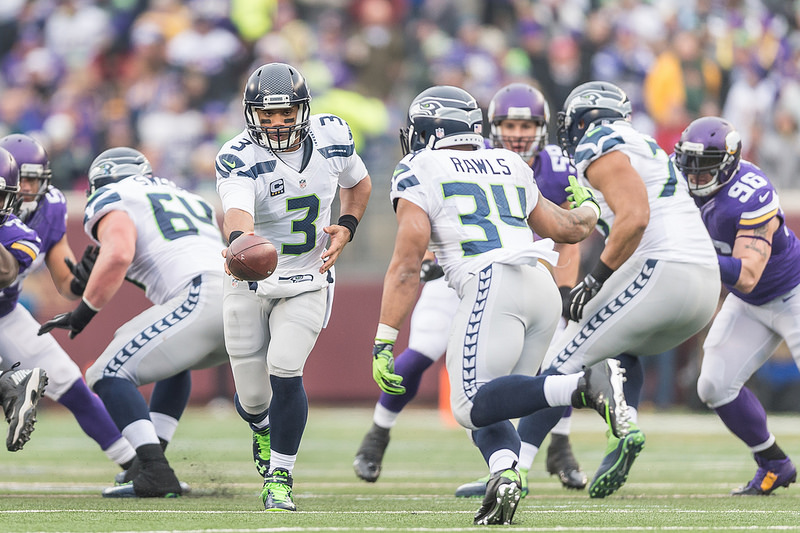 Current Wild Card Bids Faceoff
The Minnesota Vikings travel to CenturyLink Field to take on the Seattle Seahawks in a game that could determine a lot of other NFC teams' fate. Minnesota comes in at 6-5-1 after falling to the New England Patriots on the road.
Offensive inconsistencies have played a major role in Minnesota's losses this season. Seattle enters this matchup at 7-5 and winners of three straight and will look to make it four in a row.
Both Seattle and Minnesota have a spot in the playoff picture right now. Seattle currently has the 5th seed, while Minnesota has the 6th, this could look very different in the next three weeks.
The last time the Seahawks and Vikings met in the regular season, the Seahawks rolled the Vikings 38-7 in Minnesota. They met again in the first round of the NFC Wild Card that would go on to haunt Vikings fans for eternity:
Key Matchups
Chris Carson vs. Minnesota Front Seven
Seattle boasts the league's top rushing offense. They've racked up 1786 yards on the ground, the main rusher behind that attack is Chris Carson. His 704 rush yards have been a constant problem for defenses.
Carson will have his biggest test in Minnesota's run defense that ranks seventh. The Vikings' defensive front has been stout at stopping the opposing team's "bellcow" to be a force their matchup.

Dalvin Cook vs. Seattle's Front Seven
The biggest problem for the Vikings this season has been trying to establish the run game. The problem isn't that they don't have the players, their problem, in fact, is that they don't stick with their run game. Minnesota ranks 30th at running the ball. Seattle ranks 17th against the run.
Minnesota will have to show that they're capable of running for an acceptable amount of yards or they'll be one dimensional. A player as talented as Dalvin Cook can make a huge difference if given the opportunity.
Fantasy Outlook
Adam Thielen and Stefon Diggs (MIN)
These two receivers should be starting on any lineup. They arguably are one the best duos in the league and could create issues for any defender.
Vikings' quarterback Kirk Cousins should be able to find them should Minnesota start to struggle.
Tyler Lockett and Chris Carson (SEA)
Although faced up against a tough defense, Carson one way or another will make his presence felt whether that's in the air or on the ground. With Doug Baldwin being shadowed by Xavier Rhodes, Tyler Lockett should be able to roam freely on the line of scrimmage and cause problems for the Vikings' secondary.
Prediction
With the odds stacked against both sides, either really can't afford to lose. Minnesota especially. But both teams could very well meet again in the Wild Card. Seattle has an outstanding track record on MNF, and Russell Wilson is dangerous at home with the 12's behind him.
Seattle 24, Minnesota 17.
Photo Credit
Featured Image courtesy of Rich Moll
Subscribe to get the latest news from TSJ at the TSJ 101 Sports TV YouTube channel!
Play And Win Weekly at ThriveFantasy!