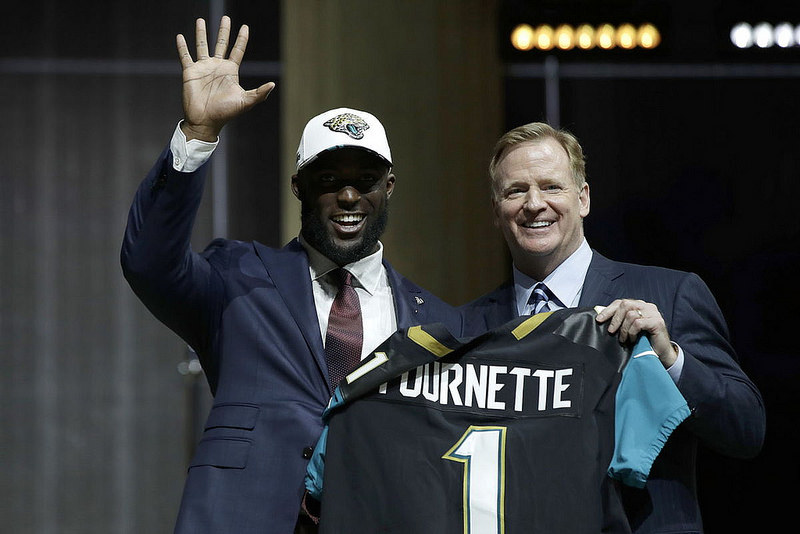 Jacksonville Jaguars' Running Back Leonard Fournette Suspended For One Game
The second year running back, Leonard Fournette has been suspended one game without pay following his ejection from Sunday's game against the Buffalo Bills. Fournette ended up in a brawl with Buffalo Bills' defensive end Shaq Lawson after a touchdown pass from Jags' quarterback Blake Bortles.
Jags' wide receiver Donte Moncrief and Bills' cornerback Levi Wallace simultaneously caught Bortles' pass. Neither player was willing to let go of the ball, but referees always side with the offensive player in those instances. The league said that Fournette was suspended due to his violation of the unsportsmanlike conduct and unnecessary roughness rules.
As a result, the running back will miss the Jaguars next game against the Indianapolis Colts. Fournette appealed his discipline. The hearing will be Tuesday with appeals officer James Thrash accounting to ESPN insider Adam Schefter.
Jaguars' RB Leonard Fournette's appeal of his one-game suspension will be heard today by appeals officer James Thrash, per source. If appeal is unsuccessful, Fournette will miss Sunday's game vs. the Colts.

— Adam Schefter (@AdamSchefter) November 27, 2018
"Sportsmanship is the cornerstone of the game, and the league will not tolerate game-related misconduct that conveys a lack of respect for the game itself and those involved in it," NFL vice president Jon Runyan wrote in a letter to Fournette. "Video of the incident shows that you were not a participant in the play and that you ran from your sideline to the opposite side of the field to insert yourself as an active participant in a fight. Once you entered the fight area, you struck a member of the opposing team. Your actions adversely reflected on the NFL and have no place in the game."
The Jaguars have caused 22 personal foul penalties so far this season. Jacksonville leads the league in personal foul penalties.
Jacksonville Is In Trouble
With the possibility of Fournette missing the game Sunday against the Colts, all three offensive captains will be missing. Head coach Doug Marrone benched QB Bortles. Also, center Brandon Linder is out for the year with a knee injury.
Jacksonville is having a disappointing season after making it to the AFC Championship last year. Their 3-8 record places them fourth in the AFC South division and virtually out of the playoffs for the 2018 season.
Photo Credit
Featured Image courtesy of Riley Morris
Don't forget to follow TSJ101Sports and your favorite writers like me (Savannah) on Twitter!
Subscribe to get the latest news from TSJ at the TSJ 101 Sports TV YouTube channel!
Play And Win Weekly at ThriveFantasy!