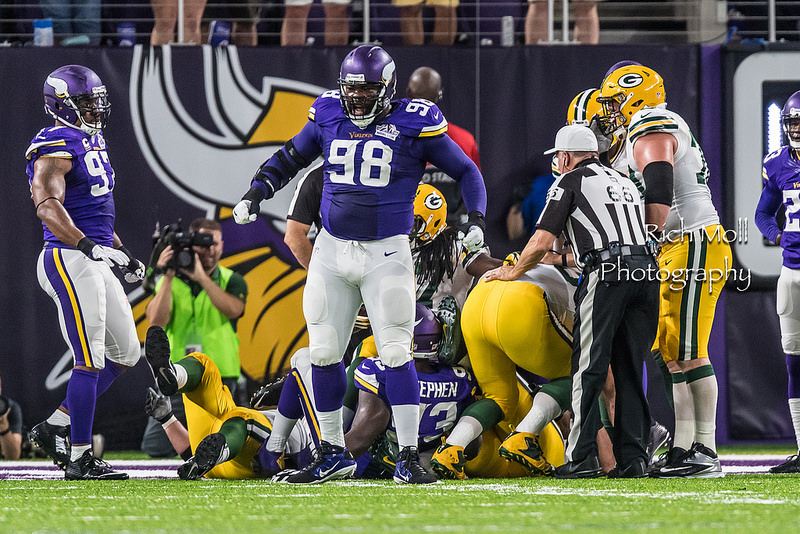 Vikings and Packers Square Off For 117th Border Battle
The Green Bay Packers come off of their bye week to take on the Minnesota Vikings at U.S. Bank Stadium. They last played in Week 2 where the two teams ended up tying after Minnesota came surging back in the fourth quarter to force overtime.
The Vikings' rookie kicker Daniel Carlson missed two critical field goal attempts in overtime that could have gave the Vikings the victory.
Division Race
The Packers sit at 4-5-1 and in third place behind Minnesota. With a win, Green Bay could leapfrog the Vikings and move into second place and challenge Chicago for the top spot. The Packers have the easiest schedule in the division and could make a run behind Aaron Rodgers.
After falling to the Bears on the road, the Vikings fell to 5-4-1 and remain in second place. Minnesota is looking to rally with six games remaining on their schedule. With the toughest schedule in the division, the Vikings have plenty of questions to answer on offense and hope to get things figured out just in time for the playoffs.
Key Matchups
Dalvin Cook vs. Mike Daniels
Vikings' running back, Dalvin Cook, is looking to bounce back after a very underwhelming performance against a very stout Bears defense. Cook was held in check to just 12 yards off of nine carries. He's going to have to be more of a factor if Minnesota wants to keep up with Green Bay.
The Packers are missing their All-Pro tackle Mike Daniels, and it's showing this season. Green Bay is 26th against the run. If he's starting, it'll be a huge confidence boost for the Packers' defense.
Aaron Rodgers vs. Xavier Rhodes
Packers' quarterback Aaron Rodgers posted a ridiculous 281 yards against Minnesota's defense in Week 2. Since then the Vikings' defense has looked solid since then, quickly turning into a top-five unit in the last five weeks.
Although Minnesota has looked different on defense, cornerback Xavier Rhodes has looked nothing like his 2017 self this season, so look for Rodgers to target Rhodes a lot.
Fantasy Implications
Vikings' wide receiver Stefon Diggs is a sure fire starter in this week's matchup. He has posted double-digit points in two of his last three games.
Packers' wide receiver Davante Adams should be an instant starter as well. He has been a problem for opposing defenses since the start of the season.
Prediction
While it's worth noting that the Packers have never won at U.S. Bank Stadium, I have the Packers winning this one. Minnesota's offensive struggles will continue to be a headache for the foreseeable future. Aaron Rodgers and the Packers get it done under the lights to move ahead in the division.
Packers 27, Vikings 20
Photo Credit
Featured Image courtesy of Rich Moll
Subscribe to get the latest news from TSJ at the TSJ 101 Sports TV YouTube channel!
Play And Win Weekly at ThriveFantasy!