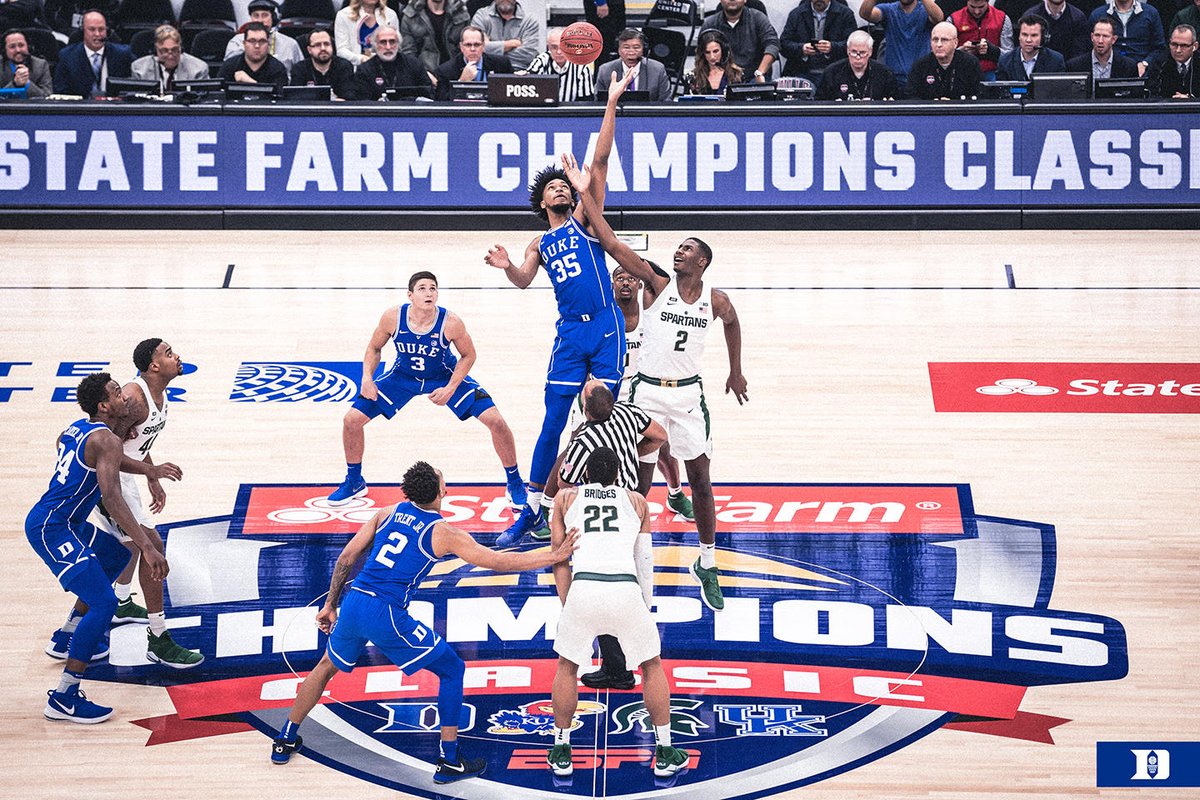 College Hoops Preview: #4 Duke vs. #2 Kentucky
Matchup: #4 Duke Blue Devils (0-0, 0-0) vs. #2 Kentucky Wildcats (0-0, 0-0)
Date: Nov. 6, 2018
Time: 9:30 p.m. (est)
Network: ESPN
Location: Indianapolis, IN
Venue: Bankers Life Field House
Seating Capacity: 46,298
Reloaded
A year ago, Duke had an entirely different starting five. They come into the opener versus Kentucky with four freshmen starting, fully reloaded from a season ago. Duke loses senior and National Champion Grayson Allen, Marvin Bagley III, Wendell Carter Jr., Gary Trent Jr., and Trevon Duval to the NBA. The Blue Devils counter their losses with a star-studded freshman class. Tre Jones, Cam Reddish, RJ Barrett, and Zion Williamson, all of whom are five-star recruits.
Kentucky returns a trio of sophomores in PJ Washington, Nick Richards, and Quade Green alongside yet another stacked recruiting class. Five stars Tyler Herro, Immanuel Quickley, Keldon Johnson, Ashton Hagans, and EJ Montgomery will look to help Kentucky regroup after losing Kevin Knox, Hamidou Diallo, Shai-Gilgeous-Alexander, and Jarred Vanderbilt.
Duke's Likely Starters
Point Guard: Tre Jones
Shooting Guard: Cam Reddish
Small Forward: RJ Barrett
Power Forward: Zion Williamson
Center: Marques Bolden/Javin DeLaurier
Kentucky's Likely Starters
Point Guard: Ashton Hagans
Shooting Guard: Tyler Herro
Small Forward/Shooting Guard: Keldon Johnson
Power Forward: PJ Washinton
Center: Reid Travis
Duke's Key
Duke will win this game if Marques Bolden is able to contribute meaningful minutes, specifically on the defensive end. Kentucky has two starters from a year ago in the frontcourt again this year in Washington and Vanderbilt, both played significant minutes down the stretch. They also added forward Reid Travis, 2018 Pac-12 Player of the Year. If Bolden is able to protect the paint and rebound efficiently on the defensive end, Duke will be in very good shape against the Wildcats.
Kentucky's Key
Kentucky will win this game if they can force more than nine turnovers and score on the other side. If Kentucky can blitz freshman point guard Tre Jones in his first game running point alongside his new teammates, Kentucky will be able to run away with this one quickly.
Prediction
About a month ago, I predicted that Kentucky would take this game simply on being almost as talented and having way more experience. Then, I watched Kentucky struggle with Indiana (PA) in an exhibition game. I have shifted my view of the game and with that being said, my prediction has also changed. I do not think RJ Barrett can be stopped and having Cam Reddish on the wing next to him will be deadly. With Tre Jones distributing the ball to Barrett and Reddish on the wings plus Zion Williamson, Duke will win this game in a shootout. Defensively, I believe Zion Williamson hosts a block party and does enough to stop Kentucky's veteran frontcourt.
Duke: 85
Kentucky: 79
Follow us on YouTube and Twitter!
Follow the author here
Photo Credit: Duke Basketball via Twitter