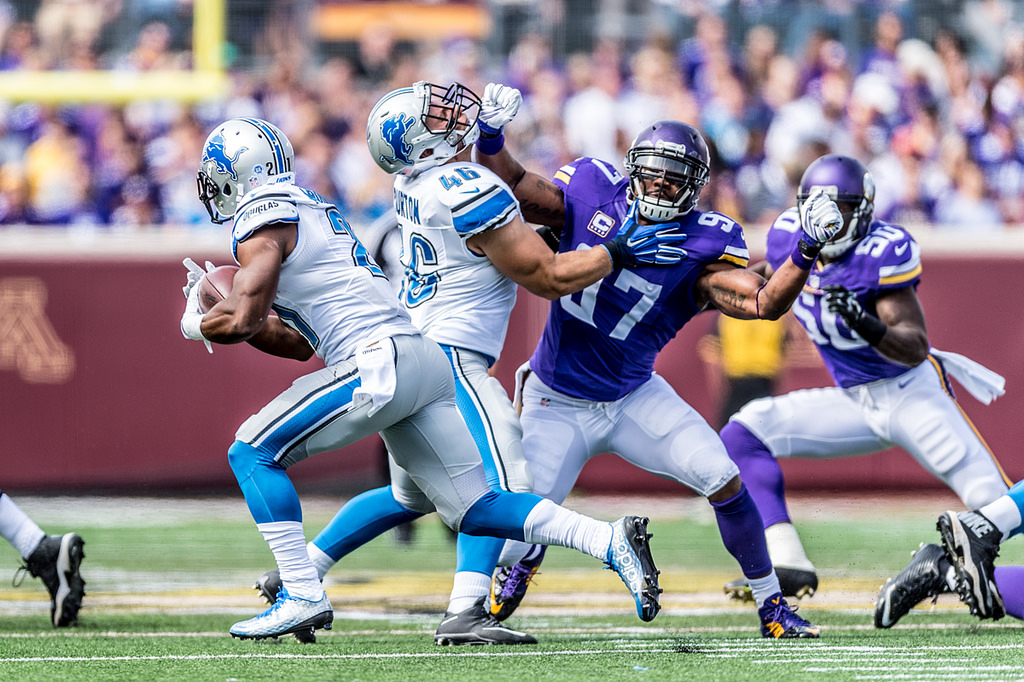 Lions Visit the Vikings in NFC North Rivalry Game
Both the Minnesota Vikings (4-3-1) and the Detroit Lions (3-4) are looking to bounce back and get a win this week. The only problem is they have to face each other.
Minnesota and Detroit have been up and down through the season leading up to this point as they've tried to search for their identities.
NFC North Standings
The Vikings currently sit at second place in the division. Minnesota lost the top spot to the Chicago Bears after they fell to the New Orleans Saints on Sunday Night Football 30-20. The reigning division champions have played just one division game thus far this season. That game against the Green Bay Packers ended in a tie back in Week 2 giving Minnesota an 0-0-1 division record.
The Lions find themselves in the last place in the NFC North. Luckily for Detroit, they have a win over the Green Bay Packers and sit at 1-0 in the division. So a win for them this Sunday could propel them to third, and if the Packers fall to the New England Patriots, they can jump all the way up to second place.
Key Matchups
Latavius Murray vs. Lions' Front Seven
Minnesota seemed to have found their stride on offense. In addition to having a top five passing attack, they've had success on the ground in recent weeks. Notably, running back Latavius Murray has answered the call, scoring a rushing touchdown in the last three games.
On the other hand, the Lions are ranked 25th in run defense. As a result, they made a trade for defensive tackle Damon Harrison. He was a stud for the New York Giants before he came to Detroit.
Adam Thielen vs. Lions' Secondary
Eight games into the season, wide receiver Adam Thielen has played lights out. He currently ranks first in the league in receiving yards with 925 yards. This week he'll face a top unit in the Lions' secondary, who now sit in fifth place.
Last week Detroit didn't look great against the Seattle Seahawks when they allowed Russell Wilson picked them apart for three touchdowns.
Kerryon Johnson vs. Vikings' defense
Detroit has been longing for a great rusher since the great Barry Sanders, and they finally might've gotten that in rookie running back Kerryon Johnson. He currently sits at 13th with 466 rushing yards. Despite being banged up, the Vikings still have a top ten run defense. Their pass defense, however, sits at 15th.
Luckily for Kerryon Johnson and the Lions' offense, the Vikings may be without some starters for the second consecutive week. Plus with the recent trading of star receiver Golden Tate, the Lions' will most likely be opening their playbook a little more.
Fantasy Implications
Vikings
Adam Thielen
Currently sitting at the top spot for wide receivers, he should be a no-brainer for your fantasy lineup. He's projected for 12.4 points this weekend.
Lions
Marvin Jones
With Golden Tate gone, the Lions will most like look to Jones as their number one option for Matthew Stafford. He's looking to get a nice workload this weekend, and he's projected for 10+ points.
Prediction
Both teams will be playing with a small sense of urgency this week as the NFC North division race tightens. Although the oddsmakers have the Vikings winning big, this looks to be a defensive showdown. Vikings will likely win a tight one just before their much-needed bye week.
Vikings win 17-14.
Photo Credit
Featured Image courtesy of Rich Moll
Subscribe to get the latest news from TSJ at the TSJ 101 Sports TV YouTube channel!
Play And Win Weekly at ThriveFantasy