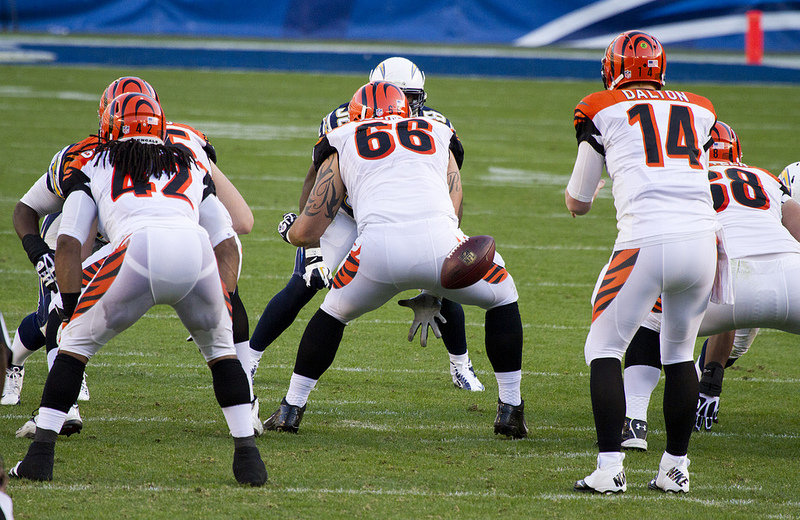 Up And Coming Sunday Night Thriller: Chiefs vs. Bengals
Sunday night's matchup will be a good one. The 5-1 Chiefs head to Cincinnati to face the 4-2 Bengals. Kansas City is coming off their first loss of the season after last Sunday night's shootout against the New England Patriots in Foxborough.
The game was a rapid quarterback duel. New England narrowly came out with the win after a last-second field goal. Cincinnati who has been red hot this season, gave up a last-second touchdown to Steelers' wide receiver Antonio Brown that gave them their second loss of the season.
With the second-best scoring offense, the Chiefs will be hard to surpass. The team stays up-tempo and disciplined. Head coach Andy Reid is able to confuse defenses with motions, formations as well as shifts. They can trick defenses into double coverage on WR Tyreek Hill then leave tight end Travis Kelce wide open and vice versa.
The Bengals' offense will need to be more productive against the Chiefs' defense. The Chiefs defense has allowed 28.7 points per game. This would be the second most by any perspective playoff team since 1940. Although he has 14 touchdown passes, this could be beneficial for Dalton since he has seven interceptions so far this season.
Competitions To Watch For
Patrick Mahomes vs. Andy Dalton
The seasoned veteran vs. the new kid on the block.
Patrick Mahomes is in his second NFL season but only had one start in 2017 backing up Alex Smith. Mahomes' 18 touchdowns so far this seasons leads the league. He put up a huge fight last week against Tom Brady.
He has shown that he can hang with the vets. As the season progresses, he has shown that he can let the pressure get to him. He had no interceptions until he faced the Jaguars' fifth-ranked defense.
Andy Dalton has been with the Bengals since 2011 and is yet to bring consistent success. Dalton has not been able to match his best season to date; in 2013 he recorded over 4,200 yards and 33 touchdowns.
So far this season Dalton has gotten back on track despite his seven interceptions. He already has three fourth quarter comebacks this season, proving that he can come in clutch. Something that Mahomes has yet to prove.
Kareem Hunt vs. Joe Mixon
So far this season, these second-year running backs have been neck and neck with their stats. Although Hunt leads with six touchdowns compared to Mixon's three, Mixon averages 108.8 yards a game, topping Hunt's 104.5.
Both backs can to turn a negative run into a positive one. The Le'Veon Bell type of running backs are strong and able to avoid those head-on collisions. Mixon is still fighting for the top spot, but plenty of touches early for both of these backs will showcase their strength and ability to gain yards when necessary.
Hunt has been way more in the spotlight this year and last year, while Mixon has been sliding under the radar as he slowly slides up the ladder as a top running back in the league. With both defenses struggling this season, don't be surprised to see both of these players produce 100-yard rushing games.
Tyreek Hill vs. A.J. Green
Two of the best WRs will compete on Sunday night. A.J. Green and Tyreek Hill are the only active WRs to be selected to Pro Bowls in each year of their careers. Both receivers are top targets for their respective quarterbacks.
Since entering the NFL in 2016, Hill has 14 touchdown receptions of 50+ yards or more. The closest another receiver comes to this outstanding number is Seattle Seahawks' WR Tyler Lockett with six. Hill's 567 yards and six touchdowns so far this season make him a vital threat for Kansas City. His 16.7 yards per reception average ranks 11th in the league. This ranking cements him as a top receiver in the NFL.
Green's stats so far this season stack up. He has recorded 494 yards and five touchdowns. He strives for greatness. He is fast and can put up huge numbers without having a great QB to back him up.
In six out of seven seasons he has recorded over 1,000 yards and the one season he didn't- he was injured. Green can make big plays and is reliable in the red zone. He might not be a top household name, but he is still in consideration of a top receiver in the NFL.
Photo Credit
Featured Image courtesy of Nathan Rupert
Don't forget to follow TSJ101Sports and your favorite writers like me (Savannah) on Twitter!
Subscribe to get the latest news from TSJ at the TSJ 101 Sports TV YouTube channel!
Play And Win Weekly at ThriveFantasy!