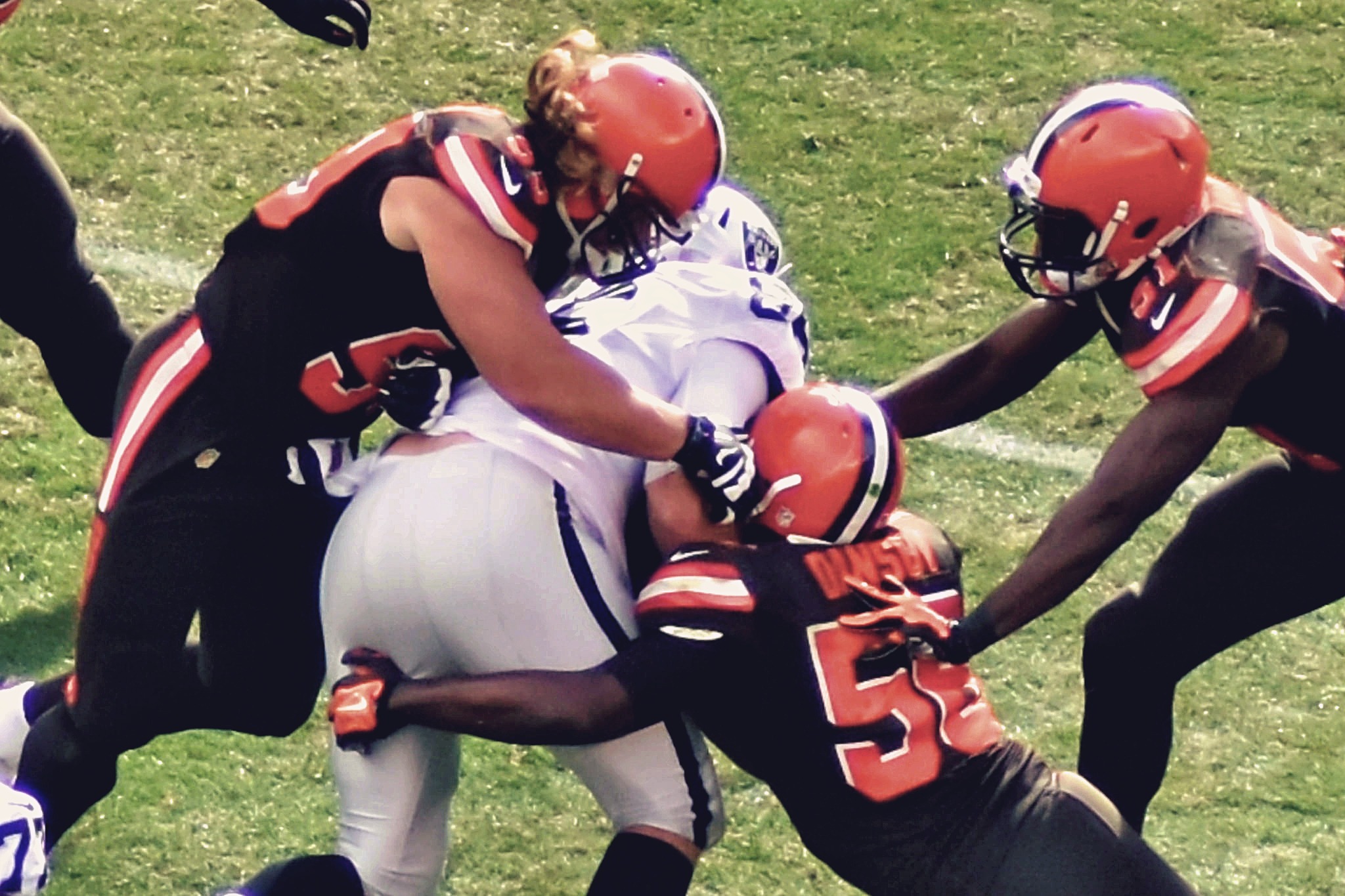 Week 4 Preview: Cleveland Browns vs Oakland Raiders
Jon Gruden's Raiders Seeking First Win Over Baker Mayfield and the Browns
Jon Gruden will look to secure his first win this season against the 1-1-1 Cleveland Browns in Week 4. The Browns, on the other hand, will see rookie QB Baker Mayfield start for the first time. With a struggling defense in Oakland and a defense seemingly coming alive in Cleveland, the Raiders are still favored to win this game. It is hard to imagine Gruden and the Raiders going 0-4, but could it happen? Here's a look at the matchup in TSJ's Week 4 preview.
Injury Report
The Oakland Raiders have six questionable starters for this Sunday's game: Marshawn Lynch (RB), Donald Penn (LT), Rodney Hudson (C), Gabe Jackson (RG), Breno Giacomini (RT), and Karl Joseph (SS). Several other Raiders players are also questionable or on IR. The biggest point of weakness for Oakland will be their offensive line and, by proxy, their already struggling run game.
The Cleveland Browns, meanwhile, enter Week 4 relatively healthy. The Browns have only three questionable starters and an additional one on the IR. Emmanuel Ogbah (DE), Christian Kirksey (OLB), and Damarious Randall (FS) are all questionable for Cleveland in this Sunday's contest.
Keys to the Game
Oakland Raiders
The Oakland Raiders' sixth-ranked offense comes into the game winless through the first three weeks. While their passing game is sixth in the league, their ground game is ranked 16th. The Raiders' offensive success in this week's matchup relies largely on their run/pass balance. The Raiders' run-heavy offensive scheme has failed to provide the production Oakland has needed. Quarterback Derek Carr has been able to connect with wide receiver Jordy Nelson efficiently, though. If Carr can find ways to connect with Nelson, Jared Cook, and Amari Cooper, it will both open up their running game and help them keep drives alive.
Since parting ways with defensive end Khalil Mack, the Raiders have struggled to develop a pass rush. The Raiders' rush defense is ranked 22nd in the league and their pass defense is 18th. Without much game tape on Baker Mayfield, it will be hard for the Raiders to plan defensively for him. The Raiders will most likely avoid the blitz for heavier zone coverages downfield that could confuse Mayfield. Mayfield's tendency to play hero-ball could make him a turnover liability if the Raiders can mobilize strong coverage downfield.
Cleveland Browns
The Browns' defense is currently leading the NFL in turnovers. If the Browns can capitalize on an injured Oakland offensive line and keep consistent pressure in the pocket, Carr will be in for a long day and turnovers will follow. Myles Garrett, specifically, will have a mismatch on the line and be in a position to blow up plays in the backfield. What the Browns need to be wary of is Carr's ability to connect downfield with some of his receivers. With Randall questionable for Sunday, the Browns' secondary will need to communicate well to ensure each defensive back is aware of their responsibility — especially in the middle of the field.
Offensively, the Browns will try to get receiver Jarvis Landry involved early. Mayfield is an emotional player and, if offensive coordinator Todd Haley can get him to score early and connect consistently, it'll be much harder for Oakland to stop him in the second half. Mayfield will face little-to-no pressure from pass rushes, which makes the former Heisman winner even more dangerous. The more time Mayfield has in the pocket, the more accurate he is. The Browns will most likely lean towards a hurry-up offensive gameplan. As long as the Browns can maintain efficiency in a high-tempo offense, they can give Oakland's defense an exceptionally hard time.
Fantasy Implications
Jarvis Landry should be one of the three high-production WRs in fantasy this week. Not only is he one of the leaders in targets, yards, and receptions, but with Baker throwing to him now, those yards and receptions look to trend upwards. Baker Mayfield is still available in a lot of leagues and will be a great last-minute pickup for those who can grab him. Jordy Nelson's performance last week had some fantasy owners moving him from their bench to their starting lineup. He should have another strong week against Cleveland, but his expected production with Oakland is still unclear.
Photo Credit: Erik Drost via Flickr
Follow Lauren Phillips on Twitter @LaurenP_52 and TSJ's NFL Department @TSJ101SportsNFL for more Week 4 preview and recap content!
Subscribe to get the latest news from TSJ at the TSJ 101 Sports TV YouTube channel!
Play And Win Weekly at ThriveFantasy!