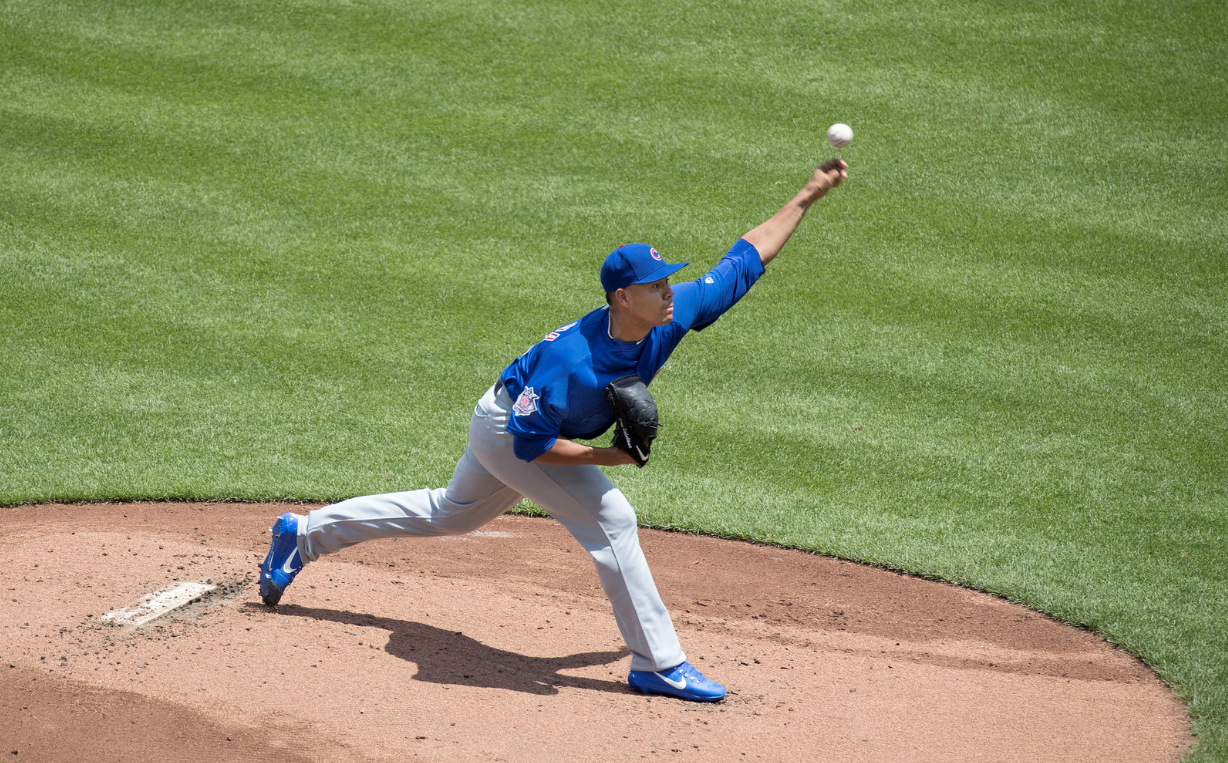 Cubs Drop The Makeup Game Against The Atlanta Braves
Coming into today's game after playing very well against the Marlins and White Sox. The Cubs were hoping to test themselves and beat the red-hot Atlanta Braves. The makeup game comes from a game postponed on April 15th. The weather was much more beautiful today than it was before and the wind was blowing straight out dead center. Generally for a pitcher that isn't a very welcoming sight and it was no different today than any other day. Almost all runs scored in the game came off the long ball, and for a while, it looked like it was going to be a battle of power.
Starting Pitching
Jose Quintana came into this makeup game trying to keep the trend of quality starts going. Allowing just one earned run in his past three starts, Quintana looked like he had found his groove. Although today it didn't seem that way, Quintana struggled early giving up a leadoff home run to Ozzie Albies. After that home run, Jose had trouble getting out of the first,  inflating his pitch count and not hitting his spots. Atlanta is a very talented line up that kills lefty pitching, and we saw that in full effect today.
Jose Quintana Final Line- 4.2 IP, 9 H, 6 R, 6 ER, 3 BB, 6 SO, and a season ERA of 5.23
Offense Comes Up Short
I wouldn't say the offense was a letdown today; they delivered when they needed to in the majority of spots it called for. Albert Almora got the ball rolling for the Cubs today when he launched a two-run home run off the end of his bat to left field. Although the Cubs were never able to hold the lead for very long in this game, they found themselves trailing before the end of the next half inning came.
And this is where things started to see-saw, Kris Bryant was able to mash a monster home run to give the Cubs a 4-3 lead in the bottom of the third. However, it was shortlived for Jose Bautista smashed a three-run home run giving Atlanta the 6-4 lead. Cubs, however, didn't go down quietly in this game, staging a ninth-inning rally that they almost pulled off. Had it not been for a great diving play by the third baseman. That seemed to be the difference maker after the Cubs loaded the bases and drove in a run by an Ian Happ hit by pitch.
Fielding Struggles
It seems all too often that the difference in the Cubs losses are critical defensive misplays on their end. This is a team that went from historically one of the most excellent defenses to ever be assembled. And now after a quarter of the season, they are sporting a team FPCT of .980. Which is something that is going to have to change if the Cubs want to compete with arguably the toughest division in the MLB right now.