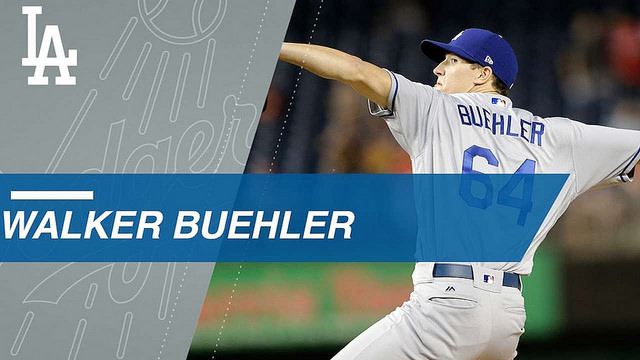 Walker Buehler Combines for a No-Hitter
Friday night, Dodgers rookie pitcher Walker Buehler combined for a no-hitter, against the Padres. The 23-year-old right-handed hurler threw a scoreless six innings, with eight strikeouts. He then got relief from Tony Cingrani, who pitched a hitless seventh. Followed by Yimi Garcia who also threw a hitless inning in the eighth. Finally, Adam Liberatore closed out the game with a perfect ninth inning, finishing off the combined no-hitter and giving the Dodgers a 4-0 win.
Thus far, Walker Buehler is more than living up to the hype of being the Dodgers top prospect. This was only Walker Buehler's third MLB start, yet, he managed to improve his already impressive 1.80 ERA to 1.13 and move to 2-0 on the season. This is great news for the Dodgers as they have had a slew of injuries, including pitcher Hyun-Jin Ryu, who is out until after the All-Star break and Ace Clayton Kershaw, who was placed on the 10-day DL Sunday.
Dodger Bullpen Stepping Up
After a slow start to the season, the Dodgers bullpen has really been stepping it up as of late. For instance, after Ryu went out in the second inning Wednesday night, the bullpen combined for seven-plus innings to get the Dodgers the win. Then, the following day, Garcia, Paredes, Chargois, Stripling, and Jansen combined to give up only one unearned run in four innings pitched and collect the win to split the series against the red-hot Diamondbacks. Then most recently, Friday night's stellar performance in the combined no-no.
The Dodgers have by far had the most no-hitters in baseball, with 23. The last of which occurred on June 18, 2014, against the Rockies.  That one was hurled by none other than Clayton Kershaw.
Was Taking Buehler Out The Right Move?
Some people are questioning Dave Roberts decision to remove Walker Buehler after the sixth inning when he was throwing a no-hitter. Was taking Walker Buehler out of the game the right move? That depends on your opinion. Some people feel that you never take out a pitcher throwing a no-hitter. However, considering this was only Buehler's third career start and he was at 93 pitches at the end of the sixth inning, it seemed like a pretty smart decision. There's no way he would have been allowed to finish the rest of the game.  His pitch count was already too high at the end of sixth. Why risk injury to your top prospect who has already more than delivered thus far?  I believe it was the right decision and it clearly worked out for the better.