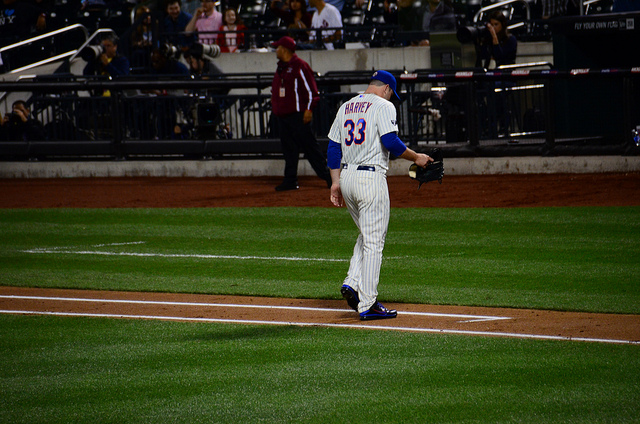 Matt Harvey Will Be Designated For Assignment
The love affair with Matt Harvey and the Mets is officially over. The Dark Night has fallen, as he has been designated for assignment. The right handed throwing Harvey has had a more than disappointing start to the season. As a starter, he is 0-2, with a 7.00 ERA in 27 innings pitched. Once moved to the bullpen, Harvey managed an even higher ERA of 10.50. With his overly subpar start to the season, the Mets notified Harvey that he would be sent down to the minors. Harvey declined the option, so now the Mets have seven days to either trade Harvey or release him outright.
The Birth Of The Dark Knight
The love affair with Gotham and the Dark Knight started early on.  Harvey has been with the Mets since the beginning of his career in 2012. He quickly won over New Yorker's hearts as he made the 2013 All-Star Team and went 9-5 on the season, with a 2.27 ERA. That was the same year that Harvey appeared on Late Night With Jimmy Fallon and went on the streets of New York asking people about himself. Those comical few minutes further cemented Mets fans' love for the then stud pitcher. Later, after missing the 2014 season, due to Tommy John surgery, Harvey came back strong in 2015, going 13-8 with a 2.71 ERA. Also, like Batman, Harvey has had a slew of model girlfriends, including Victoria's Secret Angel Adriana Lima. The parallels between Matt Harvey and Batman are definitely evident.
The Dark Night's Fall
After his successful 2015 season, the Dark Knight has been on the decline. Since the start of the 2016 season, Harvey has a 9-19 record, with a 6.19 ERA. Each year getting increasingly worse. Further, it is no secret that Harvey likes to party. In fact, on more than one occasion, Harvey has been seen getting wasted the night before a start. That's not something you can get away with in New York if you are not dominating. As we all know, New York fans and media are relentless and Harvey has not dealt with his fall well.
Can The Dark Knight Rise Again?
After such a high and low career, can the Dark Knight rise again? That answer is up to Harvey. He clearly can't deal with the negative New York media and fans. A change of scenery will be good for him and his confidence, and there are plenty of teams that could use another pitcher, but only time will tell which one will take a chance on the Dark Knight.