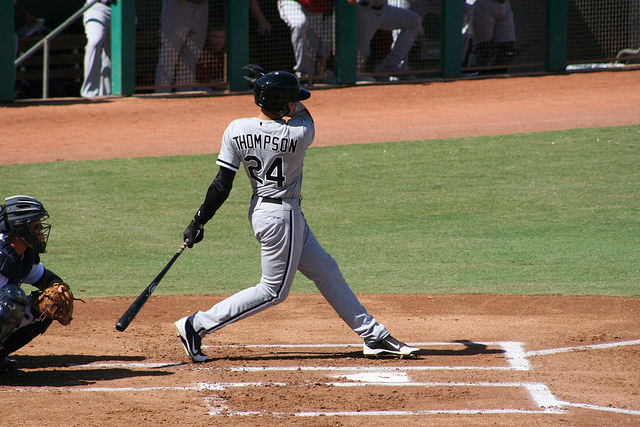 Trayce Thompson Has Been Sent Back To The White Sox
There is a reunion on the south side of Chicago as Trayce Thompson has been sent back to the White Sox in exchange for Tyler Saladino. Originally drafted by the White Sox in the second round of the 2009 draft, Trayce Thompson now returns to the White Sox.
The Trade
The three-team trade includes the White Sox, Brewers, and Athletics. Tyler Saladino was sent to the Brewers for cash considerations, and then the White Sox traded those cash considerations to the Athletics for outfielder Trayce Thompson. The Athletics designated Thompson for assignment two days ago, and have now traded him to the Sox.
Thompson has only had 7 plate appearances so far in 2018. This has resulted in a .143 batting average and 2 RBIs. His Rookie season with the Sox was his most productive, in which he hit .295 with 5 homers and 16 RBIs in 122 at-bats.
In the exchange shortstop/utility man, Tyler Saladino will now play for the Milwaukee Brewers. Saladino spent three seasons with the White Sox with his best year being in 2016. Through his career, Tyler Saladino has a .231 average with 12 homers 68 RBIs and 24 stolen bases. However, like Thompson, Saladino has not seen much playing time in 2018. Having only 9 plate appearances, Saladino has a .250 average and 3 strikeouts.
The Breakdown
Looking at the White Sox end of the trade, Saladino has not seen much play in 2018. With Yoan Moncada and Tim Anderson as the daily duo up the middle, there was not a starting spot for him. Also with Matt Davidson and Yolmer Sanchez rotating between third base and designated hitter, there was simply not many opportunities for Saladino.
The White Sox have likely acquired Thompson to come off the bench and play occasionally in right field. Thompson will provide a more viable option as the 4th outfielder as Leury Garcia has struggled in the field to start the season. Neither Saladino or Thompson have been great hitters so only time will tell how this works out for each team.
---
About Me
I am the MLB Editor and White Sox writer here at TSJ 101 Sports. Since I was a little kid, my dream has been to be involved with the sport of baseball. Also, you can support me and my dream by donating me a Ko-Fi with the button below. Thank you for the Support!

You can also follow me on Twitter @brennanfrawley
This article was originally written by former TSJ101SPORTS MLB Department Head and writer Brennan Frawley. Due to systems modalities, the article has been assigned to the author tag designation "Former Writers".