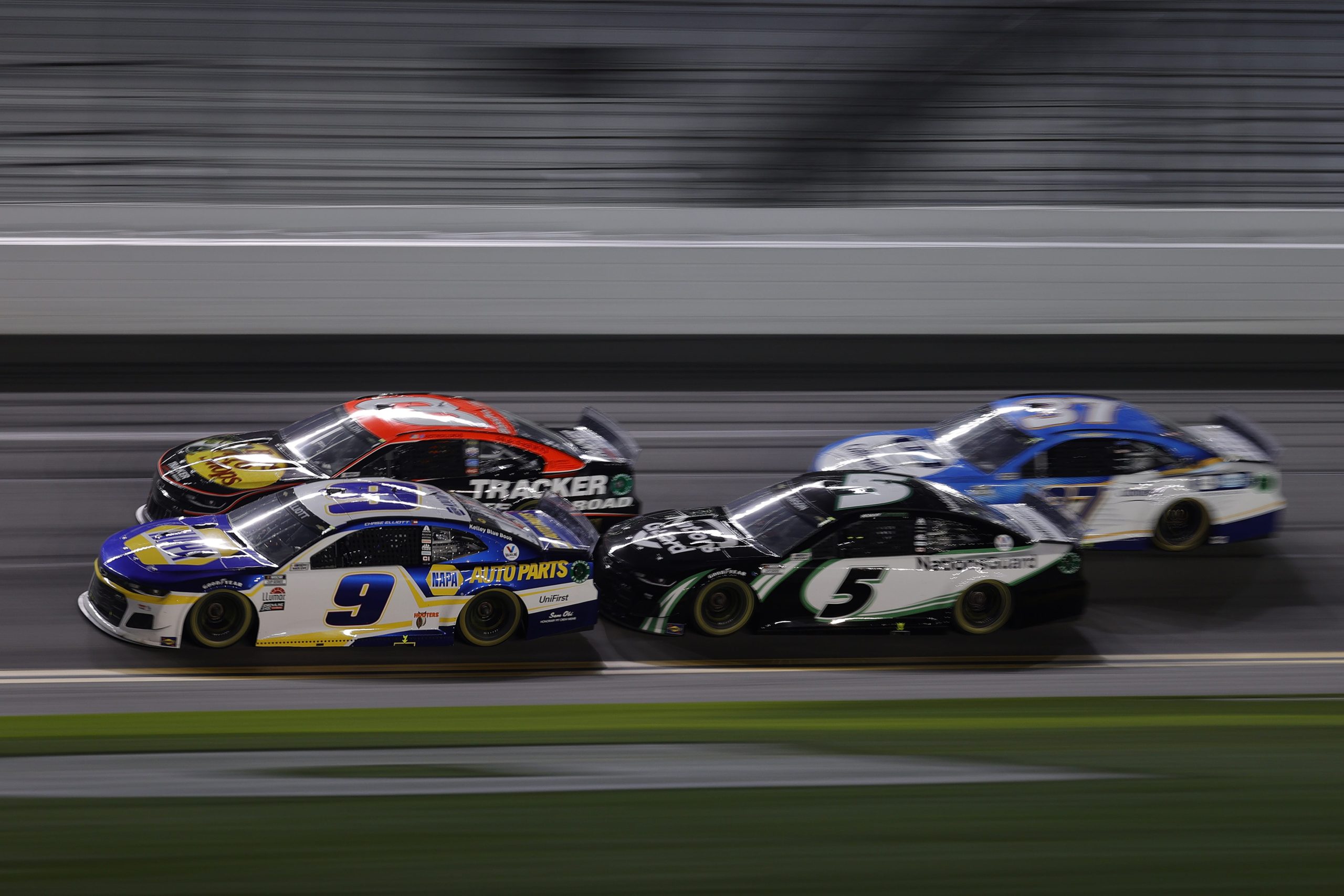 Will Chevrolet Continue Season Dominance in the Playoffs?
CHARLOTTE, N.C. – There's no secret that the manufacture heading into NASCAR's Cup Series Playoffs with the most promise is Chevrolet. With 13 wins so far, they're the clear leader in race victories. Among the 13 wins, 11 have come from each of the Hendrick Motorsports drivers. As we head into the playoffs, here's how the bowtie drivers feel about their chances.
Kyle Larson
With five victories and 14 top-fives this season, Kyle Larson is certainly the favorite going into the Playoffs. Team Hendrick's resurgence this season has set Larson up perfectly for his first Cup Series championship. After running just 4 Cup Series races last season, Larson has shown the competition that he's back and stronger than ever.
"Yeah, I mean, I feel like I'm a much more mature person on and off the racetrack, behind the wheel, not behind the wheel," Larson said when asked about his major change in a year's time. "I think through all the experience of growing up made me ultimately just better all around."
"Speaking of just racing, I think getting to race as much as I did last year and contend — I raced 96 times, something like that, and won 46. Probably was in position to chase a win in 80 races or more. I think putting yourself in position like that, it makes me a much mentally stronger driver these days, much more experienced driver. Yeah, it's definitely been a crazy couple years, but thankful that I'm in the opportunity I'm in now."
Larson On Being Playoff Favorite:
"Yeah, I don't know, I mean, it means you're in a fast race car and you're doing a good job, so it's good. I mean, it's not like everybody's gunning for you and you have a target on your back or anything like that. It's just a cool spot to be in. It's been a lot of hard work to get to this point. Now we've got a great opportunity to go chase a championship. We've been doing a great job doing what we've been doing. We just got to continue that and execute well. Hopefully, it will all kind of take care of itself."
Chase Elliott
The Chevrolet driver behind Larson and ranked 5th overall heading into the Playoffs is defending NASCAR Cup Series champion Chase Elliott. With two wins and 11 top-fives on the season, Elliott is more than capable of clinching his second Bill France Cup at season's end.
"To be real honest with you, I don't really feel any different than I did going in last year," Elliott said when asked if there was added or less pressure as a defending champion.
"I mean, it's nice to have seen some of those circumstances and to have gone through some of those things that you're faced with mentally, just some of those challenges, as you step through that last round and get to Phoenix."
"But to me the message is really no different than it was last year. To me, it's just about enjoying those big moments. If you don't enjoy them, you're never going to thrive in them. A big moment typically means it means something to you and it typically means there's opportunity for something big at the end of it. You have to like it. I mean, that's to me the biggest piece of the whole puzzle. I don't think that message will ever change whether you have zero championships, or you have 15. I feel like that's the single most important piece of how this Playoff format works. It promotes winning, and winning in big situations."
Alex Bowman
The third-ranked Chevrolet seed in sixth overall is Alex Bowman. The 28-year-old Arizona native has found victory lane three times this season and heads into the Playoffs with 6 top-fives. While consistency is the only thing that stands in Bowman's way, the 48 team can't be overlooked this season.
"I think you need to be maximizing each and every week throughout the entirety of the Playoffs," Bowman said about his shot at a championship. "I don't think you can turn it up towards the end of the Playoffs. You need to be strong each and every week. While we didn't have the summer that we wanted, I think we can have a great Playoff run. We had a miserable summer last year and had a really good Playoff run. I'm excited to get going. But yeah, I think you need to operate 100 percent each and every week."
William Byron
The fourth of the Hendrick teammates and the fourth-ranked Chevrolet (8th overall) going into the Playoffs is William Byron. The Charlotte, N.C. native was able to score a victory in February at Homestead Miami Speedway, but since then has been winless. However, after that race, he's shown a lot of consistency and heads into the playoffs with nine top-five finishes. For Byron and the No. 24 team, they need to focus on finishing off strong runs in victory lane.
"Yeah, I've been motivated all season," Byron said ahead of his third career Playoff run. "And I feel like we've put ourselves in good positions. We've prepared really hard for every weekend and every race. I'm really proud of how we've done that all year. I don't think anything changes in that aspect, going into the Playoffs. But just make sure we cover all the boxes and make sure that we're doing all the things that we need to do to get as prepared as possible."
Kurt Busch
Breaking outside of the Hendrick Motorsports bunch, the fifth-ranked Chevrolet entry (11th overall) is Chip Ganassi Racing driver Kurt Busch. Coming off of his big announcement that he'll head to 23XI Racing next season, Kurt has full motivation to finish the season strong. There's also no doubt that Kurt would love to bring a championship to CGR before its Cup Series exit at season's end.
"For us, on the No. 1 Monster Energy Chevrolet race team, we had a really weird beginning of the season where points were a struggle and finishing races with oddball things happening," Kurt said.
"It was weird. We weren't slow, it was just weird. At the (Coca-Cola) 600, we had an engine failure.  And it was like, 'this hast to be about it', for strange things happening. Since June 1st, we have really put in a good run of consistency and the finishes really started to help our starting position build back up.  The win at Atlanta, that really just springboarded us right back to where we needed to be as a Playoff contender."
Tyler Reddick
The final of the Chevrolet entries fighting for a championship is Richard Childress Racing driver Tyler Reddick. The California native, Reddick, has shown moments of success over the season, claiming two top-fives and 13 top-tens. He's considered to be a long shot but will make every effort to hoist the Bill France Cup in Phoenix.
"I would say at this moment looking at how everything's seeded, if you will, only 13 points as of right now separate myself to I believe it's sixth, Reddick said when asked about his outlook on the Playoffs as the bottom seed.
"I hope I got that number right. So it's pretty tight. Again, that can change in one stage, one race, one part of these three-race rounds in this Playoff system. We're obviously going to see new winners. We're going to see three winners this round of the Playoffs and three winners in the Round of 12. That can certainly shake up those numbers and where we're at in comparison."
"When you think about that 13-point gap right now over three races, I feel like we've been able to be consistent and gain a lot of points just over really a lot of the field over the course of the summer. Yeah, you look at these three last races for myself, not exactly the most consistent, for sure. Michigan, flat out just made poor decisions. It happens from time to time. It's a nice little reality check, if you will, before the Playoffs started off."
"So, yeah, I feel good about it still. I mean, everyone's working really hard to set themselves up to really go out of the gates in the Playoffs. Obviously, everyone's going to be probably a little bit faster or different than they've been the last two months. So, speed out of some cars, out of some drivers, may be different now. I still feel good about it, but you never know until you're in it for sure."
Where to Catch Race #1 of the Playoffs:
The 72nd annual Southern 500 will go green from Darlington Raceway Sunday at 6:00 p.m. ET. Coverage will be on NBCSN, MRN, and SiriusXM NASCAR Radio Channel 90. TSJSports reporter Noah Lewis will have exclusive at-track coverage all weekend long.
Written by Noah Lewis
Be sure to follow us on Twitter.
Be sure to follow the writer on Twitter.
Photo credit to Jared C. Tilton/Getty Images via NASCARMedia.