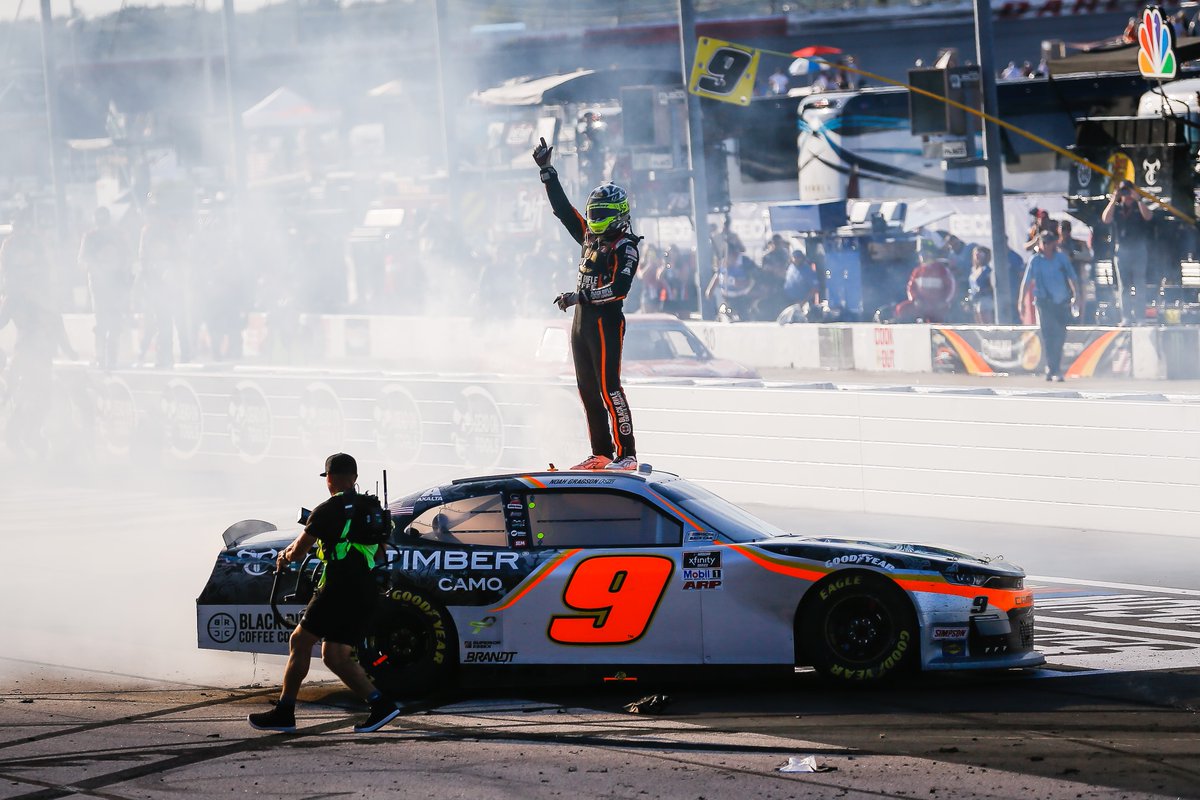 Noah Gragson Picks Up First Win of Season at the 'Lady in Black'
DARLINGTON, S.C. – Noah Gragson picked up his first win of the 2021 NASCAR Xfinity Series season on Saturday. The 23-year-old Las Vegas, Nevada native held off a charging Harrison Burton in overtime to score the victory. Gragson, who led 40 laps, showed speed all day long before eventually putting his winless streak to rest.
"I think it's big, not only for my confidence as a driver, but our confidence as a team," Gragson told media post-race. "It's a performance-based industry and we haven't had the best of season. It's kind of taken a toll, not on our team, but some of the stuff that's going on and motivation. Everything has been great on the team end but on my side, you know, you kind of second guess yourself. Are you good enough to do this? Day's like today reassure you that, hey, you know, keep on pushing. Believe in the process as Josh Wise says."
Harrison Burton Finishes Runner-Up
Harrison Burton is another driver who has yet to find victory lane in the 2021 NASCAR Xfinity Series season. In the closing laps chasing Noah Gragson, Harrison was hoping to pull a similar move to his pass on Gragson in Texas last season coming to the checkered flag. However, he just came up short on finding victory lane.
"It was a fun race," Burton told me after climbing from his car. "Something about second always sucks worse than anything else because you feel like you're one move away, one run away from being in victory lane. I think he was just better than us in (turns) 1 & 2 and we were really strong through (turns) 3 & 4. I just had to take some lines that I didn't really want to take. Tried to get there and loosen him up, just didn't do my job good enough there. But, just frustrated, really proud of our team. Our crew chief was out this week and the whole team did a good job rallying together. Everyone pitched in and picked up the slack of Jason (Ratcliff) who's sitting at home and we're all thinking of, I really wish we could have won for him. Just wanted it real bad."
Regular Season Championship Tighten's Up
The battle for the regular season championship and 15 extra playoff points has tightened up in the Xfinity Series. After Darlington, AJ Allmendinger, who's been on a run of consistency, jumps over Austin Cindric by one point, becoming the new regular season leader. This story is certainly one to follow over the next few weeks.
Where to Catch the Next Xfinity Series Race:
The NASCAR Xfinity Series has two races remaining in the regular season at Richmond Raceway and Bristol Motor Speedway. You can catch all of the action from the Virginia short track on Saturday, September 11th, at 2:30 p.m. ET on NBCSN, MRN, and SiriusXM NASCAR Radio Channel 90.
TSJSports reporters Noah Lewis and Peter Stratta will have exclusive in-person coverage of both events.
Written by Noah Lewis
Be sure to follow us on Twitter.
Be sure to follow the writer on Twitter.
Photo credit to Jr Motorsports via Twitter.