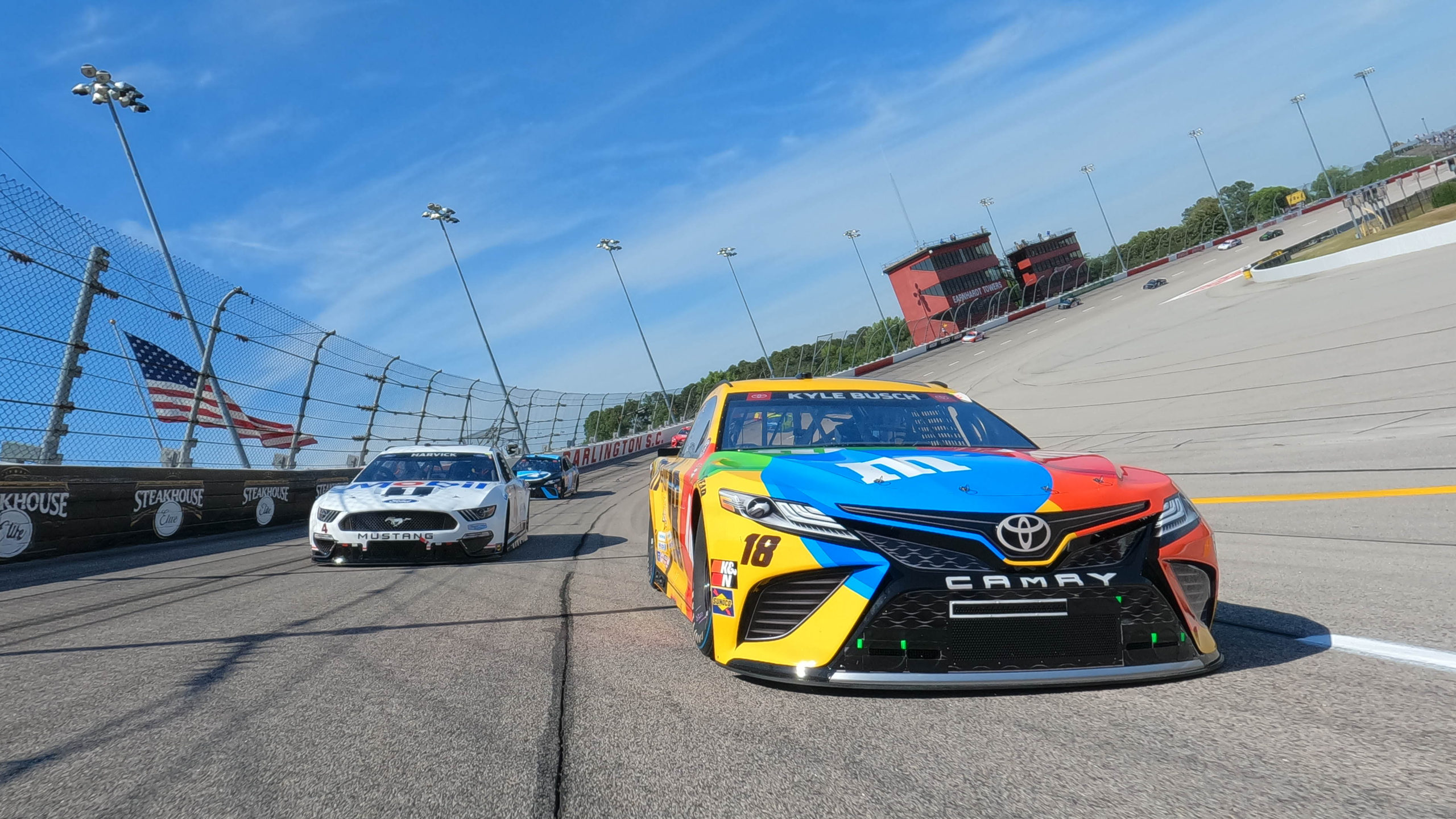 Who Will Start Playoffs on a Hot Streak at Darlington in the Southern 500?
DARLINGTON, S.C. – We are finally here, ready to kick off the 2021 NASCAR Cup Series Playoffs. The opening race of the 10-week battle for the championship could not be at a grittier, more demanding track than Darlington. The Labor Day Classic Southern 500 will be contested for the 72nd year. Who can take a big step forward in their championship quest and tame the South Carolina venue? Darlington is surely a track that benefits experience and veteran knowledge. However, a few young drivers in particular could stand out on Sunday.
Kevin Harvick
Can the Southern 500 be Kevin Harvick's first trip to victory lane in nearly a year? Harvick boasts three career victories at Darlington, with two of them coming a year ago. This includes last fall's Southern 500, which the 4 admittedly stole from Truex and Elliott. This year, Harvick enters the Playoffs as the 16th seed and with no wins. As a result, the 4 must be on the offensive in terms of scoring points immediately. Harvick is confident heading into these Playoffs despite not winning, and also going to Darlington to start the postseason.
"Darlington, from a preparation standpoint with the team and things with the car, those will be business as usual," Harvick said. "From a physical and mental preparation standpoint, you just have to be able to put yourself in a good spot because Darlington is a super-long race. It's a very difficult racetrack to keep yourself out of trouble. You just have to keep yourself on the lead lap and not bang up against the wall and not miss pit road and get yourself into the pit box with no mistakes. And if you can do that for 400 miles, then you're probably going to be somewhere toward the front of the field and have a chance. It's a really long race and it's a very difficult racetrack, and you have to be prepared for that, mentally."
Harvick on the Southern 500 Beginning the Playoffs
"The Southern 500 has always been one of our sport's best races so I think it's a great place to kick off the Playoffs. There's no other place that we go to that just screams the history that Darlington does just because of the fact that the track layout is the same, the surface is unique and worn out. Obviously turn two is newly repaved, but I think that just adds more character to what Darlington already has. There's just nowhere else on the schedule where you can go that has the same, unique feel that Darlington does. It's just a great place to race."
Is race one of the Playoffs already a make-or-break weekend for Harvick? If he leaves the Southern 500 in a deep points hole, this could lead to an uncharacteristically early elimination. The No. 4 Mustang will start ninth for the Southern 500, going for a third win in this crown jewel race.
Denny Hamlin
Much like Harvick, Denny Hamlin enters the Playoffs winless, but could change that at Darlington. The driver of the No. 11 Toyota has previously called Darlington one of his favorite tracks; he has three wins here with two being in the Southern 500. Hamlin most recently won at Darlington in May of 2020, and is a favorite for Sunday.
"Every track we're one of the top two to three favorites every week," Hamlin said. "If Vegas believes in us, more than likely everyone should. I like our chances simply because it's been a very long time, I mean maybe never, other than the last two years where I show up every week and I love what I do because I know I can win. I would say some years haven't been like that, so I'm really happy with where we are as a team."
"Even though we don't have that cushion that we would love to have going into the Playoffs with Playoff points, as long as we just perform the way we've been the last three years we're fine. And, then we'll make it to the Final Four and we're not going to not win. I'm very confident we're going to win before the season is out, if not multiple times."
Adding in Saturday's Xfinity race, Denny Hamlin will have loads on experience on-track this weekend. Hamlin will roll off second in the Southern 500, hoping to win his way into the Round of 12. This first round of the postseason goes to arguably the 11's three best tracks. Hamlin is certainly a contender for the coming weeks.
Chase Elliott
Defending champion Chase Elliott is winless in his career at Darlington. Despite this, he has a great chance to take home the Southern 500 trophy. In nine career starts at The Track Too Tough to Tame, Elliott has four top-10s. However, two of Darlington's three races a year ago were a near-win for the 9. The second May race saw Elliott wrecked from second by Kyle Busch. In addition, Elliott's Southern 500 ended with him in the wall racing Martin Truex, Jr. for the lead late. Can the 9 be in position again to capitalize and have luck fall their way?
"We are super excited for Darlington this weekend," Elliott said. "These next three weeks are exciting races. Three, I feel like, really cool racetracks with fun environments for us. It's getting to be that time of year. Fall is an exciting time of year for a lot of things around sports. And our season is getting down to it, as well. We are just excited to get going. It's hard to believe we are 26 weeks in. It doesn't really seem like it, but here we are starting another Playoffs and heading into the final 10 of the year. It goes by fast, but over two months of racing is still a long time. They will click off and you'll get in certain moments that you might like, some you might not like, and we'll make the most of them all."
Hendrick Motorsports enters the 2021 Playoffs with four great chances at making the Championship 4. Elliott will go for a second-straight Phoenix finale run after starting fourth in the Southern 500.
Kyle Busch
Perhaps the greatest championship threat outside of Hendrick Motorsports, Kyle Busch hopes to return to his winning ways early. Darlington has been a very hit-or-miss track for the 18 team, with no win since 2008. However, Busch does have a top 10 in six of the last seven races here. This stretch also includes two runner-up results. Busch certainly knows his way around Darlington, and knows when to press the attack.
"You start the race off there and you just don't want to hit the wall," Busch said. "We know how easy it is get into the wall and get a Darlington stripe. You don't want to hit the wall and take yourself out of a chance to win the race. The early stages of the race, you are biding your time and racing the racetrack. You are trying not to put yourself in a bad spot. You aren't worrying about competition, and you aren't trying to take too many chances. As it gets deeper into the race and closer to the checkered flag, you are definitely going to be going for it. If you can find even a half-inch of grip by getting a half-inch closer to the wall because that's where the speed is at, you've just got to do it."
Busch on Darlington Turn Two Repave
"That's going to be interesting, for sure. I feel like you are going to be slow into turn one and into turn two. You are going to get to the grip patch and you are just going to be hauling butt off of turn two. You are going to go as fast as you can. I haven't seen it, yet, so I don't see where it ends. I don't know if it's on the end of the turn or onto the straightaway on where it ends. But if you can get a good run off of turn two and be fast off of that corner, you are going to be getting off into turn three way quicker than you need to be for the asphalt grip you'll have going into turn three."
The Joe Gibbs Racing No. 18 will start 12th in the Southern 500. Kyle Busch may not be quite as fast at Darlington as his teammates. However, his experience means he can never be counted out. Throughout these Playoffs, the 18 will be a weekly threat.
Martin Truex, Jr.
A two-time Darlington winner, back in May Martin Truex, Jr. led 248 of 293 laps in a total domination effort. That day, the 19 swept all three Stages, and won by over two seconds. With no wins since however, what is Truex's comfort level returning to Darlington?
"We're definitely excited to be going to Darlington to start the Playoffs this weekend," Truex said. "It's a place we have a lot of confidence at. Really this whole first round, we feel really good about. I'm not sure anyone knows exactly what to expect with the repaved area in turn two. So that will be a challenge for everyone. I felt like that was one of our stronger parts of the track as the bumps had developed. But we'll do our best to plan for the change and hopefully continue to build on how strong we have ran the past few times at Darlington to get the Playoffs started strong."
Truex will start 10th for the Southern 500, going for a season sweep at Darlington Raceway. After having such a dominant car in the spring race, it may be hard for anyone to stop MTJ again.
Kyle Larson
The man who finished a distant second to Truex in the spring, Kyle Larson now enters Darlington and the Playoffs as the favorite. The Hendrick 5 team has been the car to beat all season long, and is now the top seed. Larson was oh so close to the Darlington win back in May, can he close it out this time?
"This is the best opportunity I've had to win a championship," Larson said. "There's nothing easy about Darlington. It's tough because we run so close to the wall and it's so tough getting to pit road. It's a crown jewel that we all want to win. And it means even more since it starts off the Playoffs."
The 5 will take Sunday's green flag from sixth, trying to cap off a great season with a title run. Larson is in no need of winning the Southern 500, but expect him to be among the front runners late Sunday.
The 72nd annual Southern 500 will go green from Darlington Raceway Sunday at 6:00 p.m. ET. Coverage will be on NBCSN, MRN, and SiriusXM NASCAR Radio Channel 90. A win at Darlington takes away all of the Playoff pressure for two weeks. Which team can rise to the occasion and earn this major victory?
Written by Peter Stratta
Be sure to follow us on Twitter
Be sure to follow the writer on Twitter
Photo by Chris Graythen/Getty Images for NASCAR