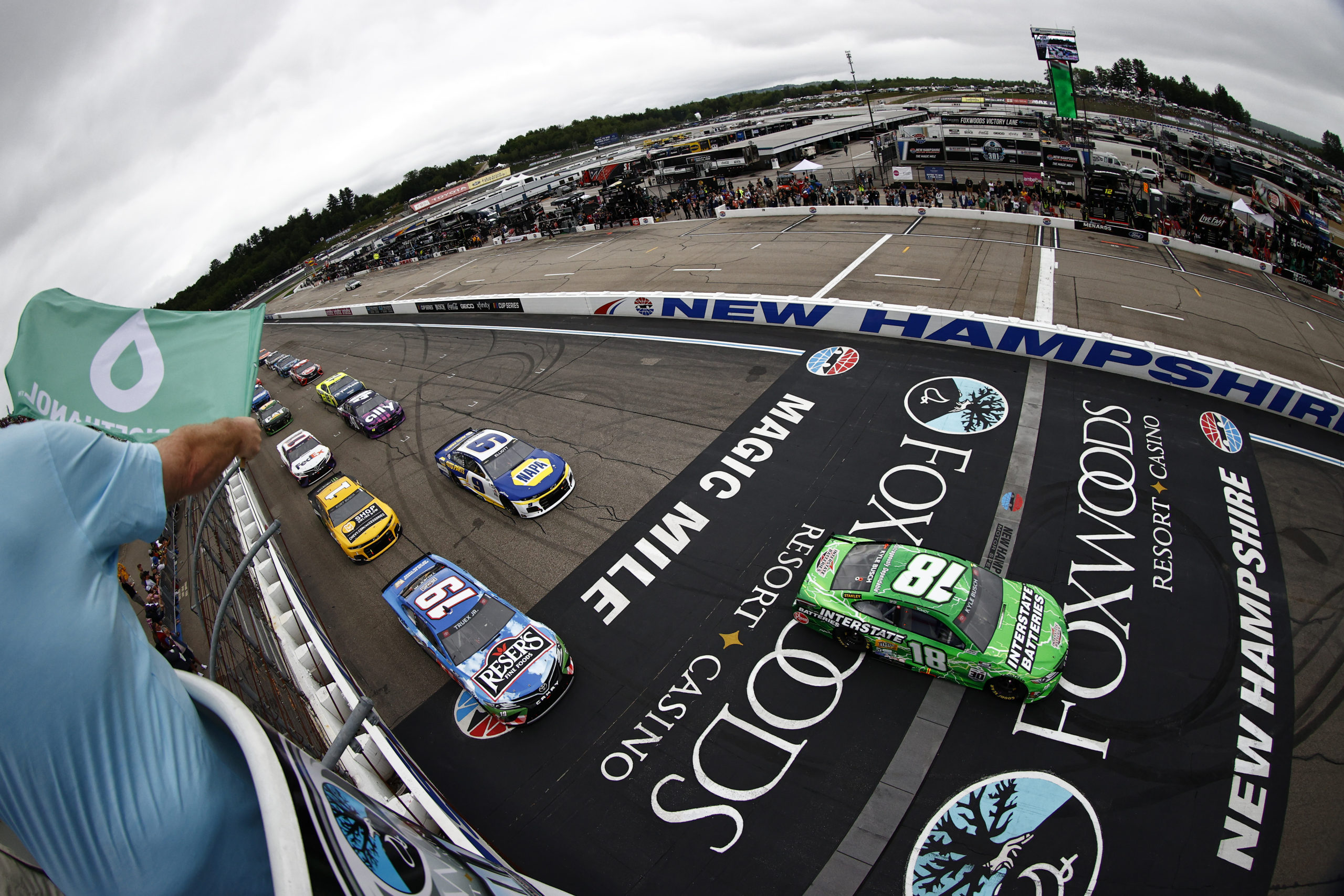 Playoff Standings Update with 4 Races Remaining in Regular Season
22 races into the 2021 NASCAR Cup Series season, 13 different drivers have won. With the two-week Olympic break upon us, this leaves just three of the 16 coveted Playoff spots up for grabs. With the cut line only down to a five-point gap between teammates, the drama will go down to the last lap at Daytona on who gets in. The rest of the regular season will see trips to Watkins Glen, the Indianapolis Road Course, Michigan, and the finale at Daytona. Aric Almirola's New Hampshire win certainly upset the Playoff standings. Can another upset happen over the next month?
Denny Hamlin (+283)
The most consistent driver and team this season still have yet to score a victory. Denny Hamlin has been the regular season points leader since week two. Now with a 282-point buffer on the Playoff cut line, Hamlin is seemingly locked in. The 11 has put all their focus on winning the regular season championship. They currently hold that title by 13 points over Kyle Larson. Can the 11 team capitalize in the postseason though? Recent years have seen Hamlin compile together multiple wins in the regular season only to fall off in the Playoffs. Hamlin has been on the doorstep of victory lane all season long, but luck or bad execution has kept the 11 from a win.
"I'm grateful that we are still leading in points," Hamlin said. "I feel like we've gone through a month or two of not performing at our peak. Our bad days are finishing fifth or sixth – we're not out to lunch. But we're just not as dominant as we were. We're not leading laps like we were at the beginning of the season. So, we're just weathering the storm until we get a little better. And I think we can start to see that in the next few races. There's definitely some pride in winning the regular season championship. Don't think I'm not trying."
While Hamlin has the least to worry about out of any driver on this list, consistency can only carry a team so far through the Playoffs. If Hamlin is to make a third-straight Championship 4 appearance, the 11 needs to start finding checkered flags.
Kevin Harvick (+82)
After nine wins a season ago, Kevin Harvick is also still winless after 22 races. The most recent race may have been a glimmer of hope for Harvick though, as he led a season-best 66 laps before finishing sixth at New Hampshire. Much like Hamlin, Harvick appears to be safe for the 16-man title fight, but that is not the case. With the remainder of the regular season including two road courses and Daytona, a surprise winner or two could knock the 4 out of Playoff contention.
"We haven't run as well as we'd like," Harvick said recently. "But our team has done a great job and put us in position to have a chance of winning a couple races. We just keep grinding away. You just never know week to week when you're gonna be in position and when you're not gonna be in position."
The 4 let a great shot at victory slip away in Loudon. While a road course win is doable, this team must be looking at Michigan in a few weeks as a potential victory. We all know how under-the-radar sneaky Harvick can be in the postseason. With no Playoff points currently though, they also must win to stay alive in the title hunt.
Tyler Reddick (+5)
Sophomore star Tyler Reddick has put together a quietly stable season, but is currently the last man in the Playoffs. Recent weeks have made it seem like both Childress cars are near locks for the postseason, but now they are fighting among each other for the last spot. Who gets the coveted 16th berth into the Playoffs may not be decided until the checkered flag waves at Daytona in a month. Until then however, Reddick is eyeing career win number one in the next four weeks.
How Close is Reddick to Winning?
"There's definitely been some opportunities; even last year honestly," Reddick said. "It's just those little details. I've been learning that the hard way; at least I'm learning from it, right? All the little details that you can kind of overcome in the Xfinity Series. I guess I never really gave the attention to detail that I do now running in the Cup Series as when I was running the Xfinity Series. Find a way to overcome spinning out and just drive back through the field. You're racing against 12 or 13 drivers in the Xfinity Series that are close equipment-wise; where on the Cup side, you could argue some weekends, the top-30 is pretty close."
"I think it's right there, it's just a matter of not making those mistakes that derailed days like Nashville for us. Sonoma is another one. We didn't have the speed to go win at Sonoma, but we could have run top-10. It's just a matter of those little things. Even back to Homestead – it was a great run through the field on that last green flag run, but that restart was my worst restart of the day. I lost like four or five spots and that was the difference in what that outcome was. It's just those little things."
Where Can Reddick Win?
"You never know when it's going to come, right? You may have a day where you're not that great and you just don't make a mistake, everyone else does and you'll find yourself winning. I don't know if it's going to come that way. There are a lot of opportunities where, right now, I think our cars are good enough that if I run a good race, the pit crew does their part – which they have been – I think we could surprise ourselves and it could happen at a few different types of racetracks."
It may just take a win to secure Tyler Reddick's first Cup Series Playoff appearance. The 8 car has proven to be stout on road courses this year, with the COTA pole and a top 10 at Road America. RCR does have strength at both Michigan and Daytona as well, so any of the next four weeks could be Reddick's maiden Cup win.
Austin Dillon (-5)
Much like his teammate, Austin Dillon has also been under-the-radar impressive throughout the season. Despite being 13th in regular season standings, recent wins by Kurt Busch and Aric Almirola have pushed the 3 out of the top 16. If Dillon is to remain in the Playoff hunt on points, he must survive both of the next two weeks then go for it in the following races. Dillon has never earned a road course top 10, so Watkins Glen and Indy could be struggles for the 3. Dillon's best-ever road course result actually came at Road America, with an 11th-place finish.
Michigan and Daytona however are two of Dillon's best tracks. The 3 has two top-fives and five top-10s at Michigan, along with three top-fives and eight top-10s at Daytona. At five points outside of the top 16, Dillon cannot afford to lose any ground the next two weeks. Closing out the regular season on arguably his two best tracks could be a blessing in disguise for Dillon, as he will have to outrun his teammate. The next few weeks may just be a civil war in Welcome, among both RCR teams. Dillon won his way into the Playoffs a season ago, now he must be cautious to remain in the conversation.
Chris Buescher (-121)
Until recently Chris Buescher had the Roush-Fenway No. 17 solidly in the top 16. With no top-10s since Charlotte in May though, the Texas driver has plummeted down the standings. Now facing a must-win scenario for the Playoffs, can Buescher capitalize?
"I think that was probably our worst-case scenario at Atlanta was for Kurt to be able to win that race as far as our Playoff scenario," Buescher said. "More than likely it's a must-win. There would have to be some really solid stages and races, and probably a little bit of bad luck on some of the guys that we're racing at the same time, so that's how we're looking at it."
"For us, that kind of opens up some opportunities. It's kind of a double-edged sword. We're not in it, so that's not the good part, but, at the same time, it does let us go out there and be a little bit more aggressive again, trying to take some chances, take a little bit more risk, run a little bit harder at times, and to get back on track where we were before Nashville and before having a tire cut down there. We've kind of been on a gradual slope downward since then, so it's time for us to recover. The road courses are something we've looked at as a pretty big positive to be able to do that for us."
Buescher does have some confidence for the upcoming road courses. However, the 17's laurels may just have to rest on Daytona. While Buescher is certainly capable of a few top-10s at the road courses, a win is a much loftier goal for this team. Buescher does have a knack for finishing well at Daytona though, so all hope is not quite lost.
Matt DiBenedetto (-143)
After a terrible start to 2021, Matt DiBenedetto had climbed into the top 16 by May. Several rough weeks have seen the 21 car freefall back down in points though, with a current 143-strong deficit.
"Obviously, it's not a situation we want to be in, but that's out of our control," Dibenedetto said. "There's no sense putting any energy into that, just focus on the positives of it. I'll give you the lists of the positives. One, we are the best we've ever been as a team. You guys see it. Our team has clicked. I've talked about it a lot here lately. Our team has clicked to a level it never has."
"Jonathan Hassler, ever since he's taken over our whole team has just clicked very fast. We work together incredibly well. We're executing our races and it's showing. Since he's stepped in we've been in the top 10 almost every week. Nashville, we were up in the top 10 and had electrical issues. Road America, we led laps and finished in the top 10. What I'm getting at is we are the strongest that we have ever been. I'm thankful to the team and for everybody working through that whole process and the results are showing, so we are in the best position we have ever been in to go out there and feel like we can absolutely win."
In his last season driving the Wood Brothers No. 21, Matt DiBenedetto hopes to go out with a bang. This team is still sitting at 99 career wins. Can DiBenedetto deliver the elusive 100th victory to NASCAR's oldest team? Across both road courses and Daytona, DiBenedetto still has a chance at a second-straight postseason appearance.
Ross Chastain (-144)
In his first season at Chip Ganassi Racing, Ross Chastain has helped return the 42 to relevance. Dating back to COTA in May, Chastain has five top-10s, including a runner-up at Nashville. Can the 42 team keep this momentum up to steal a Playoff spot? At 144 points back, Chastain needs to win his way into contention.
"All our pieces to win in the Cup Series are there," Chastain said. "We just have to pick them up in the right order and put them at the right spot at the right time and have the right people doing it. We've just struggled a little bit to do that. It's been building, even before the results were that great. We're just steady on our progress and our processes of trying to be as best as we can be. It's just been a building over time."
A few weeks ago saw Kurt Busch take Chip Ganassi Racing to victory lane in their final season. Can Chastain repeat his teammate's feat and pull off a first career win? The 42 has been sneaky good on road courses this year, so the next two races could be great shots at victory. In addition, Chastain's aggression can either end in a win or a wreck at Daytona. With an uncertain future, Chastain is driving for his life in his quest for the Playoffs.
Bubba Wallace (-170)
23XI Racing's inaugural season currently has Bubba Wallace at 20th in points, with a seemingly-insurmountable gap to the Playoffs. However, Wallace and the 23 team must be eyeing the regular season finale in Daytona as a shot at their maiden victory.
"We wanted the Playoffs when we started the season," Wallace said. "We've got a lot of work to do. We know that we are in a hole, but it's finishes like [Pocono], that we have to capitalize on the speed in our cars. [That] shows what we can do. We've got to keep up the momentum."
What's Next in Playoff Push
The next four weeks will be entertaining to see if anyone can mount a Playoff surge. With only five points separating teammates at the cut line, drama could not be higher at this point in the season. Watkins Glen, Indianapolis, Michigan, and Daytona are the last four opportunities for three driver's postseason chances. The Playoff picture will become ever so clearer after the Go Bowling at The Glen, on August 8 at 3:00 p.m. ET on NBCSN.
Written by Peter Stratta
Be sure to follow us on Twitter
Be sure to follow the writer on Twitter
Photo Credit to Jared C. Tilton/Getty Images for NASCAR