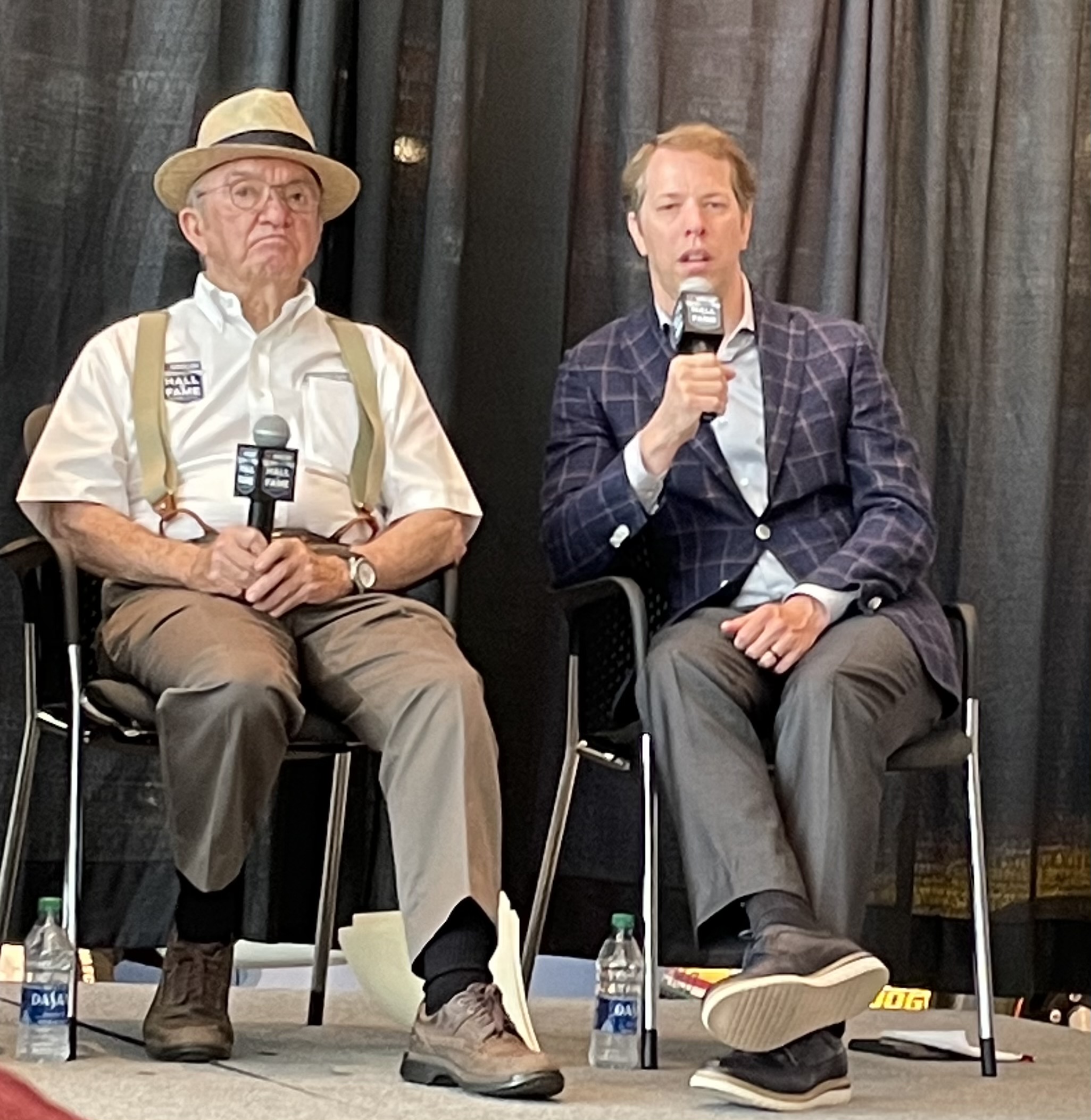 Brad Keselowski Moving to Roush as Driver-Owner, Will Pilot No. 6 in 2022
CHARLOTTE, N.C. – Perhaps the largest piece of the NASCAR silly season puzzle has now fallen into place. After leaving Team Penske's famed No. 2 car, Brad Keselowski will move to the No. 6 Ford at Roush. As part of this move, the 2012 NASCAR Cup Series champion will also become a minority owner of the team. Keselowski, Roush, and others were on hand at the NASCAR Hall of Fame to make this announcement.
Keselowski's Reaction
"It's an incredible opportunity," Keselowski said Tuesday morning. "There were four key components for me. To have a long-term driving contract was something I valued. I want to stay in one place and be there for a long time, hopefully for the rest of my career. That's the intent and the goal.
"The second position which was really important to me was to be in a leadership role… to be able to express myself creatively and be able to lead the company and team to be the best it can be. That was really critical to me.
"The third thing was of course the ownership position. That's quite a unique opportunity that really excites me… It represents growth for me, personally and professionally, which is very important. And that's really the fourth point, to have a role in the sport after I'm done driving."
Roush's Reaction
"Brad has distinguished himself by taking on more things than he needed to in order to be successful in NASCAR," said Jack Roush. "His Truck team was a big challenge, but he wanted to do that apparently to get his legs under him with team operation. I can't say more about how impressed I am with his space-age manufacturing components. To take that on as a separate and totally different industry speaks volumes."
"I look forward as Brad finishes his driving career, which hopefully will not be sooner than five years. Hopefully I'll stretch it like I did with Mark Martin if I can. For him not to be thinking about how he'll be spending his money and off time when he's done racing but think about what he could do to participate in the next level in the management of a team is huge. To enjoy bringing on young people to realize their dreams and start their careers is big too. I think this marks a path for other drivers and owners to think about their legacy plans. You can't do anything about the advancement of years, other than trying to make the most of it."
Fallout Affects Silly Season
With Keselowski going to the Roush-Fenway 6, this displaces its current driver, Ryan Newman. Newman, 43, is now effectively a free agent for this silly season. Whether he remains with Roush-Fenway in a part-time capacity in unknown, and also sponsor-dependent. The 2002 Rookie of the Year's future racing in the Cup Series is certainly at a crossroads, as any future plans for Newman are TBD.
Expectations for this new partnership?
Although this partnership between Keselowski and Roush-Fenway will not kick off for six months, there is great optimism. As a past Cup Series champion, Keselowski knows the network and foundation needed around him to transform a team into a regular contender. Keselowski himself likened this move to Tony Stewart leaving Joe Gibbs Racing to form Stewart-Haas Racing in 2009. Coincidentally enough, Stewart and Keselowski were both the same age when they became team owners. At 37 years old, Keselowski is just now entering the prime production years of his NASCAR career. Just like Smoke did over a decade ago, can Keselowski help a struggling team evolve into a powerhouse organization?
Brad vs. Daytona
The one milestone achievement that Brad Keselowski has not enjoyed as a NASCAR driver is a Daytona 500 win. In 2020, both Roush-Fenway cars were mere yards from placing in the top five for The Great American Race. Earlier this year, Keselowski also was about a mile from this crown jewel victory before a crash. Now in a new setting, can Keselowski come out to win the sport's biggest prize?
"I'm not sure if it's my best shot [at a Daytona 500] but it's a great shot," Keselowski said. "I think one of the strengths of the program today is the superspeedway program. I have no doubt that Jimmy Fennig is an excellent leader for that side. It's one of the areas of strength for sure for the company, I expect we'll be able to go to Daytona and Talladega and contend for a win. I'm looking to fire off very strong."
Before 2022 starts however, Keselowski has 14 races remaining as a Team Penske driver. The Michigan native has all the motivation and confidence in the world to leave the 2 team as a two-time champion. Keselowski made the Championship 4 a year ago only to finish runner-up, can 2021 fare better for him? Keselowski's next on-track action in the 2 will be August 8 at Watkins Glen.
Written by Peter Stratta
Be sure to follow us on Twitter
Be sure to follow the writer on Twitter
Photo Credit to Peter Stratta