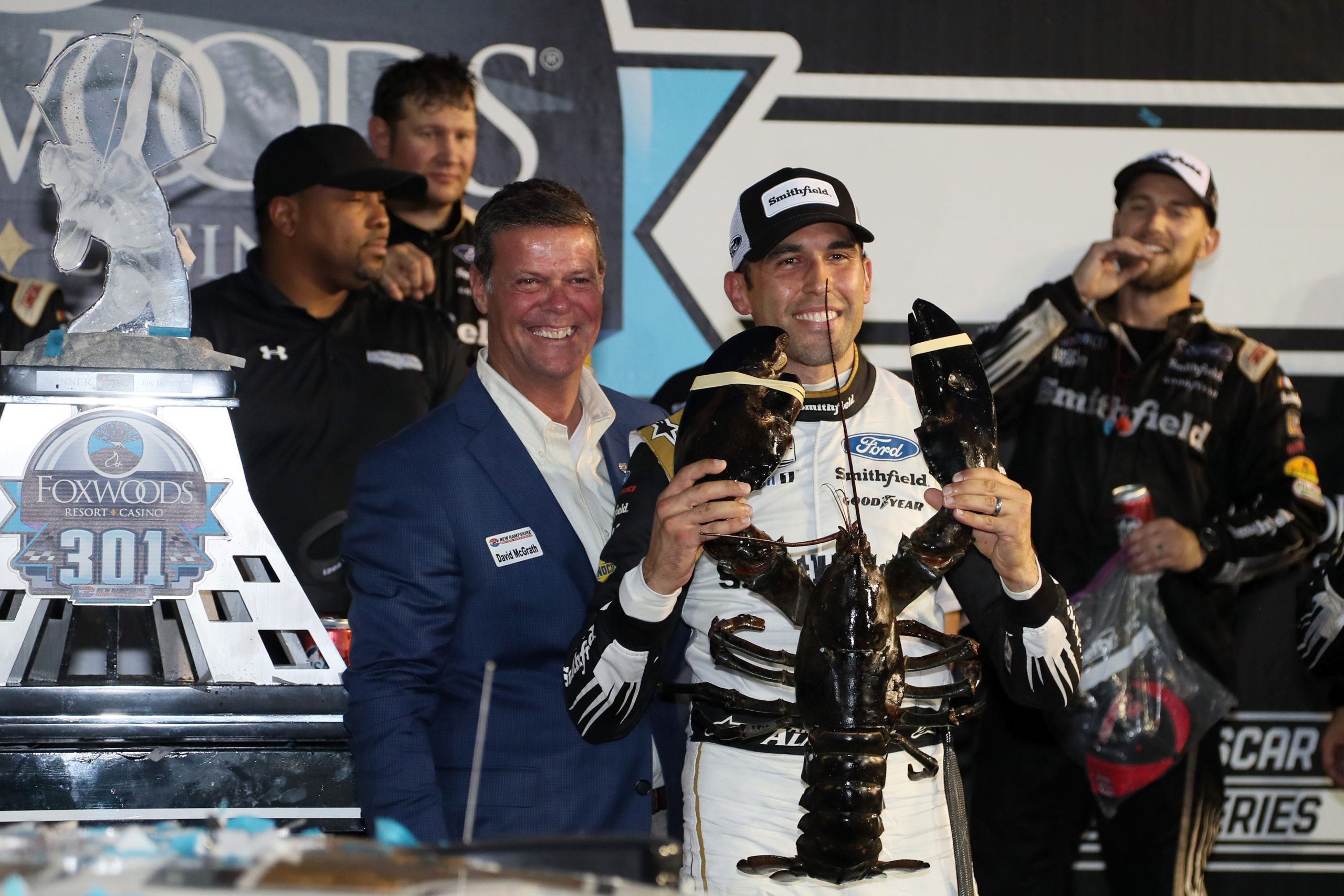 Aric Almirola Punches Ticket to NASCAR Playoffs with Loudon Win
LOUDON N.H. – Aric Almirola is the driver lifting a Loudon lobster in victory lane at New Hampshire Motor Speedway. The 37-year-old Tampa, Flordia native claimed his third career victory after holding off Christopher Bell in the closing laps. By passing Kevin Harvick, Brad Keselowski, and Ryan Blaney within Stage #3, Almirola proved he had the fastest and most deserving car at the end.
"This is by far one of my favorite race tracks," Almirola said after climbing from his car. "I love coming up to the New England area and racing! I love this race track. Had this race won a couple of years ago and I gave it away. So glad to win a race here with this race team! God is so good-we've been through so much and I've just stood the test and kept the faith! There have been so many people who have continued to support us through, like, the crappiest year ever! Man, this feels so good for them. But guess what, we're going playoff racing!"
On his quest to victory lane, Aric Almirola held off a hard-charging Christopher Bell. The race distance was shortened by 8 laps due to darkness, allowing Almirola the buffer he needed to make it to the finish first. By doing so, he clinched his first non-superspeedway victory in the series.
"That's what a race car driver lives for," Almirola said about charging to the lead and holding off Bell. "For so long, I've been so close to winning at some of these race tracks like here and Dover but let it slip away. I've honestly hated it and my wife has hated it. She's always told me, honey I want you to win so badly at somewhere other than a restrictor-plate track and we did it today! We've been fighting, scratching, clawing and man this feels so good to have something payoff for all the hard work."
Christopher Bell on Second Place Finish & Laps Cut Short
"I didn't know how many laps they cut it short," Bell said post-race after scoring his 9th top-10 this season. "But definitely whenever I saw the board and saw we were 8 laps short, it stings man because I feel like I probably had a little better pace than him (Aric Almirola) and was able to get to him. I know lap cars were giving him a bad time but if I was able to get to him, it was going to be a heck of a race. We didn't start out the greatest and then we were really good, the best we were all day right there at the end of the race. That's all you can ask for, to have a shot at it. Just wish we had 8 more laps."
Wet Track in Stage #1 Takes Out Leader
All weekend long, rain has loomed in the Loudon area but seemed to dissipate prior to the race start. For today's Cup Series race, track drying crews worked tirelessly to have the track ready for a scheduled start. Finally, as cars rolled out onto the track, a light mist began to fall. By lap 6, that mist had quickly turned into a track-changing rain.
At the time, race leader Kyle Busch was heading down into turn 1 conservatively but as he hit the corner, his No. 18 machine quickly spun and backed into the outside wall. Behind him, his Joe Gibbs Racing teammates Martin Truex, Jr, and Denny Hamlin also lost control of their cars but drove away with far less damage than Rowdy.
As to be expected, Kyle Busch and others were unhappy with NASCAR's lack of choice to display the caution flag sooner as rain had been light but present since the race start. They also complained that the lap before was nearly just as bad but everyone luckily was able to get through the corner.
"We started the race under a mist," Kyle Busch said after climbing from his wrecked race car. "It never should have gone green to begin with but then it kept getting worse and worse with each lap. The lap before I went into one and it shoved the nose really bad but I was able to keep it under control, it wasn't wet enough. The next time I went down there…just backed it in. We'd been talking about it for two laps that it was raining. There's no sense in saying what I want to say…it doesn't do you any good."
NASCAR's Response to Rain Incident
"Certainly an unfortunate situation of what we just saw," Steve O'Donnell, NASCAR VP & Chief Racing Development Officer said about the situation. "We can only go by the pre-race discussion we have before the race. As the race started progressing, right before Kyle got loose in turn 2, the communication to us was from the flag stand was that we're seeing some mist. In any normal circumstance when we hear that, our next call is to the pace car which is in turn 1 here. Drops started picking up, Kip (Childress) communicated that. As Tim Bermann is about to put out the yellow we look down and the 18 car is already getting loose. I've been here a number of years and that's the first time I've seen that, in terms of how quickly it came upon us. We've raced in mist conditions before but the track got slick in a hurry and it was unfortunate what took place."
Where to Watch the Next Cup Series Race:
The NASCAR Cup Series will go on a two-week hiatus before heading to Watkins Glen for the first time in two years. Chase Elliott is the most recent winner at the New York road course and is certainly the favorite anytime we turn right and left. You can catch the race August 8th at 3:00 p.m. ET on NBCSN, MRN, and SiriusXM NASCAR Radio Channel 90.
Written by Noah Lewis
Be sure to follow us on Twitter.
Be sure to follow the writer on Twitter.
Photo credit to James Gilbert/Getty Images via NASCARMedia.