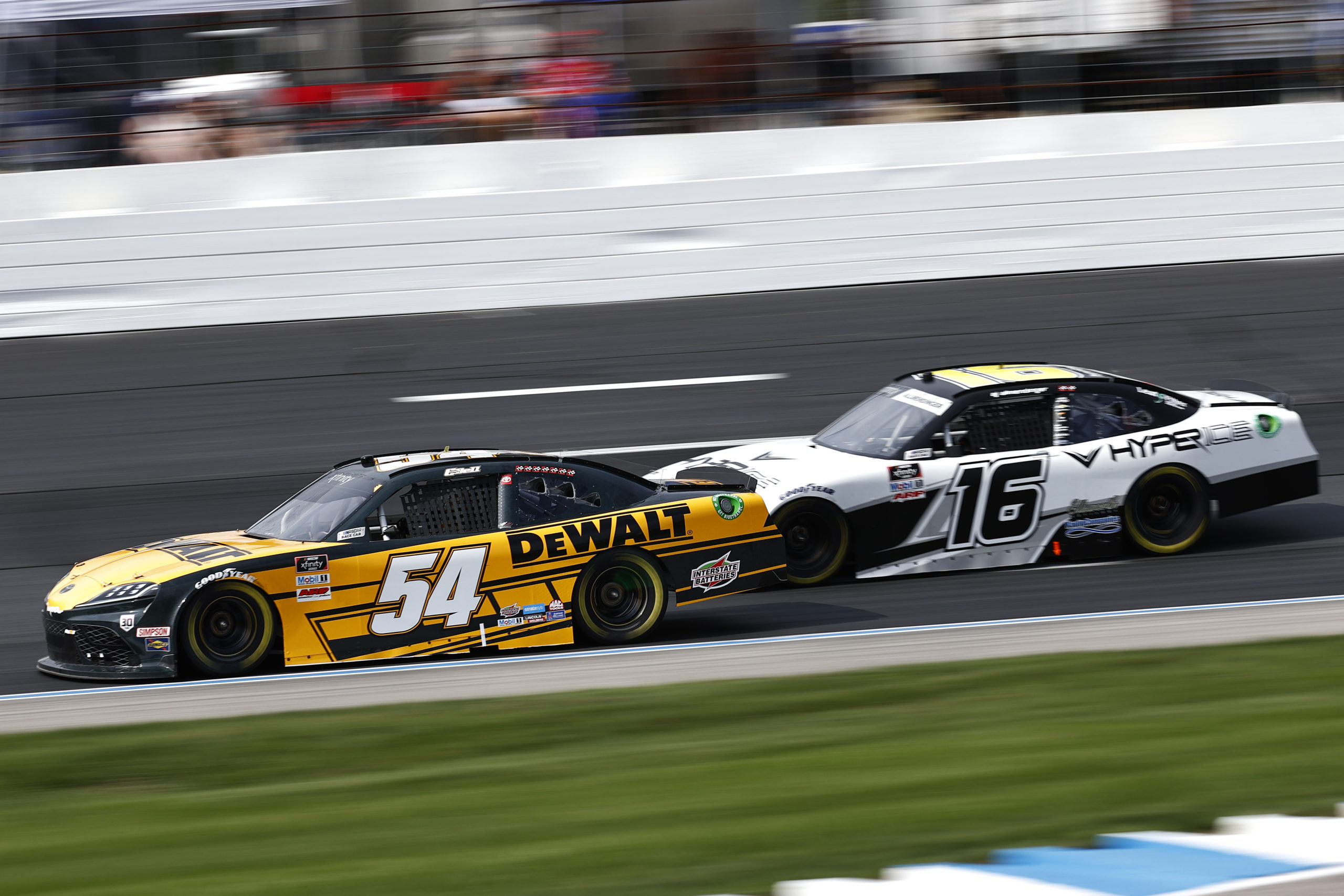 Christopher Bell Earns Third-Straight New Hampshire Xfinity Win
LOUDON, N.H. – He may have started 14th, but he did not stay back there for long. Christopher Bell put on an Xfinity Series driving clinic at New Hampshire, leading 151 of 200 laps. With a one-year hiatus from Loudon last season, Bell has now won the last three Xfinity races from the Magic Mile. Can Bell's Xfinity fortunes translate to Sunday's Cup race as well?
Stage-Sweeping Day
Bell was a clear contender from the drop of the green flag. By the lap 20 competition caution, the 54 ran sixth. His charge forward would not stop there, as Bell took the lead from AJ Allmendinger on lap 44. Bell would be out front when a caution ended Stage 1 on lap 45, stealing a valuable Playoff point from the 16.
Stage 1 was not without any incident, as the first restart did see a stack-up and another immediate yellow. The biggest losers here were Brandon Jones, Sam Mayer, and Riley Herbst. While Mayer and Jones both finished outside the top 35, Herbst would amazingly recover from this spin for a top 10. Trying to claw his way back into the Playoffs, New Hampshire was a big points day for the 98.
A few drivers staying out after Stage 1 put the 54 back on the next restart. In spite of this, it only took the Oklahoma native two laps of racing to retake the lead. The 54 would hold on to win Stage 2 as well, this time over Austin Cindric by nearly four seconds.
Bell Never Looks Back
The final Stage would be a Christopher Bell invitational, as the 54 led the duration of the remaining 100 laps. The initial laps here did see Bell get challenged by Justin Allgaier, but the 7 eventually fell off. By the checkered flag, Bell had a lead of more than six seconds.
In a race Bell was not slated to run until a few weeks ago, the past Xfinity Series driver came back for a domination. Bell now has three career wins in three starts at New Hampshire, earning a Loudon hat trick. Overall, Bell also now has 17 career Xfinity wins in only 75 starts. 17 wins now has Bell tied with Denny Hamlin for 17th on the Xfinity Series' all-time wins list. Bell is also the third different driver to win this year in the 54 car, joining Kyle Busch and Ty Gibbs.
Bell's Winning Reaction
"What I got figured out here is that I got really really fast racecars to drive," Bell said. "I just love being here with Joe Gibbs Racing. All these Supras I've had the last three times that I've been here have been amazing. Hopefully the Camry is just as good tomorrow, but man it feels good to win. Finally got DEWALT in victory lane! I know it's been a long time coming."
Bell would cap off his winning performance in Loudon by giving the checkered flag away to a kid in a CBell #20 t-shirt. The good times will hopefully continue for Bell, as he starts ninth in Sunday's Cup race.
Top 10 Results from Loudon
A distant six seconds behind Bell would be Justin Allgaier. Both Allgaier and Daniel Hemric had a great battle for second throughout the closing laps, with Allgaier getting it at the finish. Austin Cindric and Harrison Burton would round out the top five. The rest of the top 10 were Justin Haley, Myatt Snider, Josh Berry, Brett Moffitt, and Riley Herbst.
Playoff Standings After New Hampshire
With Bell being a Cup driver, only five Xfinity contenders still have a victory in 2021. Seven spots remain in their Playoffs, with seven races left in the regular season. The bubble position is currently held by Michael Annett, who is still sidelined with injury. Annett holds just 32-points over Riley Herbst. With Annett hopeful for a return at the next race, hopefully the 1 can stay alive in the postseason hunt.
What's Next for Xfinity
A three-week break now commences for the Xfinity Series. The next time this series competes will be at Watkins Glen, for the first upstate New York race in two years. Coverage of the Xfinity Series from Watkins Glen will be Saturday, August 7 at 4:00 p.m. ET on CNBC, MRN, and SiriusXM NASCAR Radio Channel 90. Can road course aces Austin Cindric or AJ Allmendinger earn another win at The Glen?
Written by Peter Stratta
Be sure to follow us on Twitter
Be sure to follow the writer on Twitter
Photo Credit to Jared C. Tilton/Getty Images for NASCAR