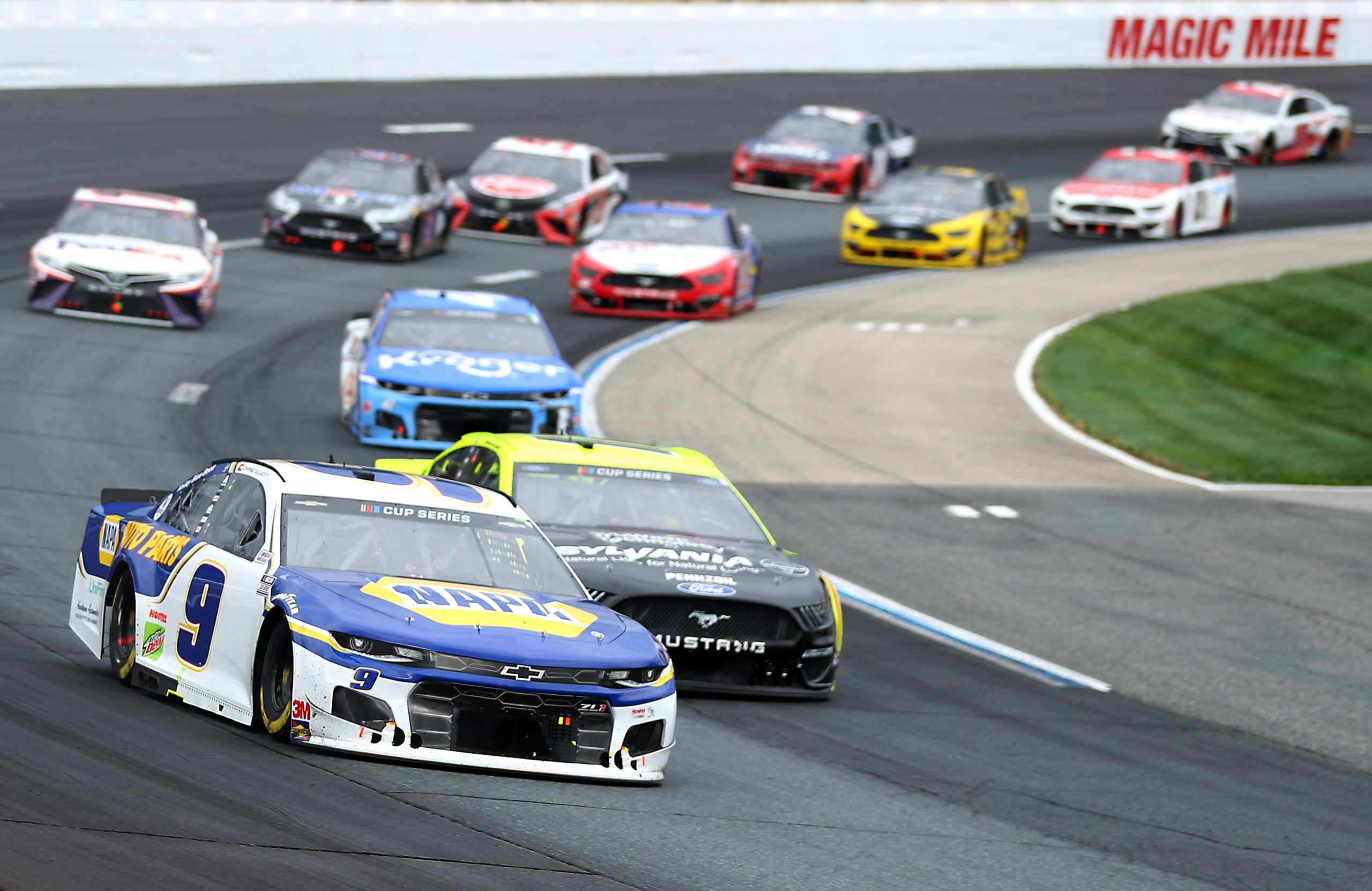 Who Will Win New Hampshire's 50th NASCAR Cup Race?
LOUDON, N.H. – Sunday marks the 50th ever NASCAR Cup Series race at the 'Magic Mile.' The flat mile at New Hampshire Motor Speedway has been a staple on the NASCAR schedule since 1993. In such a landmark race at New Hampshire, who can raise the lobster trophy high in victory lane? Recent Loudon races have favored a few drivers who have yet to win this year. Last week in Atlanta saw Kurt Busch lock his way into the Playoffs, can another driver secure their postseason future in New Hampshire?
Kurt Busch
What are Kurt Busch's chances of going back-to-back with victories? The newest driver locked into the 2021 Playoffs is also a three-time Loudon winner. However, Kurt Busch's most recent New Hampshire win came all the way back in 2008. Busch's recent Loudon stats are not the strongest either. In the last five New Hampshire races, Busch has a best result of eighth. The 1 car will start fourth this weekend, hoping to better his New Hampshire trends.
Alex Bowman
Not one of his favorite venues, Alex Bowman will try and steal another win at New Hampshire. Bowman has struggled historically at the Magic Mile, with a best result of 11th in 2018. With no top-10s in New Hampshire, Bowman's average finish here is a dismal 24.8.
"It's a tough place, a place I've really struggled at over the years," Bowman said of Loudon. "I've had my fair share of bad moments there. I always joke that I should've burned the place down when I had the chance when my car was on fire in 2015. It's not my favorite, but neither was Richmond and we went there and won this year. Hopefully we can get it turned around."
"We've really improved our short-track program for the No. 48 Ally team. We struggled at Richmond Raceway for a long time and this year we went and won there. Hopefully, we can take some of what we learned there to be good at New Hampshire."
With this improved short track package, hopefully the 48 can be closer towards the front of the pack this weekend. Bowman will start fifth, his best ever starting spot in New Hampshire.
Brad Keselowski
Defending New Hampshire race winner Brad Keselowski is looking for his third lobster. Last year, the 2 car started fourth and led a race-high 184 laps en route to the win. Keselowski's win last year was a big statement, as his Penske team took that exact car to the Phoenix finale. This year, the 2 look for a different kind of statement win. Keselowski and Ford overall have been noticeably off in speed and performance. Since winning at Talladega in May, the 2's best finish has been third twice. Can Keselowski reassert himself into championship discussions now in a lame-duck situation at Penske? Keselowski will go for win number two on the year after starting 11th.
Kevin Harvick
Tied for the all-time winningest driver at New Hampshire, Kevin Harvick is still searching for victory this year. Harvick has four career lobster trophies, including two of the last three. After placing fifth here last year, can the 4 rally for another winning performance? Harvick enters New Hampshire with a top 10 in three of the last five races, and 11th last week in Atlanta. While the 4 has lacked in speed all year, the short track tendencies of Loudon could allow for Harvick's experience to rise to the top. Since 2019, Harvick has been tied with former teammate Jeff Burton as New Hampshire's most successful driver ever. Can the 4 become a five-time lobster winner this weekend? Harvick will start 12th Sunday.
Martin Truex, Jr
Perhaps the best active driver at New Hampshire without a lobster trophy, Martin Truex, Jr. hopes to change that stat this weekend. Winless in 27 Magic Mile trips, MTJ's best result here is third, on three different occasions. One of those third-place results was a year ago. Starting on the front row this weekend, where is Truex's confidence level entering the New England facility?
"I've been going there a long time, have a lot of memories there," Truex said of his Loudon history. "It's the first big track I ever raced on – the first Cup Series track I ever raced on. I really enjoy the area obviously and that place was really a big part of me getting the opportunity to move down south and race in the Busch Series back in the day. I haven't been able to win there yet, but we've been close a bunch of times and hopefully we can get it done this weekend." The 19 will have a great chance at victory Sunday, starting second.
Joey Logano
Two-time New Hampshire winner and New England-native Joey Logano is hoping to become relevant again this year. While the 22 team does have the Bristol Dirt win, since then they only have eight top-10s in 14 races. Logano has been a bit off, just like all of his Ford counterparts in 2021, coming off a 19th-place run in Atlanta. Logano does however boast four-straight Loudon top-10s. Starting 15th though, Logano will have to rally early if he wants to make any inroads to the front of the pack Sunday.
Chase Elliott
Last week was a big opportunity lost for Chase Elliott and the 9 team. After starting on pole at Elliott's home track, pit road issues kept the 9 trapped mid-pack all day long. Elliott would only manage to finish seventh after leading laps early. Coming into New Hampshire, Elliott eyes a much stronger day. However, Elliott is aware that New Hampshire requires a very specialized driving technique.
"New Hampshire has been a really hit-or-miss place for us; it's just a different track," Elliott said. "It takes a different driving style, I feel like, than some of the other places. I look at Loudon at being more of its own animal. We've had a couple solid runs there, but never a dominating performance. It hasn't been my best place, I don't feel like, personally." The Napa 9 car will go for a third win of 2021 after starting third in Loudon.
Kyle Busch
Three-time New Hampshire winner Kyle Busch has to be seen as a favorite entering Sunday. Starting from pole, the 18 will have a great shot at win number three on 2021. Aside from crashing out early in last year's race, Busch has top-10s in five of the last seven trips to Loudon. Busch's hot summer streak has also seen the 18 rise from 10th to third in points, as he challenges for the regular season championship. Expect KB18 to lead early, as he will certainly be tough to beat on Sunday.
Kyle Larson
Can Kyle Larson's season get righted again in New Hampshire? Since his run of three-straight wins, Larson has fallen back to Earth a bit. The past two weeks have seen the 5 finish 16th at Road America and 18th in Atlanta. In 10 career New Hampshire races though, Larson has finished second three times.
"I've always enjoyed going to Loudon," Larson said. "I wouldn't say it's one of my best tracks, but I do enjoy going there because it's different. It reminds me of a longer, bigger Indianapolis Raceway Park the way you race it. With the traction compound application there, it seems to wear out for the last couple runs so you have to adapt and search and find where there's more grip." Starting 10th in Loudon, the 5 should have a great chance to get back to victory lane.
Denny Hamlin
Points leader Denny Hamlin is also a three-time Loudon winner. Despite still being winless on the year, the 11 team has been arguably their best on short tracks this year. Hamlin had wins escape his grasp at Richmond, Martinsville, and at Bristol Dirt. With Loudon having many short track characteristics, this weekend could be Hamlin's breakthrough win for 2021.
"We're confident going back there. Our short track package has been better this year. It's something we put an emphasis on because of the final race being in Phoenix. We got our tails kicked there last year in the Championship 4, so we put more focus on it and we've gotten better."
"I'm grateful that we are still leading in points. I feel like we've gone through a month or two of not performing at our peak. Our bad days are finishing fifth or sixth – we're not out to lunch. But we're just not as dominant as we were. We're not leading laps like we were at the beginning of the season. So, we're just weathering the storm until we get a little better. And I think we can start to see that in the next few races. There's definitely some pride in winning the regular season championship. Don't think I'm not trying."
Hamlin Afraid of the New Hampshire Trophy?
Last time Hamlin won in Loudon, he was very hesitant to even touch the lobster trophy, citing a fear of crustaceans. Should Hamlin win on Sunday, kabourophobia will be the least of his concerns. The Fedex 11 will roll off sixth Sunday, chasing the elusive first win of the season.
49 past races at New Hampshire Motor Speedway have seen 24 different drivers pull into victory lane. While Sunday is not the track's golden anniversary, a 50th race in New England is still a milestone nonetheless. Coverage of the Foxwoods Resort Casino 301 will be live Sunday, July 18 at 3 p.m. ET on NBCSN, PRN, and SiriusXM NASCAR Radio Channel 90. Will one of the above mentioned drivers lift the lobster trophy high as a winner, or will we see a Playoff-upsetting moment?
Written by Peter Stratta
Be sure to follow us on Twitter
Be sure to follow the writer on Twitter
Photo Credit to Maddie Meyer/Getty Images for NASCAR