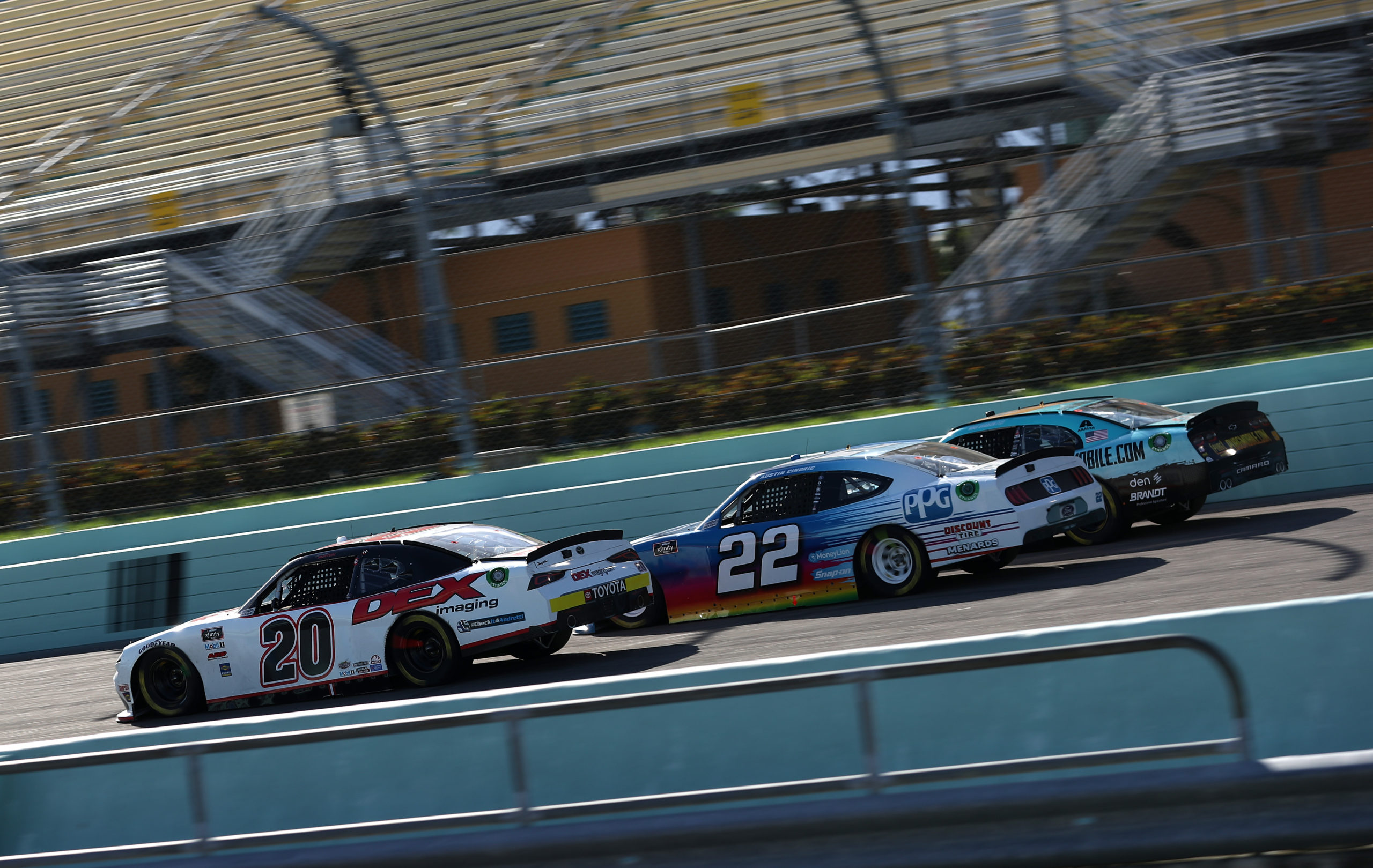 Austin Cindric, Harrison Burton to Become 2022 Cup Series Rookies in Penske Fold
MOORESVILLE, N.C. – The rookie field for the 2022 NASCAR Cup Series just earned two more participants. Two of the most iconic rides in the sport will be taken over by second-generation driving talents from the Xfinity Series. Austin Cindric will pilot the flagship Penske 2 car, while Harrison Burton will drive the Wood Brother's 21 Ford. Both young drivers will compete for Cup Series Rookie of the Year honors in the first season of the NextGen car.
Driver's Reactions
"Throughout my NASCAR career, I've grown a lot as a driver and an individual," said Cindric. "There are so many individuals within the walls of Team Penske that have elevated me to a level that matches this opportunity. The support towards my development from Roger, Team Penske, and all of our partners has been the leading factor towards race wins and a championship.
"The No. 2 car is iconic to this sport and is a number that represents the foundation of this team. It is a great honor and a great responsibility to continue that role. As 2022 gets closer, I am excited to embrace that. Until then, my focus remains on winning another Xfinity Series Championship."
"Since I began racing quarter midgets, the hope and goal was always to become a full-time driver in the NASCAR Cup Series," said Burton. "Now, I get to do this with one of the most storied teams in NASCAR history in the Wood Brothers and with an association with Ford Motor Company and Ford Performance. I don't think I could have dreamt of a better situation to put myself in when it comes to the start of my NASCAR Cup Series career. Add to that the technical alliance with Team Penske and the knowledge I'll gain from working with their drivers and I'm really excited for 2022 and the future. This is a great opportunity for me and I can't thank Eddie and Len Wood enough for giving me this chance."
The Next Penske Protégé
The son of Team Penske President Tim Cindric, Austin Cindric has been groomed for a Penske Cup ride. In 118 current Xfinity starts, Cindric has 12 wins, all with Penske. Cindric won the 2020 Xfinity title with Penske, and also hopes to make it two-straight this year. In six Cup starts this year, Cindric has also led laps three times, and was in the top 10 for much of this year's Daytona 500.
Legacies of the 2 and 21
Cindric will be joining the Team Penske operation that already includes Joey Logano and Ryan Blaney. Cindric hopes to add to the heritage of the Penske deuce, a history that involves multiple Cup champions. Penske's 2 car lineage started with Rusty Wallace in 1991. The 2 car then shifted to Kurt Busch for five seasons, and has been at the helm of Brad Keselowski since 2011. Keselowski took the 2 car to Penske's first championship in 2012, and has been a perennial contender ever since. Longtime Penske sponsor Discount Tire will be on the 2 and 12 cars next season. Other sponsors for Cindric will be announced at a later date.
The history of the Wood Brothers Racing No. 21 and its list of drivers is a veritable who's who of NASCAR. Many Hall of Fame talents and past champions have piloted the famed red-and-white colors for the Virginia-based team. In recent years, the 21 has belonged to Ryan Blaney, Paul Menard and also Matt DiBenedetto. At the time of this writing, Wood Brothers Racing is still yearning for their 100th Cup Series victory. Matt DiBenedetto has 15 more chances to deliver this milestone to NASCAR's oldest team. At the close of the season however, this family will align with another Virginia racing clan, the Burtons.
Harrison is the son of 21-time Cup Series winner and NBC analyst Jeff Burton. Hailing from South Boston, moving to a team with roots in Stuart, VA seems like a homecoming of sorts for Burton. Ford Quick Lane and Motorcraft will remain as partners for the 21 team, while Burton will bring over DEX Imaging. Burton has one prior Cup start this season, back in April at Talladega.
Focus Still on 2021
Both Cindric and Burton currently compete in the Xfinity Series. While today's news certainly is huge for both driver's futures, they remain committed to winning the 2021 Xfinity Series title. Cindric is looking to become the ninth driver to earn back-to-back Xfinity championships. The 22 team already has four victories so far in 2021. Meanwhile Burton won four times a year ago and is still searching for his first win of 2021.
Remaining Unanswered Questions
As a result of new drivers in two of the four Penske-affiliated cars, two past drivers are misplaced. Brad Keselowski is leaving his home for the past 12 seasons. While nothing is official, the prevailing rumor is that the 2012 champion will become a driver/co-owner at Roush Fenway Racing.
On the other side of this equation is fan-favorite Matt DiBenedetto. Matty D is currently without a ride for 2022, as he enters the free agent market. Can DiBenedetto go out with Wood Brothers in winning style? The next 15 races may just be the Californian racing for his future. Stay tuned for any updates on both driver's 2022 plans.
In the first season of the NextGen car, Team Penske will have an in-house Rookie of the Year battle. While Cindric has shown great potential in his limited Cup starts this year, this race for top rookie is far from decided. It will certainly be interesting to see how both young drivers adapt to competing at NASCAR's highest level.
Written by Peter Stratta
Be sure to follow us on Twitter
Be sure to follow the writer on Twitter
Photo Credit to Chris Graythen/Getty Images for NASCAR