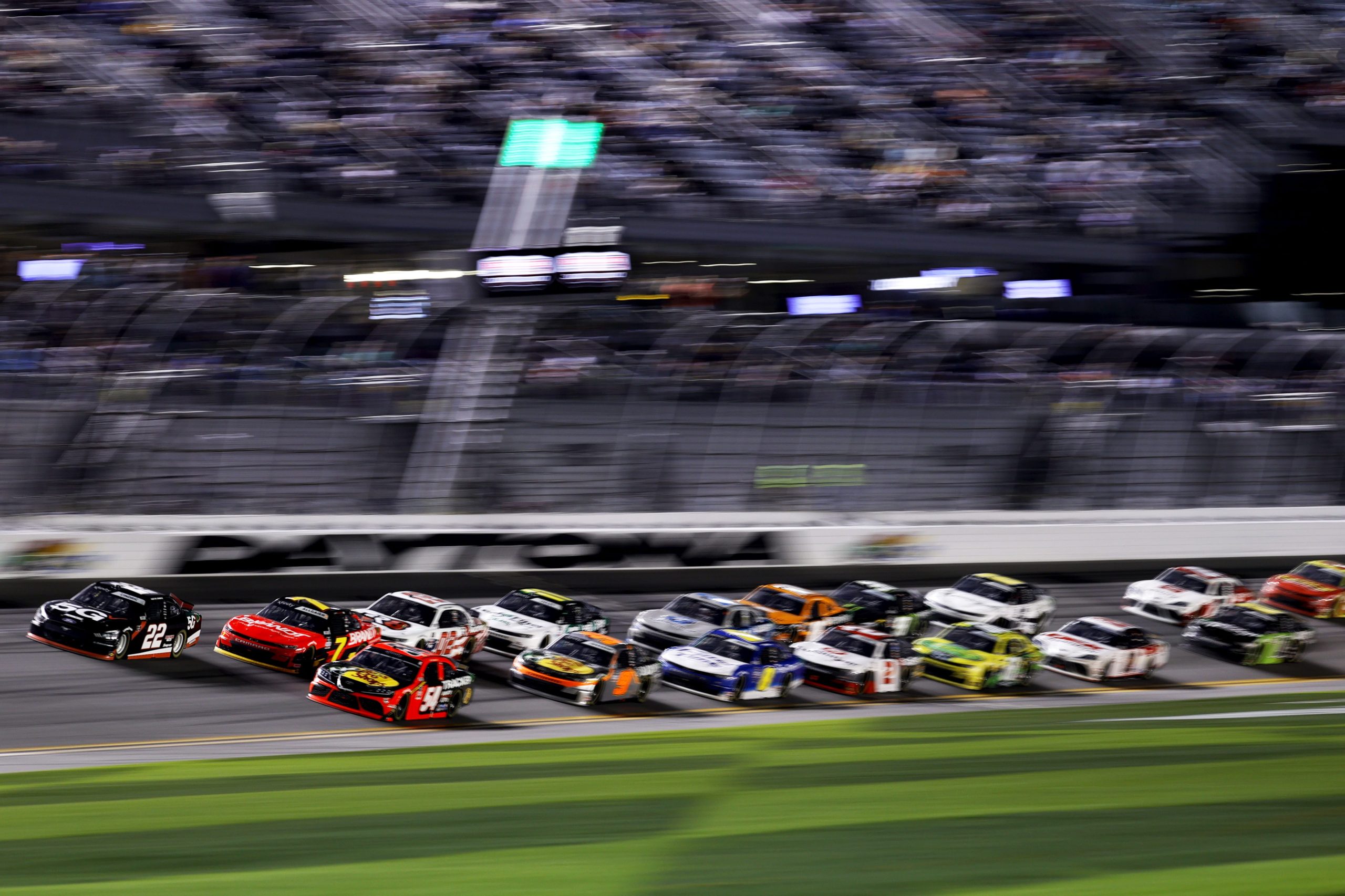 Xfinity Series 2021 Playoff Grid Halfway Through Regular Season
After Mid-Ohio, the NASCAR Xfinity Series is halfway to the 2021 Playoffs. Through 13 races, there have been eight winners, with five being Playoff eligible. This leaves seven spots remaining for the final 13 races of their regular season. This Xfinity Series season in particular has been intriguing with four first-time winners. These different winners include non-championship drivers Ty Gibbs and Josh Berry.
Austin Cindric, AJ Allmendinger, Jeb Burton, Justin Allgaier, and Myatt Snider are all locked into the postseason thanks to wins. Who will be the seven others joining them in the championship hunt this fall?
Daniel Hemric (+128)
Despite 100 career starts in Xfinity competition, Daniel Hemric is still yearning for his maiden win. In his first season driving the Joe Gibbs Racing No. 18 Toyota, Hemric has been oh so close to victory. Of his eight career second-place finishes, one came earlier this year at Las Vegas. Beyond that, Hemric has 310 laps led this year, eight top-10s, and an average finish of 11.3. The Kannapolis, N.C. native had an especially tough loss a few weeks ago at his home track. Hemric led a race-high 105 laps before crashing out at Charlotte. At third in points, Hemric's Playoff future is of little doubt. However, can the 18 close a race out to earn his first NASCAR win?
Harrison Burton (+128)
At this point last year, Harrison Burton had two wins to his credit. This year though, the 20 has yet to pull off a victory. The second-generation talent has come close to winning this year though, with three third-place results. That marks just part of Burton's nine top-10s, leading to an average finish of 11.8. The 20 had a streak of 11th or better in seven races come to an end last week. Damage from clipping the grass led to an early retirement at Mid-Ohio. Burton is currently tied with his teammate Hemric for third in points. Come postseason time though, the 20 will have to find victory lane.
Justin Haley (+92)
While both of his Kaulig teammates have found victory lane, Justin Haley is still searching. If not for missing Dover due to COVID protocols, the 11 would be higher up in the points battle. Despite missing one race, Haley is turning a corner in performance. Two of the last three starts for the 11 have resulted in a top 10. This stretch includes finishing second to AJ Allmendinger at Mid-Ohio. Even though Haley did score three wins a year ago, they all came on superspeedways. This year, Haley finished 29th and eighth at Daytona and Talladega. Haley will have another great shot to win Daytona again in August.
Haley may be hitting his prime at just the right time to break into victory lane this season. All of Kaulig Racing seems to be serious title contenders.
Brandon Jones (+36)
A three-time winner a season ago, Brandon Jones and the 19 team have had tougher sledding this year. Seven top-10s through 13 races are offset by four DNFs for this Joe Gibbs team. The 19 has an average finish of 17.4, with only 55 laps led all year. Jones is often battling for a top five spot most weeks, but troubles seemingly always find the No. 19. With only a 36-point cushion at eighth in standings, Jones must retain consistency to stay in the Playoff picture.
Jeremy Clements (+25)
The lone Playoff appearance for Xfinity Series underdog Jeremy Clements came on the heels of his 2017 Road America win. Four years later, the 51 team is in a great position to point their way to their second postseason appearance. With five top-10s, an average finish of 14.8, and 0 DNFs through 13 races, Clements is currently ninth in points. The best result so far this year for the family-owned 51 car was sixth at Darlington.
The 51 just missed the postseason a year ago, and now is ahead of two JR Motorsports cars in points. In a series that has seen underdog teams make the Playoffs before, Clements hopes to make an impact this year.
Michael Annett (+17)
In his first season with new crew chief Mike Bumgarner, Michael Annett has seen a bit of a regression. So far this year, the JR Motorsports 1 team has six top-10s, two DNFs, and an average finish of 16.4. Annett's best finish was sixth at Las Vegas. He also came one spot shy of tying that result last week at Mid-Ohio. Annett is only 17 points ahead of the cut line at 10th in points. Any poor finishes could leave the 1 on the outside looking in for the Playoffs.
Noah Gragson (+15)
Currently the last man in the Xfinity Playoffs, Noah Gragson is perhaps NASCAR's unluckiest driver in 2021. At this point last year, Gragson and the JRM No. 9 team had two wins and were in the thick of the championship battle. This season, Gragson has been plagued by bad luck and numerous errors. Offsetting his five top-10s this year are six DNFs, including the last three races. No race this year had to be more painful for the 9 crew than Mid-Ohio though. Last week, an off-track excursion in turn one on lap one gave them terminal damages. Gragson would leave the road course finishing dead last after not even surviving a corner.
Gragson has endured more than his share of bad luck this year. However, he did win three of the four Dash4Cash bonuses, an Xfinity Series record. This streak also included a close second at Martinsville to teammate Josh Berry. If the 9 team can find some luck, they are capable of contending up front for race victories. This stretch of inconsistency has dropped Gragson from seventh to 11th in points. With Myatt Snider being 12th in points with a win, Gragson is effectively the Playoff cut line now. Any more turmoil will see the 9 potentially fall out of the top 12 in points. This is something unheard of in recent years for any JRM car. If Noah Gragson is to be any part of the 2021 championship battle, he must find victory lane soon.
Brandon Brown (-15)
Currently on the outside looking in by just 15 points, Brandon Brown is gunning for his second Playoff appearance. A season ago Brown's No. 68 team narrowly made the Xfinity postseason over Jeremy Clements, en route to finishing 11th in the standings. This season already has been the best of Brown's career; this family-run operation has two top-fives, seven top-10s, and an average finish of 15.3.
At 13th in points, Brown has work yet to do to break into the Playoff picture. Consistency is on his side though. Three of the last four races have seen the 68 in the top 10. This includes fourth at Charlotte on a daring tire strategy. That Charlotte result was one spot shy of Brown's career-best finish, which also came earlier this year at Phoenix. It will be an uphill battle for Brown to make the top 12, but recent trends do favor the 68. Should someone above him in points stumble or another breakout run emerges, Brown could be a contender once again.
Riley Herbst (-45)
In his first season with Stewart-Haas Racing, Riley Herbst is once again teetering around 12th in points. Currently ranked 14th in standings, Herbst's 2021 has been highlighted by three top-10s. Two of those races were fourth-place efforts at Phoenix and Talladega. The SHR No. 98 also has three DNFs on the year, dragging their average finish down to 19.5. Herbst just barely made the cut a year ago for the Xfinity Series Playoffs. Now with a 45-point deficit, Herbst is fast-approaching must-win territory.
Ryan Sieg (-80)
On paper Ryan Sieg is 17th in points. In reality though, he is 15th on the Playoff grid when taking account of Ty Gibbs and Josh Berry. Removing both of those part-time winners does move Sieg up two spots in points. However he still holds an 80-point gap to the cut line. In the 39 team's first year with Ford, their consistency has taken a step backwards. Sieg only has six top-10s this year, as well as four DNFs. His average finish of 20.1 has him in a likely must-win scenario to make the Playoffs. The 39 team has made the postseason three times before. Sieg has been especially strong on superspeedways in the past, as he was fifth this year at Talladega. The 39 team likely has Daytona in August circled as their best shot at making the postseason.
The Xfinity Series is midway through 12-straight weeks of racing, leading into the Olympic break. The next on-track action for Xfinity competition will be Texas Motor Speedway on Saturday. Kyle Busch being in the field may take a win and potential Playoff berth away from an aforementioned driver though. 13 races are down, and 13 remain in the Xfinity Series regular season. Their Playoff field still has seven open slots. Follow along all summer long to see who will capture the final positions in the Xfinity Series Playoffs.
Written by Peter Stratta
Be sure to follow us on Twitter
Be sure to follow the writer on Twitter
Photo Credit to Jared C. Tilton/Getty Images for NASCAR