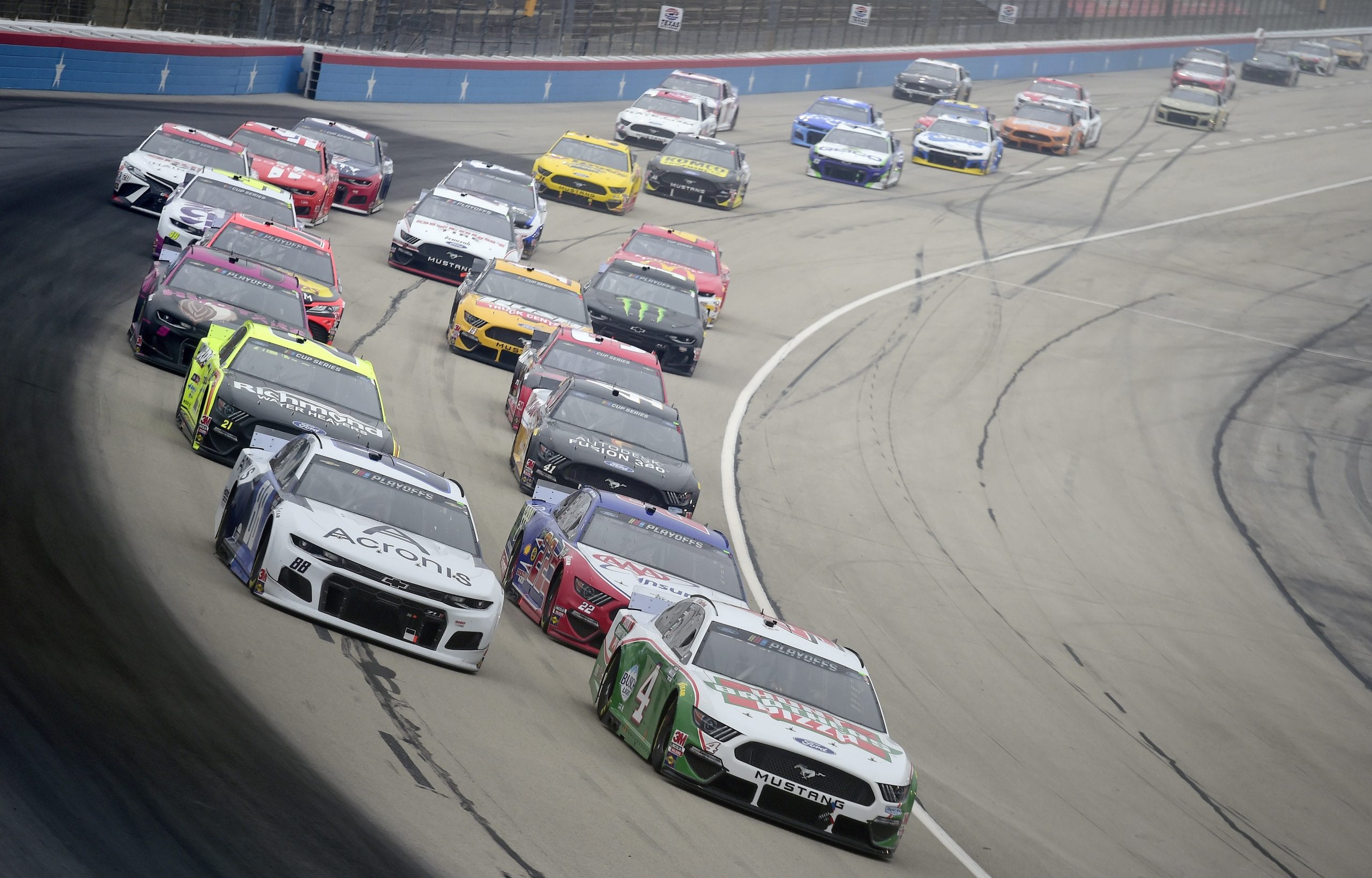 Who Can Win the $1 Million All-Star Race in Texas?
FT. WORTH, Texas – For the first time in its 37-year history, NASCAR's All-Star Race heads to Texas Motor Speedway. With a new venue for this $1 million race, who will we see battling up front in this winner-take-all show? The 1.5-mile facility in Ft. Worth does historically benefit a few drivers, but some of them have been off this year. Who will raise the big check high in victory lane Sunday night, and become 2021's All-Star driver?
Kyle Busch
Four-time Texas winner Kyle Busch is the most recent Lone Star State victor. At the rain-delayed Texas race last fall, KB earned his first and only win of 2020. This broke a career-long 33-race winless streak for driver No 18. Busch is also a past All-Star Race winner, taking home the payday at Charlotte in 2017. Aside from the Hendrick Motorsports brigade, perhaps nobody has been stronger in recent weeks than Kyle Busch. Since winning Kansas last month, the 18 has a top 10 in four of five races. Three of these starts resulted in top fives, as Busch and new crew chief Ben Beshore appear to be hitting their stride. The 18 won the Busch Clash exhibition race earlier this year, can he also become an All-Star?
Aside from the heavily-favored Hendrick Chevrolets, Kyle Busch's Toyota has to be considered a favorite. The 18 has kept the HMS cars on their toes in recent weeks, breaking up the near-stranglehold they wield on the Cup Series. Experience and restart prowess will likely pay off Sunday night, and there is no more aggressive restarter than the 18. Busch will go for his second $1 million check from the second starting spot.
Kevin Harvick
The only active multi-time All-Star Race winner, Kevin Harvick also has three Texas wins. Harvick's three Texas triumphs have all come since 2017, as he won the Playoff race in three consecutive years. Last fall could have been a fourth-straight Texas fall win for the 4, until early rain forced the Mustang into the wall. Can the 4 head to Ft. Worth and get a vengeful win? Their season has been a bit of a struggle, but a million-dollar prize could be just what they need to turn the year around. Much like with Busch, experience could pay dividends for Harvick. The 2014 champion is set to make his 21st All-Star Race appearance, the most of any active driver.
"I used to tell Danica Patrick this all the time," Harvick said. "'I have 25 years on you and you will never catch up.' And that is the truth. Experience matters, more so in our sport than maybe in any other sport. The knowledge of the racetrack, things you have been through, things you have done – it all makes a difference."
Speed has not necessarily been on Harvick's side this year, but the All-Star Race will feature lots of restarts where positions will change. Harvick will try and maneuver his way to the front of the pack from starting 12th.
Chase Elliott
Last year's All-Star Race winner, Chase Elliott hopes to make it two-straight. Driver No. 9 outlasted Kyle Busch a year ago at Bristol, now he's aiming for similar results at Texas. Elliott is 0-for-10 at Texas with a best finish of fourth, but he does have recent speed on his side. Despite the uptick in performance though, Elliott knows that this format for the All-Star Race will be a challenge for everyone.
"With this year's format, there's obviously a lot going on," Elliott said. "I think it'll be hard to play games to try and set yourself up for the next round; that may end up hurting you more than helping. It's going to be one of those deals where you just have to race as hard as you can the whole time and let the inverts play out on their own. I think it will be entertaining for the fans and hopefully we can put on a good show. I've said it before, but I am happy to see the All-Star Race moving around to different tracks. I think it's a race that is meant to change locations."
As a Hendrick car, the 9 has six-straight top-10s. This run includes the win at COTA, and second the last two weeks to Kyle Larson. Elliott will go for one spot better after starting sixth.
Joey Logano
As a past Texas winner (2014) and also a one-time All-Star Race winner (2016), Joey Logano is certainly one to watch out for Sunday. The Penske 22 crew won the All-Star Race with an equally convoluted format five years ago, plus has some momentum entering Texas. Logano has been top five in three of the last four races. This includes a week ago at Sonoma where the 22 made old tires last for a gritty fourth-place run. Logano has also been top 10 in nine of the last 10 Texas races, so Ft. Worth has been kind to the 22 recently. Logano will roll off seventh in the 100-lap sprint.
Martin Truex, Jr.
Martin Truex, Jr. is winless both at Texas and in the All-Star Race, so can both change this weekend? Driver 19 was best of the non-Hendrick cars last week in Sonoma with a third-place effort. This marked his best result since winning Darlington a month ago. With this momentum, one would think Truex has high confidence heading into a mile-and-a-half. However this year's crazy All-Star Race format leaves MTJ guessing on how he will perform.
"All-Star Races are always potentially wild and crazy with all the inverts, restarts and short runs," Truex said. "You'll have to have a car that has really good speed. It's going to be tough, but it will be fun to have the first All-Star Race in Texas; it's a great track with a lot of great fans out there. I don't really know what to expect in the race. We ran strong there last fall, but I think it's going to be totally different being an All-Star Race and guys bringing stuff that will run really fast for 10 laps as opposed to a 500-mile race, so it's going to be a bit of a guessing game."
Truex has finished second multiple times before both at Texas and in the All-Star Race. The 19 will try to reach the top step of the podium and the big payday after starting 10th.
Denny Hamlin
2015 All-Star Race winner Denny Hamlin is also a three-time Texas victor. The Fedex 11 has been locked out of victory lane so far this year, so can that change in Sunday's exhibition race? In five prior races this year on 1.5-mile tracks, Hamlin has three top-10s, and a best result of fourth. Hamlin's Texas stats are a bit of a mixed bag of performances though. The 11 has one win and three top-10s in the last seven Texas races. The other four starts in that stretch yield a best finish of 20th. When Hamlin is on at Texas he's nearly unbeatable, but when he's off he is heavily lacking. The same can be said of the 11's recent stretch on intermediate tracks.
"We've had strong performances at Texas in the past, but we need to up our game a bit on mile-and-a-halves," Hamlin said. "With the wild rules, we might need luck to fall in our favor, too. However, I believe in our FedEx team and know we are always capable of getting the job done. We're ready for anything. NASCAR sets the format to be entertaining for the fans, and it's certainly set up to do that. Random draws, inverts, pit stops – it should put on quite a show. It definitely won't be boring."
William Byron
2021 marks the first year that William Byron is locked into the All-Star Race. Each of the past two seasons have seen the 24 make the main show by winning a segment of the Open. By virtue of winning Homestead though, Byron is ready to go for the $1 million. Byron knows to expect chaos though, especially with this year's complex format.
"With short segments and low downforce, there's a good chance you're going to see constant action," Byron said. "There's no time to just ride around or save your stuff. It's going to be about getting up on the wheel and the strategy you use. I don't know what to tell you about that last segment other than to expect insanity. It's going to be a lot of aggressive moves and racing in those final laps. I'm excited for it. It's an All-Star Race, so it's going to take everything you've got."
Byron may be in a Hendrick car, but unlike his teammates has not taken a recent trip to victory lane. While the 24 has been near them, they have been just a step below the domination seen from Larson or Elliott. The Axalta 24 team will try and win the $1 million bonus from the eighth starting position.
Brad Keselowski
Perhaps the most accomplished driver not to win the All-Star Race, Brad Keselowski has been close. BK has been a runner-up in the exhibition event twice, most recently in 2016 to teammate Joey Logano. That night marked the first 1-2 finish for any team in the All-Star Race, and helped celebrate team owner Roger Penske's 50th anniversary of his legendary racing career. Keselowski is also 0-for-25 at Texas, a stat he will try and change after starting ninth.
Alex Bowman
Yet another contender from the Hendrick camp, Alex Bowman hopes that his fourth All-Star appearance ends in victory lane. Both of Bowman's wins this season have resulted from capitalizing on restarts, which Texas will have plenty of. Another big key to Bowman's success this year has been his pit crew, who are on average the fastest in the sport. Can the Ally 48 crew come in clutch again for a $1 million pit stop? The fastest pit crew in round five Sunday night will also earn a $100,000 bonus.
"This weekend's All-Star Race is going to be interesting," Bowman said. "It is going to be a big pay day for someone on Sunday and I sure hope it's this No. 48 Ally team. We have been strong at Texas in the past, but I guess the rules in the All-Star Race are a bit different. Strategy is going to be key in trying to be out front. Our Ally pit crew has been really fast this year. Hopefully, our pit crew can continue doing what they do best on pit road and maybe even get their own pay day during round five."
Bowman's Ally Chevrolet will start the All-Star Race deep in the field in 15th. Do not expect Bowman to stay back in the pack for long however, as Hendrick cars are sure to be lights-out quick again.
Kyle Larson
The hottest driver in NASCAR today, Kyle Larson enters the All-Star Race on the heels of two dominating wins. Larson has also won this race before, taking home the $1 million in 2019 after transferring out of the Open. With seemingly all of the momentum in the world and unmatched speed, is anything keeping the 5 away from another big win? Larson knows the key to winning such a short race is to be on the attack from the drop of the green flag.
"I haven't studied the format yet," Larson said. "But the plan is to get the best possible finish in each segment to give us the best possible starting spot when it matters. It's a short race, so you have to be aggressive, and you have to be really aggressive on each restart. Our mile-and-a-half program has been solid all year, so I'm really looking forward to this Sunday." Larson's aggression will have to be pegged early, as he starts the 2021 All-Star Race from the pole.
With six segments over 100 laps, inverts, mandatory pit stops, and 21 drivers, Sunday's All-Star Race is sure to be electric. Coverage of the 2021 NASCAR All-Star Race will begin at 6 p.m. ET starting with the Open race. Four drivers will transfer out of that 50-lap dash: the three segment winners and the fan vote winner. The All-Star Race will be at 8 p.m. ET on FS1, MRN, and SiriusXM NASCAR Radio Channel 90. Who can outlast such an unknown format and walk away $1 million richer?
Written by Peter Stratta
Be sure to follow us on Twitter
Be sure to follow the writer on Twitter
Photo Credit to Jared C. Tilton/Getty Images for NASCAR