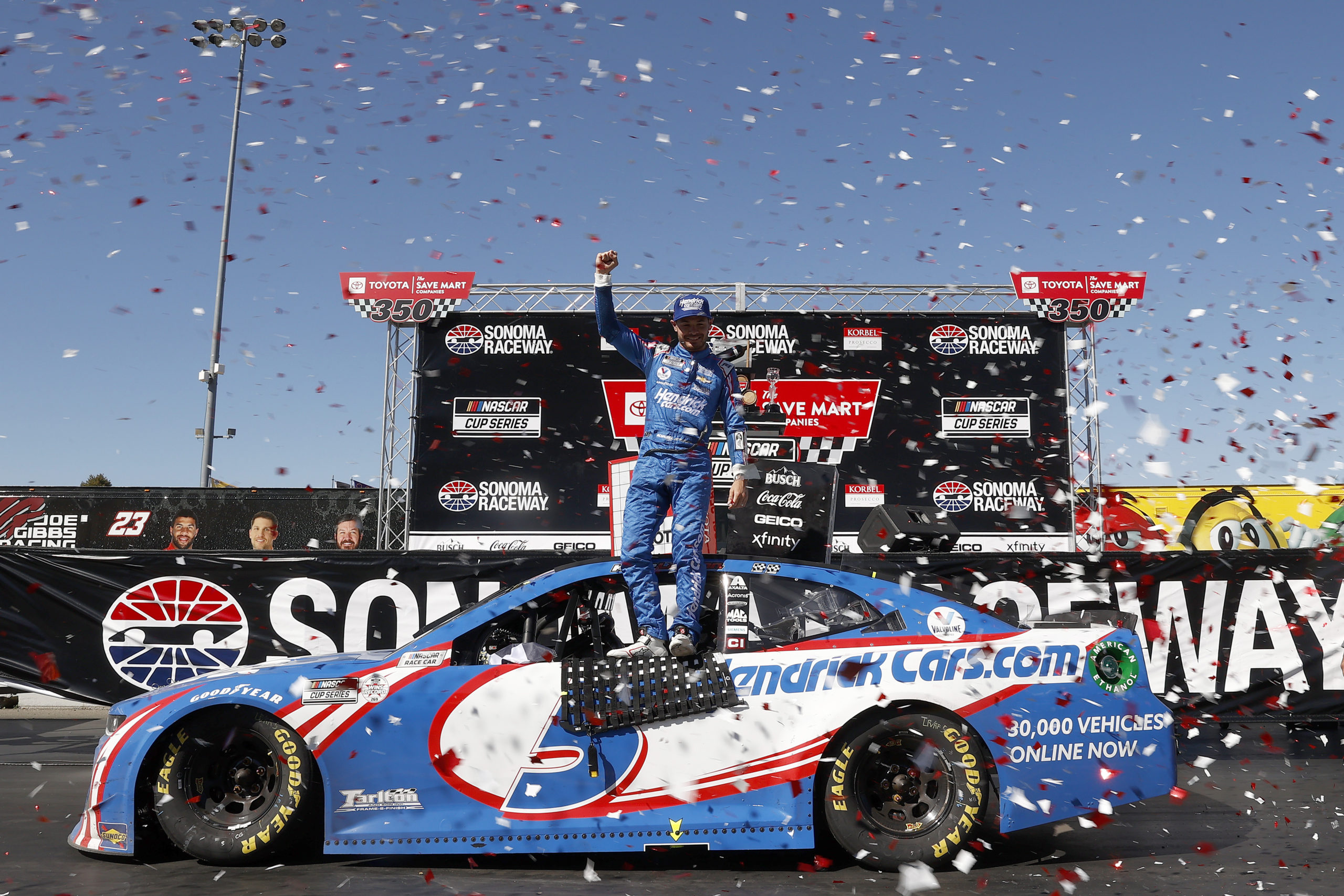 Kyle Larson Earns Back-to-Back Victories in Sonoma, Holds off Road Course King
SONOMA, Calif. – Only a week removed from a domination at the Coke 600, Kyle Larson put together another impressive drive. The 5 led 57 of 92 laps en route to its second-straight win. For Larson, this marks his first ever win on his home track in northern California. The Elk Grove native held off the road course master Chase Elliott in overtime. However it was far from a cruise to victory lane for Larson, as he had to outlast several late restarts. With a Stage-sweeping performance, Larson also took over the top Playoff seed.
Calm Stages Pad Larson's Playoff Points
Both of the 20-lap Stages at Sonoma only saw one caution apiece, and they both ended similarly. Stage 1 was only halted by a competition caution; while Ricky Stenhouse, Jr. finding the wall brought out an early yellow in Stage 2. Both Stages easily went into Larson's favor, as the 5 started on pole and took off from the drop of the green flag.
Across both Stages Larson only failed to lead 13 laps, when he made pit stops. One challenger did arise however early in Stage 1. Martin Truex, Jr. rallied from starting 19th to fourth at the green-and-white checkers. Truex was the fastest man on track for much of Stage 1, looking for a third-straight Sonoma win.
Sonoma marked Larson's 10th and 11th Stage wins of 2021, a series-high total. Larson's performance is certainly being rewarded nicely in bonus points, as he is in the mix for the regular season title as well.
Teammates Battle for Road Course Supremacy
By virtue of staying out after Stage 2, Chase Elliott took the lead for the first time. With six career road course wins, Elliott was hoping to earn his first Sonoma victory. The 9's lead was short-lived however. Larson chased down Elliott from four seconds back to retake the lead with 33 laps to go.
Once Larson got by Elliott, the 9 began to fade fast. Elliott quickly lost second to Truex as well, and continued losing time to the top two. Elliott would be the first of the top three to pit on lap 61. The next two laps also saw Truex and Larson come in for fresh tires. Thanks to pitting a lap earlier, Truex initially leapfrogged Larson. However, it was not long before the 5 got by the 19. Eventually, Larson retook the lead as everyone else pitted. With 20 laps left, Larson was up two seconds over Truex.
Rash of Late Cautions
A stalled Quin Houff would lead to a caution with just 19 laps to go. This caution would jumble up the running order, as four drivers did not pit. These front four on older tires were Joey Logano, Tyler Reddick, Corey Lajoie, and Anthony Alfredo. Restarting fifth, Larson had the lead again within a lap on his much fresher tires. A freefalling and much slower Lajoie would trigger another caution though, as he would trigger chaos.
Lajoie left the inside lane open entering turn 11, and Ross Chastain tried diving to the 7's inside. Chastain got rammed into by Kevin Harvick and William Byron. This marked Byron's first DNF of the season, and relegated Harvick to a 22nd-place result.
When racing resumed, Larson took off over Logano. Elliott would take over the runner-up spot in turn 11, and try to catch his teammate. Truex would also get to third, putting the three fastest cars up front. As Larson was on cruise control with five laps left though, another caution flew. This time, Ryan Preece and Cody Ware got tangled up in the esses. The 37 going off course left the 51 with no vision, thus they made heavy contact.
Restart Traffic Jam Leads to Overtime Finish
Larson's win was far from assured at this point though. The ensuing restart led to an immediate caution when the field got stacked up in turn four. Initially Christopher Bell went for a spin, but then the 20 hooked Anthony Alfredo, sending him around. This caution would send Sonoma into an overtime finish.
On the overtime restart, Larson quickly got away from Elliott. Despite some contact in turn two, the 5 drove off from the 9. For the last lap, Larson maintained to earn his second-straight Cup victory and third of 2021. Sonoma marked Hendrick Motorsports' fourth-straight win, as well as their fourth-straight 1-2 finish. This ties the record that Carl Kiekhaefer's team set in 1956 for consecutive 1-2 team results. To put it simply, Hendrick Motorsports is on fire right now and unchallenged as NASCAR's top team.
Larson's Winning Reaction
Despite Larson making his first career road course win look easy, he was blunt to say it was anything but. "It was not easy," Larson said. "Any road course isn't easy, just trying to keep it on track is tough; especially when you've got two of the best behind you on the last restart, Chase (Elliott) and Martin (Truex, Jr.). I felt like I did a good job at the one before and stretched it out a little bit. I didn't want to give him another try at it, but he kept the pressure on. Martin was strong too, but what a car."
"Thank you Mr. Hendrick. The is unbelievable. I thought I would be okay today, but I just didn't know how I would race. I don't think of us really do with no practice. But our car was really good there and I can't say enough about it."
Larson on Winning at Home, Impressive Streak
"It means a lot," Larson continued. "Northern California will always be home to me, even if I live way out on the East Coast now. Thanks to all the fans for coming out. I know there's a lot of Sprint Car fans in the stands and around this race track. I got to see a lot of my friends here today. I've got my family here. This is unbelievable."
"To get back-to-back wins in the Cup Series is something I've always dreamed of doing and to get it done feels great. To win last week on Memorial Day weekend, four in a row now, if you count my dirt racing too. And we've got a big week of racing coming up. I look forward to all that and just look forward to keeping the streak going."
Sonoma Top 10 Results
Coming home just shy of another road course win was Chase Elliott. The 9 has been among the best on all three road course races this year, but only won at COTA. Martin Truex, Jr. finished third, far short of a third-straight Sonoma win, but his best result in four weeks.
Joey Logano in fourth is the only driver with a top five in all three road course races this season, while Kyle Busch placed fifth. Kurt Busch, Ross Chastain, Denny Hamlin, Alex Bowman, and Ryan Blaney rounded out the top 10.
What's Next for Cup
Up next for the NASCAR Cup Series is the All-Star Race. Texas Motor Speedway plays host to the $1 million exhibition race this year. The sport's best will battle it out over 100 laps. This also marks the last Cup race of the year on Fox Sports, as NBC will take over the following week. Coverage begins on Sunday, June 13 at 6:00 p.m. ET on FS1, MRN, and SiriusXM NASCAR Radio Channel 90. Chase Elliott won last year's All-Star Race, can another Hendrick driver continue their hot streak?
Written by Peter Stratta
Be sure to follow us on Twitter
Be sure to follow the writer on Twitter
Photo Credit to Maddie Meyer/Getty Images for NASCAR