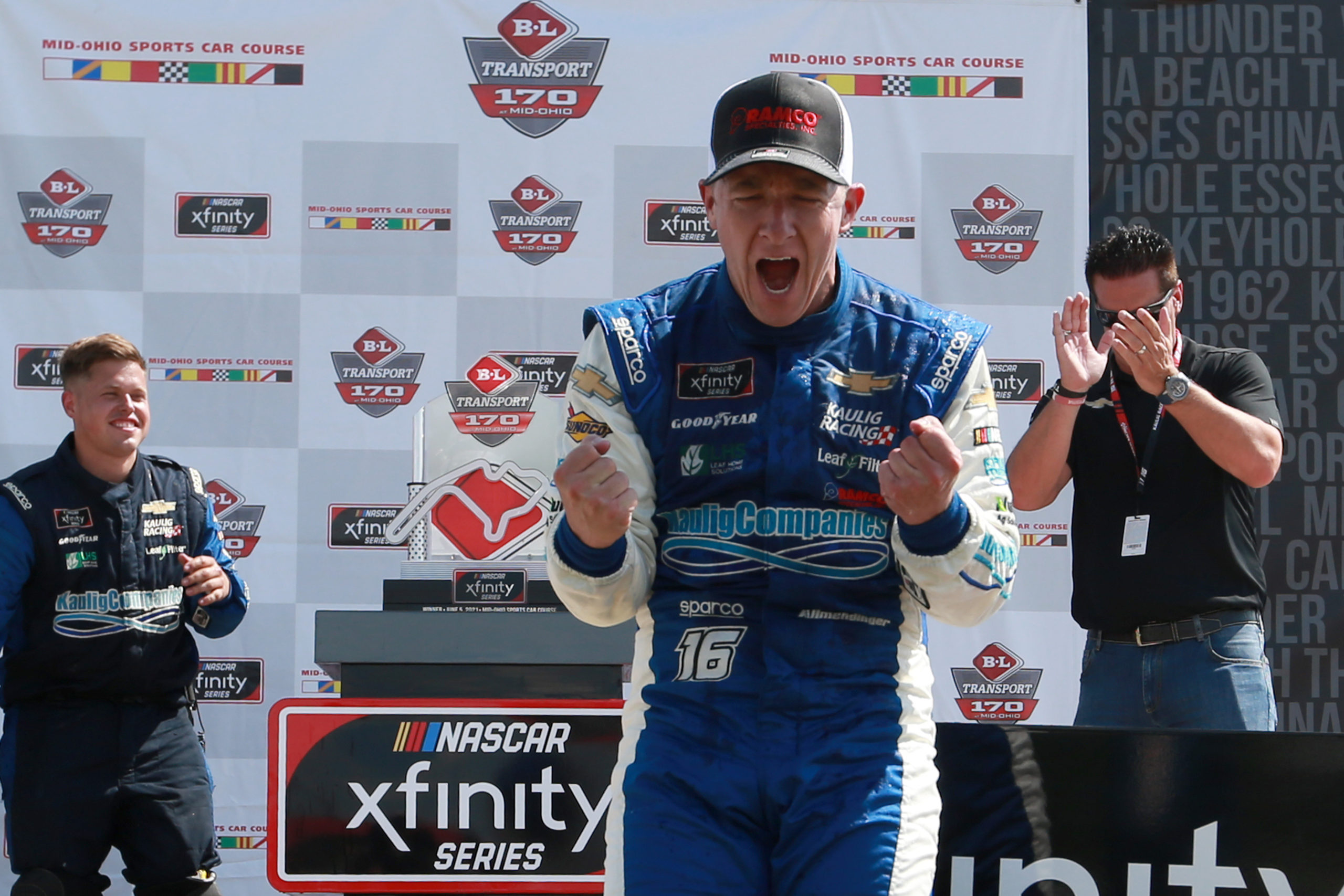 Road Course Ace Allmendinger Wins Again at Mid-Ohio
LEXINGTON, OHIO – AJ Allmendinger rallied from a pit road penalty at the end of Stage 2 to win the B&L Transport 170 at Mid-Ohio Sports Car Course. Allmendinger took the lead with under five laps to go on a daring three-wide restart move. The win is his second of the season and second of his career at Mid-Ohio.
Top Contenders Go Down Early
After back-to-back DNFs, Noah Gragson came into Saturday's race just hoping for a solid finish. That all went out the window in the first turn of lap one. Gragson went off the track and dug into the grass, severely damaging the nose of the No. 9 car. Just like that, it was another DNF for Gragson, who is now the final driver on the Playoff cutline.
Harrison Burton had a very similar incident at nearly the same spot on lap 19. Like Gragson, he had heavy nose damage that ended his day. A 38th-place finish is just the second time in 13 races Burton has finished outside the top 12.
Allmendinger Comes on Strong to Win Stage 1
Austin Cindric led the first 14 laps of the race from the pole, but Allmendinger quickly worked his way to the front. Allmendinger started 12th and took just 15 laps to take the lead from Cindric.
There wasn't much action going on up front in the final laps of Stage 1, but strategy was beginning to take place. Numerous drivers would pit for fuel only, including Ty Gibbs. This week, NASCAR used a different pit road procedure that made it so teams could only fuel the car while pitting under green. Allmendinger cruised to the Stage win over Cindric and Justin Haley.
JR Motorsports Suffers Another Blow
Justin Allgaier finished fifth in Stage 1 and looked to be a contender for at least a top 10 finish. However, there was an issue at the start of Stage 2 that forced Allgaier to go to the garage. The team did fix the mechanical issue, but they were out of contention and would finish 35th.
New Pit Rules Affect Strategy
The new pit rules were a little different under caution. Teams had the chance to pit twice: once for fuel and once for tires. Also, there was a maximum time limit that drivers could stay on pit road while under caution. If they exceeded the limit, they had to restart from the rear of the field.
Gibbs, along with the others who pitted at the end of Stage 1, only pitted for tires, giving them the lead over the guys who pitted twice for both tires and fuel.
The caution flew on lap 42 for Jeremy Clements stalling on the race track. Austin Cindric opted to pit from third place for fuel only. The team's thinking was they can get fuel now, then just get tires at the end of Stage 2. That would put them ahead of the cars who pit twice.
Allmendinger's Penalty Puts Him in a Hole
AJ Allmendinger took the lead from Ty Gibbs on the restart. Just a few laps later, Allmendinger and Gibbs pitted under green with three laps to go in Stage 2. They were on a similar strategy to Cindric. The decision to pit now as opposed to under caution was so they wouldn't have to worry about running out of fuel at the end of the race.
Allmendinger had a big issue though, as he received a pit road penalty for not meeting the minimum time required. While there was a maximum time you had to pit in under caution, there was a minimum time that you had to stay on pit road while under green. Allmendinger failed to do that and had to start at the rear to begin Stage 3.
Justin Haley took advantage of most of the field pitting under green, as he stayed out to win Stage 2 over Brandon Jones and Jeb Burton. Cindric would also finish the Stage in fifth.
Allmendinger Begins his Charge Through the Field
Once all the pit strategy cycled through, Ryan Sieg was the leader with Cindric in second. Cindric immediately took the lead with 20 laps to go and left the field in the dust.
Allmendinger restarted in 24th place but was also behind lapped traffic. He had a hard charge through the field and got into the top five with just over 10 laps to go. The problem was he was 13 seconds behind Cindric. He was never going to catch him without a caution.
Jeb Burton's Spin Sets Up Frantic Finish
Allmendinger got the caution he needed when his teammate Jeb Burton spun into a gravel trap. The 10 couldn't get going with seven laps to go, thus the yellow. Cindric had to be frustrated as no one was going to catch him under green unless there was a major issue.
Cindric surprised everyone by taking the outside lane for the first time all day on the restart. That moved turned out to be the wrong one as Allmendinger jumped to the inside of Gibbs and Cindric in a bold three-wide move that got him the lead.
A chain reaction caused Justin Haley to hit Cindric, sending him spinning through the grass. The caution came out later that lap after Kris Wright, Alex Labbe, and Kyle Weatherman wrecked on track.
Allmendinger Holds Off Haley to Complete Comeback
Allmendinger controlled the restart and got away from Gibbs and Haley. Haley got around Gibbs for second place but had too much fender damage to run down Allmendinger.
Miguel Paludo and Riley Herbst each spun on the final lap, ruining what would've been a top 10 finish for each driver.
Allmendinger and Haley finished first and second in what was a special race for Kaulig Racing. Team Owner Matt Kaulig grew up just 90 minutes from the track. Allmendinger's car also included multiple Ohio-based sponsors.
Top 10 Results from Mid-Ohio
Allmendinger's win moves him up to second in the point standings. Haley also finished a season-high second place. Ty Gibbs continued his fantastic season with a third-place finish. Brandon Jones came home fourth while known road racer Andy Lally tied his career-best with a fifth-place run. Brandon Brown, Michael Annett, Josh Berry, Ryan Sieg, and Josh Williams rounded out the top 10.
What's Next for Xfinity
Next up on the Xfinity Series schedule is Texas Motor Speedway. It'll be the first of two trips to the track for the Xfinity Series this season. Coverage of the Alsco Uniforms 250 will be live on Saturday, June 12 at 4 p.m. ET on FS1, PRN, and SiriusXM NASCAR Radio Channel 90. Austin Cindric and Harrison Burton each won a race here last season. Can anyone step up and take them down this season?
Written by Nicholas Sterling
Be sure to follow us on Twitter
Be sure to follow the writer on Twitter
Photo credit to Sean Gardner/Getty Images for NASCAR