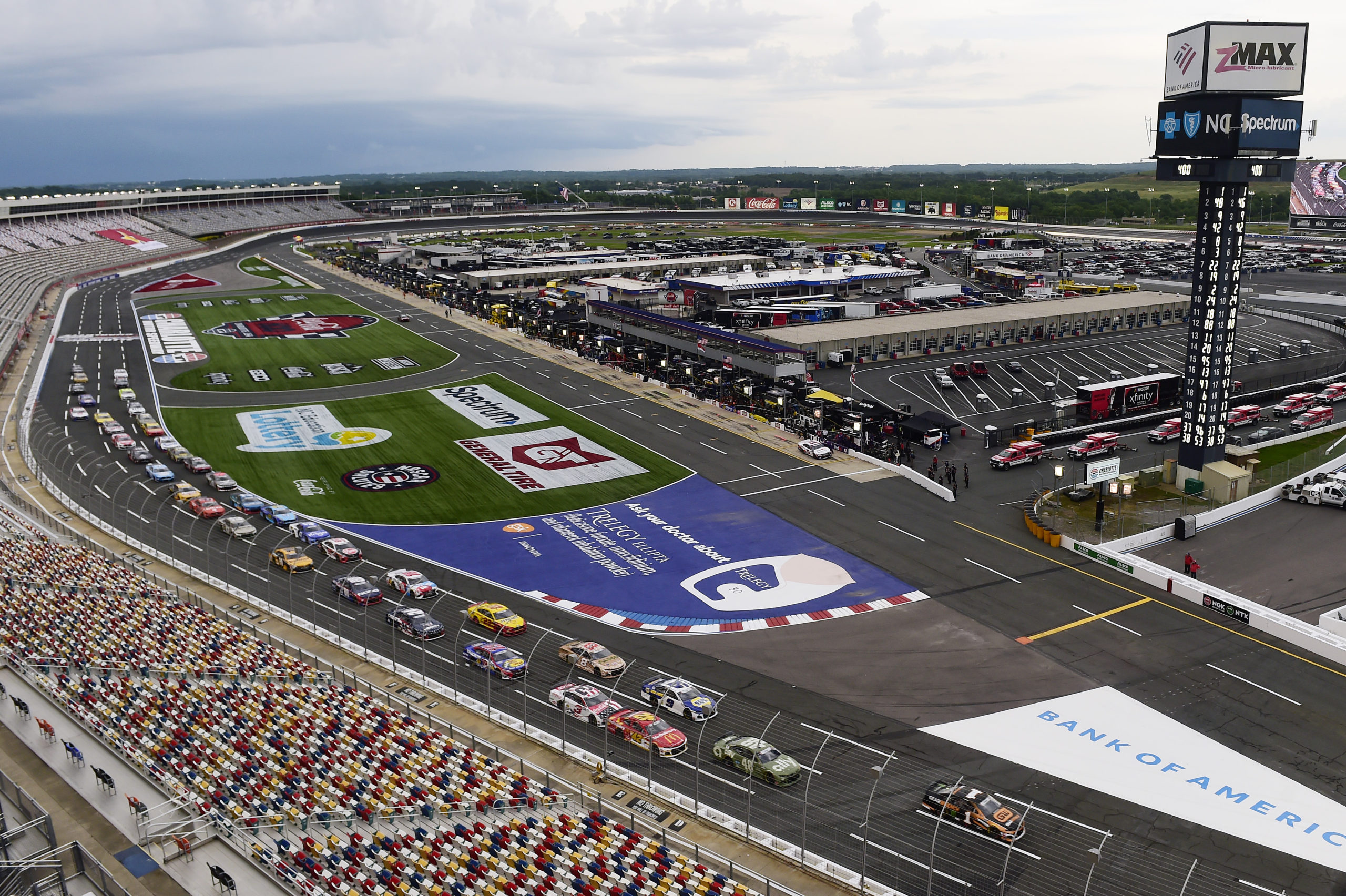 Past Winners at Charlotte Motor Speedway Hope for 600 Victory
CONCORD, N.C. – Entering stock car racing's longest night, who can outlast the competition for 600 miles to claim a crown jewel win? The Coca-Cola 600 is one of NASCAR's most beloved races, so who will win the 62nd running? While the 600 has been kind to first-time winners, it also rewards past experience. Eight drivers come into this year's Memorial Day weekend Classic having won previously at Charlotte; will one of them reign supreme again after 600 grueling miles?
Martin Truex, Jr.
Perhaps the most defining victory in Martin Truex, Jr's career was the Coca-Cola 600. Five years ago, MTJ led an astounding 392 of 400 laps en route to one of the most dominant wins in NASCAR history. Three years later in 2019, Truex earned a second 600 victory. When combined with his fall 2017 Playoff win, Truex has three of his 30 career victories at Charlotte.
Nobody has been more consistent in recent years at the 600 than Truex. Since his 2016 victory, MTJ has not finished worse than sixth in the crown jewel race. With three victories already on the year, Truex comes into Charlotte with soaring confidence for another 600 win.
"This is always a big weekend for our sport and what the industry does as a whole to recognize Memorial Day," Truex said. "We're excited about the opportunity to honor the men and women who have made the ultimate sacrifice for our country and to learn their stories. For us, we're also looking forward to the race because Charlotte has been a great track for us the last few years. We've been fortunate to have had some strong runs and a few wins going back to the 78 days. I approach this as another opportunity to win and hopefully work our way back up the points standings after last week."
After two tough results at Dover and COTA, the 19 team is looking to get back on track. No place may be better suited for a Truex win than Charlotte.
Kevin Harvick
Another driver who's incredibly consistent at Charlotte, Kevin Harvick is also a two-time 600 victor. Neither of Harvick's wins on Memorial Day weekend have come in typical Harvick-style domination though. In 2011, Dale Earnhardt, Jr. being 500 feet short on gas propelled Harvick to his first 600 victory. Two years later, the California driver only led 28 laps en route to the win. The SHR 4 team does have a lone Charlotte win as well, but it was the 2014 Playoff race.
Harvick's streak in the 600 over the past several years may trail only Truex. The last seven Memorial Day weekend classics have yielded six top-10s for the 4. The only imperfection in this time was an early wreck in 2019. This led to Harvick's first-ever last place finish. With the added benefit of practice and qualifying this weekend, can the 4 return to victory lane?
"With where we are with our cars right now, I think practice is definitely going to be something that will allow us to at least try a couple of things and have some direction before we start to race," Harvick said. "Because we've started every race, for the most part, not close to where we need to be. We spend the whole race trying to get ourselves in a position to be better and never get it to a point where it's good. Being able to try a couple of things and have some sort of idea of where you need to be from a balance standpoint before the race starts is going to be a benefit for us."
Harvick is hoping to become the 12th different winner of 2021 in Charlotte. After a career-high nine victories a season ago, the 4 team is still 0-for-14 this year.
Brad Keselowski
Defending Coca-Cola 600 winner Brad Keselowski hopes to go back-to-back. A season ago, the 2 car took the lead when Chase Elliott pitted. Keselowski then held off Jimmie Johnson in an overtime finish. 2020 marked Keselowski's maiden 600 victory, and now he has a chance for two-straight. In 21 career starts at Charlotte, Keselowski has two wins, 10 top-10s, and an average finish of 13.6.
The Coca-Cola 600 was Keselowski's third crown jewel win, as he won both the Brickyard 400 and Southern 500 in 2018. The 2 will certainly be one to watch for throughout Sunday.
Joey Logano
Although Joey Logano is 0-for-12 in the 600, the 22 does boast a Charlotte win in the 2015 Playoffs. Logano's best 600 result though was second in 2019. It is quite surprising that Logano has not had better luck in the 600, as he only has five top-10s. Already locked into this year's Playoffs though, Logano will go for broke Sunday night. Logano did reference his tumultuous history in the sport's longest race.
"[My relationship with the 600 is] love-hate, I guess," Logano said. "I haven't won it yet, so I think I'd love it more if we were able to win. I've been able to run really well at Charlotte over the years. It's been a really good racetrack for us, whether it's been the Roval or the All-Star Race, BOA 500, whatever it is those have been some good ones. I just haven't won the Coke 600 yet, which is the one that stands out for me. Every time I look at a bucket list race, probably Southern 500 and Coca-Cola 600 and Brickyard are the ones that stand out that I really want next. I feel like we'll have a great opportunity this weekend."
Added Significance to 600 for Logano
"As a Coca-Cola Racing Family member throughout all of this, you really want to get the win, believe me. There's a lot of really good things that come along with it, so I'm ready to go. I love that it's different. I love that the race is longer than normal and it's unique, it sets itself apart. That's what makes the Coke 600 special is because it's different. Just like winning at COTA for the first time or winning the Bristol Dirt Race for the first time. Those races stand out because they're unique. Well, the Coke 600 is unique in its own way being longer than any other race, so you really want to try to knock off that crown jewel event."
Despite such an up-and-down history in the 600, expect Logano to be a contender on Sunday. Penske cars are more than used to winning big on Memorial Day weekend, so Logano will have a great chance to earn the victory.
Kurt Busch
Kurt Busch's lone Coke 600 win may have come over 10 years ago, but do not count the 1 out this weekend. In both May races at Charlotte last year, Busch ended the night in the top 10. As a driver currently outside the Playoffs looking in, the 1 is in need of a strong finish. Busch is currently 18th in the standings, 48 points below the cut line. While winning would vault him up, a solid 600 would help erase a big chunk of that deficit. It has been rough sledding of late for the 1 team though. Busch has not scored a top 10 though since Homestead in February. All of Ganassi hopes to turn their season around at Charlotte.
Kyle Busch
When Kyle Busch won the Coke 600 three years ago, he made NASCAR history. At the time, Busch was the lone driver to have won on every active racetrack. That win came after a lights-out run too, leading 377 of 400 laps. Can the 18 team replicate this past success? The 2018 win was just one of Busch's four-straight Coke 600 top-fives.
The 18 is also coming off of a strong weekend in COTA. Busch battled back from a late pit stop to finish 10th. While the result may not reflect it, the 18 was arguably the class of the field in Austin. With practice and qualifying back this weekend, Busch is absolutely a threat for another 600 victory.
Chase Elliott
While Keselowski celebrated big after winning the 600 last year, Chase Elliott hung his head in defeat. A decision to pit under caution set the 9 team back on the overtime restart. Elliott would only recover to finish second to Keselowski. Elliott would get redemption a few days later though, as he won the Alsco Uniforms 500 at Charlotte. Coming off of the big win at COTA, Elliott has to be seen as a favorite for Sunday's crown jewel race.
"Charlotte is always a challenge every year," Elliott said. "600 miles is a long time in the car, but honestly enough the race doesn't really seem that much different. I know it's a long race to watch and it is a long race, but behind the steering wheel it really does not, or so far, it does not feel that much different. I don't know that my preparation will be much different, but obviously it is a huge race. It's a race we all want to win. It's a race you want to end your career and say that you have won so hopefully we can knock that off the list this weekend."
Elliott will be chasing NASCAR history this weekend as well. The 9 team's COTA win tied Hendrick Motorsports with Petty Enterprises' all-time record of 268 Cup Series wins. Should Elliott or any of his teammates win the 600, HMS will have sole possession of all-time winningest team. Hendrick Motorsports as an organization will have a great chance to take that record this weekend. Alex Bowman took the first two Stages of last year's 600, as he, Elliott, and Jimmie Johnson were all strong cars that night. Expect HMS to return with four fast Chevrolets, as Rick Hendrick wants to take this record at home.
Austin Dillon
In the 2017 Coke 600, Austin Dillon saved just enough fuel to outduel Busch, Truex, and Johnson to earn his first career win. For the first time since Talladega in 2000, the Richard Childress Racing No. 3 car went back to victory lane. In the thick of the Playoff bubble battle once again, Dillon is hoping to recapture lightning in a bottle at Charlotte.
"Not making any mistakes and having a clean race is challenging," Dillon said. "You're in the car for a long period of time. It's hot. You come down pit road a lot and there's a lot of chances for error. My goals going into the Coca-Cola 600 are to have a clean race and find myself in a great position toward the end. Obviously, if you have the speed to win, that's even better, but having a clean race is part of having a chance to win it. I think a lot of people have taken themselves out of that race with early mistakes. We'll do our best to be there at the end. I think the long races have suited me in the past. We'll see what we got. I think we've got some good history there and a good baseline setup. Our 550-horsepower package has been pretty strong. Charlotte Motor Speedway takes a little different mechanical idea than some of the 1.5-mile tracks that we go to. I always look forward to that track."
Dillon's Quietly Consistent Season
So far this year, Dillon has five top-10s and an average finish of 13.5. This currently has the 3 ranked 14th in the Playoff standings, 70 points ahead of the cut line. Dillon is also coming off of his best-ever road course finish at COTA, where he placed 12th. While the 3 may not be a favorite on outright speed, a daring strategy call could deliver RCR another 600 victory.
Coverage of the 62nd annual Coca-Cola 600 is on Sunday, May 30 at 6 p.m. ET on FOX, PRN, and SiriusXM NASCAR Radio Channel 90. Will one of the above-mentioned drivers win the battle on NASCAR's longest night? While experience winning at Charlotte does carry dividends, other drivers such as Hamlin, Larson, or Bowman could pull off an upset. Be sure to not miss a moment of the 400-lap marathon night.
Written by Peter Stratta
Be sure to follow us on Twitter
Be sure to follow the writer on Twitter
Photo by Jared C. Tilton/Getty Images for NASCAR