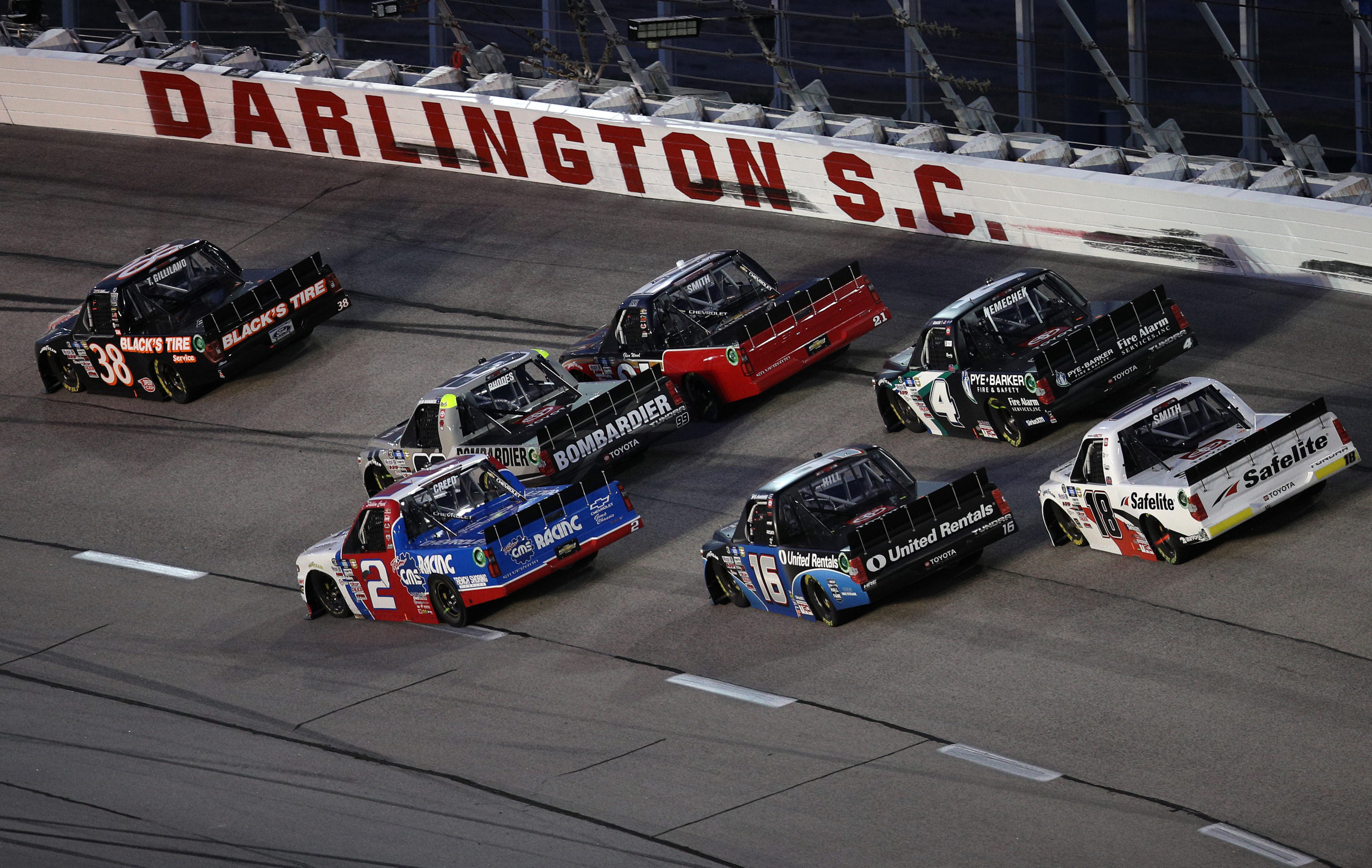 Truck Series Playoff Grid After Nine Races, Six Regular Season Races Remain
CONCORD, N.C. – 2021 has certainly been an intriguing season to date for the NASCAR Camping World Truck Series. Six drivers have won through nine races, but only four of those are Playoff eligible. The season kicked off with Ben Rhodes going back-to-back in Daytona and on the Daytona Road Course. Since then however, another title favorite has emerged. John Hunter Nemechek's season has two wins, seven top-10s, 338 laps led, and a 31-point lead over Rhodes. Aside from these two, Sheldon Creed and Todd Gilliland have each won recently as well. With four Playoff spots already taken, six remain coming into Charlotte. Let's take a look at the Playoff bubble battle, and see who is safe and who still has work to be done.
Austin Hill (+103)
Last year's regular season champion has had a very up-and-down year so far. Through nine races, Austin Hill does have six top-10s, but is still lacking in the win column. The Hattori No. 16 team has shown some speed this year, but they only have 12 laps led all season. Hill's best result so far was a second in Atlanta, as consistency has this team fourth in points. Hill has been just a step below being a regular winning contender.
"I think we're just having one of those seasons right now, where we've been pretty good, but the races just aren't going our way," said Hill. "It seems like these last couple of races, whether we get beat on pit road or we have an issue or something just happens throughout the race. We just haven't put it all together. It's just been one of those years where we feel like we have a shot at winning a lot of races, but we just haven't for one reason or another.
"I feel like our team and everybody at HRE is putting in the work. They're doing a really good job and I feel like our Toyota Tundras are really fast. We just have to put a full race together without any issues or mistakes and try to stay out of all the other mess that goes on. If we do, I think we can win some races." Expect the 16 to remain consistent enough to make the Playoffs. Hill believes their Playoff run will hopefully be with a win or two before the regular season closes out.
Matt Crafton (+86)
Three-time Truck Series champion Matt Crafton has also had an unusually off year. The Menards 88 has four top-10s, an average finish of 12.1, and is sixth in points. With an 86-point cushion, Crafton is likely safe for making the 10-driver postseason. However, the 88 has lacked winning pace all year. Crafton's best result so far was fourth in an attrition-filled Darlington race. That marks one of his two top-fives this year. Aside from Rhodes' two Daytona wins, 2021 has been a bit of a struggle for ThorSport, in their first year back with Toyota.
If the 88 is to be a true championship threat, their consistency must be turned up a notch and they need opportunities to win. The last five races for the ThorSport driver have only yielded one finish better than 14th.
Zane Smith (+60)
After making a Championship 4 run as a rookie last year, Zane Smith hopes for greater success now. The 21-year-old driving the GMS Racing No. 21 is currently eighth in points, with five top-10s. Smith's best result this season has been sixth, coming at both Las Vegas and Atlanta. Smith became hot throughout the summer months last year, winning twice in a three-race span. Similar fortunes could be ahead this year for the 21 team, as his average finish to date is only 13.3.
Stewart Friesen (+58)
After missing the postseason a year ago, Stewart Friesen has rebounded nicely to ninth in points. With a 58-point buffer above the cut line, the 52 is aligning themselves well for another deep postseason run. However, Friesen only has two top-10s this year. Since Atlanta, the 52 has also not finished higher than 12th. Results for Friesen must continually improve if he is to make some noise in these Playoffs.
Carson Hocevar (+26)
In his first full-time Truck Series season, Carson Hocevar is carrying the banner for Niece Motorsports. The 18-year-old from Michigan has put himself on the map in recent weeks, finishing third at Darlington and seventh at COTA. These strong results of late have the 42 truck with a 26-point buffer over the Playoff cut line. Hocevar is also currently leading the Rookie of the Year standings over Chandler Smith and Hailie Deegan. After being left out of the postseason last year, Niece hopes to return to title contention with Hocevar.
Johnny Sauter (+16)
Currently the last man in the Playoffs is 2016 Truck Series champion Johnny Sauter. Riding more than a two-year winless drought, Sauter is narrowly holding onto a postseason berth. Sauter does have four top-10s on the year, with a best result of fourth in Atlanta. Much like Crafton though, Sauter's ThorSport team may be held back a bit due to switching back to Toyota. A 22nd-place finish at COTA did derail the 13 team's streak of three-straight top-10s. While Sauter definitely has the veteran experience to make a postseason surge, he must remain mistake-free as the bubble driver. He currently leads Austin Wayne Self by 16 points.
Some Playoff-caliber drivers below the cut line include Austin Wayne Self, Chandler Smith, Tyler Ankrum, and Hailie Deegan. The points gap back to Deegan is only 45 points, so all of these drivers are still very much alive in the Playoff push.
The remainder of the Truck Series regular season will be unpredictable for sure. After Charlotte, the Truckers will head to Texas, then Nashville, Pocono, the Knoxville dirt, and Watkins Glen. Closing out their regular season on a dirt track and a road course leaves the field of potential Playoff upsets wide open. Four driver's know for a fact that they will race for a championship this fall. Six races remain to determine the other six title threats.
Written by Peter Stratta
Be sure to follow us on Twitter
Be sure to follow the writer on Twitter
Photo by Sean Gardner/Getty Images for NASCAR