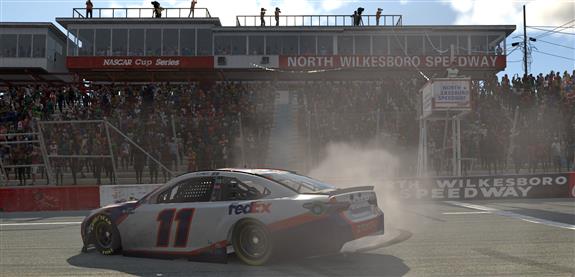 Denny Hamlin Wins Pro Invitational Finale from North Wilkesboro
In the highly-anticipated iRacing debut of North Wilkesboro Speedway, Denny Hamlin walked away victorious. The Fedex 11 took the checkers in Saturday's North Wilkesboro 160, after a late bump and run on Ross Chastain. This marked Hamlin's second Pro Invitational win, after Hamlin won the inaugural race at Homestead. In addition, this was the iRacing debut for the newly-scanned North Wilkesboro Speedway, which will be available publicly on May 11.
Young Guns Lead Early
Polesitter Cole Custer would pace the field for the opening 12 laps. Second-place starter Ryan Preece would closely follow the No. 41, and also took the lead on lap 13. These two drivers made up the front row after a top ten invert from qualifying. The opening 30 laps led by these two would see two cautions.
Payback Happens Fast
After tempers flared last week at Dover, payback was on the mind of Denny Hamlin. Late in the Finish Line 150, John Hunter Nemechek abruptly dumped Hamlin's No. 11 Toyota before exiting the race. Hamlin was determined to send the No. 38 a similar message this week. On lap five, Nemechek spun out of turn two off the bumper of Hamlin. This would be the first caution of the day, and would be the start of a long race for Nemechek. In conclusion, the rookie would leave North Wilkesboro in the 24th position.
The second caution of the day came on lap 30, when Michael McDowell spun in turn one, collecting Erik Jones. This caution would see Ross Chastain inherit the lead for nine laps. North Wilkesboro would mark Chastain's final appearance in the Roush No. 6, as Ryan Newman will return next week.
Chastain would be overpowered on lap 41 by Preece, who would hold the lead until pitting under a lap 53 caution. With just over 100 laps to go, the new leaders would be Christopher Bell and Dale Earnhardt, Jr. The rookie in the No. 95 would lead a race-high 61 laps.
Carnage at Halfway
Right as the race neared halfway however, a caution came out for a major crash out of turn four. Landon Cassill would clip the curb and get loose. The 89 would collect Austin Dillon, Brennan Poole, Clint Bowyer, Timmy Hill, and Tyler Reddick. Hill's No. 66 Toyota would pound pit wall head-on, leading the Texas winner to use his fast repair.
When racing resumed, Bell easily cleared the field, as he appeared to be on his way to his first Pro Invitational win. However, Denny Hamlin began to close in as the laps wound down. By lap 115, Hamlin caught Bell and made the pass for the lead in turn four.
Pit Strategy Leads to Aggressive Battle for the Win
With just 33 laps left, the caution would fly again for a crash involving Parker Kligerman and Bobby Labonte. As a result, the yellow set up for an interesting split tire strategy. Chastain, Hill, and Cassill all took only two tires to take the top three spots on the restart. Meanwhile, Hamlin would restart with four fresh tires. With nine laps to go, Hamlin caught the bumper of Chastain, and sent him wide into turn three. Amazingly Ross saved it, falling back to third. By turn one however, Cassill was to the inside of the 6 and made contact, but Chastain kept control again. No caution would come out, and Hamlin would lead Hill.
By the checkered flag, Denny Hamlin had a lead of nine tenths over Timmy Hill. Hamlin would bookend the seven-week Pro Invitational Series with victories at Homestead on March 22, and also at North Wilkesboro.
Top Ten From North Wilkesboro
The top ten results from North Wilkesboro were Hamlin, Hill, Tyler Reddick, Ross Chastain, Austin Dillon, Garrett Smithley, Brennan Poole, Parker Kligerman, Kevin Harvick, and Landon Cassill.
Hamlin's Winning Reaction
"We've had a thing over the last few years of winning very, very important races," Hamlin said post-race. "The Daytona 500, the elimination race at Phoenix last year to get in the final four, then Daytona 500 this year, then the two virtual wins, the first one and the last one. Those are the two you probably want to win in those circumstances. Pretty awesome to be able to have success and be competitive and race for wins, whether it be in real life or virtual."
Hamlin's Winning Move on Chastain
Hamlin went on to describe the bump and run he put on Chastain with less than ten to go. "(It's) short-track racing. Really it was two guys going for the same spot. Inside ten laps to go I get to him. I'm thinking I have to make short work of him, like really, really quick. I got a good run on him. He saw I was going to be inside. Obviously he did his best to try to block there. As you could see, when I got into the back of him, I immediately checked up to try to let him catch it. Luckily he did. If you talk about like a bump-n-run, that's a textbook way of doing it. You get the guy up, out of the groove, but you don't wreck him.
"It was still a great race. I had a great battle with Christopher Bell for at least 15 laps. That was a blast. Then Ross at the end, I never thought his tires would hold up as good as they did. It was a really fun race."
North Wilkesboro Speedway provided for great racing in the Pro Invitational Series. All of the hype prompted iRacing to move up its public release date. After a several-months long venture to recreate this track to as it was in 1987, the sim racing community will be able to compete on this historic 5/8 mile. In addition to this, a 1987 Chevrolet Monte Carlo and Ford Thunderbird will also be released soon.
How to Watch the Next Race
With the Pro Invitational Series now complete, it's time for real-life racing to restart. The first race back for the NASCAR Cup Series will be a 400-mile event from Darlington Raceway next Sunday, May 17. While fans will unfortunately not be allowed at this race, be sure to tune into FOX at 3:30 PM EST for all of the race coverage. As the first major sporting event since the COVID-19 pandemic, more eyes will be on NASCAR to see how well this race procedure goes. Follow along with our writers on Twitter for any news from Darlington, as we will cover everything remotely.
Written by Peter Stratta
Be sure to follow us on YouTube and Twitter.
Be sure to follow the writer on Twitter.
Photo credit to NASCARMedia