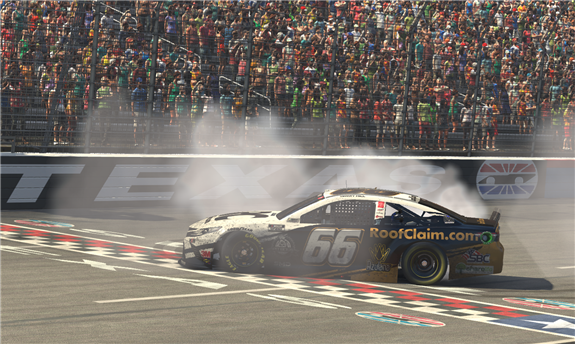 Timmy Hill Does Texas Two-Step into Virtual Victory Lane in Pro Invitational Series
While the world of real-life racing is on pause for the global health pandemic, NASCAR has been able to provide some relief for drivers and fans alike. The eNASCAR iRacing Pro Invitational Series has pitted stars of the three national series against each other in simulated races. These events have been following the Cup Series schedule. The inaugural event in this series last week went to Denny Hamlin at Homestead. This past Sunday however was a very different story, as underdog driver Timmy Hill took the checkers in Texas.
After a barn burner of a first race that saw Denny Hamlin narrowly hold off Dale Earnhardt, Jr., the racing world was abuzz over iRacing. Coming into race two of the six-week virtual series, many drivers were pegged as prerace favorites. This list included iRacing-turned-NASCAR star William Byron, Dale Earnhardt, Jr., Garrett Smithley and Timmy Hill. Over the course of 125 laps on the simulated 1.5-mile Texas Motor Speedway, fans experienced a great display of veteran iRacers and relative newcomers.
Fan-Favorites Up Front Early
For the start of Sunday's race, William Byron's No. 24 Camaro was alongside Dale Earnhardt, Jr.'s No. 8 Chevrolet. The opening laps were a case of master-versus-student, as Byron quickly pulled away from Earnhardt. The Axalta flames would stay out front for most of the opening 40 laps. However John Hunter Nemechek would also lead a few laps during this time.
Under the first yellow, iRacing veteran Alex Bowman had a pit road speeding penalty. On iRacing, penalties must be served under green and it was a 40-second stop and hold for the 88. Bowman would rebound to finish in the top five, but was out of the action for the most part.
Contender Out Before Halfway
The caution would fly for the second time on lap 39, when iRacing ace Anthony Alfredo was sent flying into turn 3. A badly-timed bump from Matt Dibenedetto sent the Death Wish Coffee No. 33 Chevrolet airborne. This caution would prove to be a game-changer up front, as Denny Hamlin, Chase Elliott, and Ty Dillon would all gain track position by not pitting. Hamlin would be the control car for the ensuing restart.
The no-tires call did not pay off for Hamlin, Elliott, or Dillon, as all three of them went free falling through the field. By lap 46, it was Byron out front once again. As the race crested halfway, Byron was evidently the class of the field. Even after falling to third behind Ryan Preece and Nemechek, Byron still battled back. The 24 car appeared as if it was on rails in the Lone Star State.
Green Flag Pit Stops Shake Up Strategy
During a cycle of green flag pit stops just shy of lap 100 Preece, Ty Majeski, and Michael McDowell would all cycle to the lead. A very daring strategy would follow however, as the wounded 8 of Earnhardt, Jr. would stay out. Earnhardt was hoping for a yellow, as repairs to his damaged machine would likely take him out of the running. Earnhardt would be forced to pit on lap 106, and the yellow flew just three laps too late.
Driver Parked for Reckless Driving
In a rare moment on iRacing, one driver's day ended early due to a self-inflicted penalty. With just 16 laps to go, Daniel Suarez attempted to purposely wreck Ty Dillon, but instead triggered the caution by wrecking himself. Race control told the No. 96 team they were done, and Suarez would have to settle for a 33rd place result. This caution would re-rack the leaders once again, but this time Byron would roll off alongside Timmy Hill.
The caution would soon fly again, as Greg Biffle and Clint Bowyer both spun on exit of turn two. This would set up a five-lap dash to the checkers, with the 24 and 66 right next to each other again.
Winning Move Made on Restart
When the green flag fell with five laps to go, Byron did not get away from Hill. Hill quickly fell in line behind the 24, and was content to bide his time. Going into turn one with just four laps left, Hill put the bumper to Byron, nudging him out of the groove and taking the lead. The 24 would fall all the way back to seventh, after leading a race-high 81 laps. As the leaders came to the stripe, another caution came out as several cars went spinning.
Overtime Leads to Unusual Top Five Finishers
On the Overtime restart, Timmy Hill slotted next to Garrett Smithley. After both underdog drivers had top-five runs at Homestead, they were looking to be an upset winner. On the break, it was all Timmy Hill, getting a big jump as it was a hornet's nest of traffic behind him. By the checkers, Hill just edged out Ryan Preece by 0.05 seconds. For Hill, it's iRacing victory number 674, but on the biggest stage and against the stiffest competition.
Behind Hill and Preece, the top five certainly was an interesting mix of drivers. Smithley, Landon Cassill, and Alex Bowman were all up front and battling for the win late.
Timmy Hill's Reaction to the Win
"I definitely rank it up there," Hill said when asked how he ranks the Texas iRacing win against his career accomplishments. "The reason being is just because the platform is being televised on FOX, having essentially the entire NASCAR audience tuning in. I've won a lot of iRacing races. It's neat to win on there. It's really neat to win against your competitors that you race each and every Sunday."
Other recent career highs for Timmy Hill include placing fifth in his own truck last fall at Martinsville, and finishing third in the Xfinity Series at Daytona a few weeks ago.
"Like I said, iRacing is a huge tool for me. Never replace real life racing. I tell you what, the way I celebrate this win, the way it ranks for me, it's definitely towards the top. It's not the top just because of how the fans react and how the media reacts to it." 
How to Watch the Next Race
The next race for the eNASCAR Pro Invitational iRacing Series is sure to be a fan favorite, as drivers will be put to battle in the virtual Bristol Motor Speedway. Coverage will be next Sunday on FOX, FS1, and the FOX Sports App. Race time has yet to be announced, but we will share that on Twitter. In this unprecedented hiatus for NASCAR, the simulated world of iRacing has provided many with an escape from these trying times with the coronavirus crisis. All of us at TSJNASCAR will continue to cover the Pro Invitational Series, as we eagerly await the return of real-life NASCAR.
Written by Peter Stratta
Be sure to follow us on YouTube and Twitter.
Be sure to follow the writer on Twitter.
Photo credit to NASCARMedia