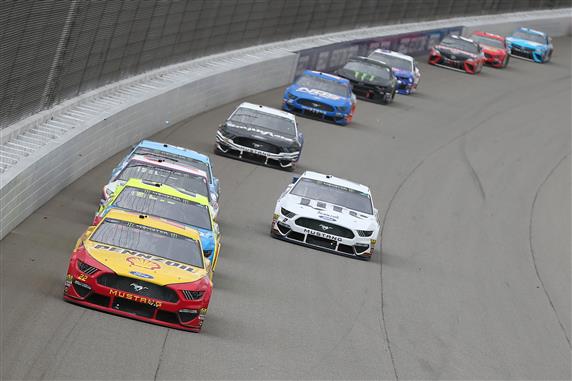 Will Ford Performance Come Out on Top Again at Michigan International Speedway?
Both annual trips to the Irish Hills of Michigan have an added significance for NASCAR's 3 manufacturers. The Heritage Trophy is on the line, and the blue oval brigade is trying to keep it in Detroit. Whether racing in Fusions or Mustangs, Fords have been unbeaten in recent years at Michigan. Can the strength of Ford Performance conquer the 2 mile oval again on Sunday? Recent history favors the Fords, but the Toyotas are still listed at the top.
Ford Performance's Streak of Success in Michigan
For each of the last 3 trips to Michigan International Speedway, a Ford has ended the day in victory lane. This trend began in June of last year with Clint Bowyer's rain-shortened win. That day the 14 Haas Ford narrowly edged out teammate Kevin Harvick. Harvick would get his retribution a few months later, as the 4 put on a driving clinic in last August's Michigan race. Lastly earlier this season, Joey Logano scored his third Michigan win from the pole position.
As a manufacturer, Ford leads the NASCAR Cup Series with 38 race wins at Michigan International Speedway. With the legacy of Henry Ford in nearby Detroit and being in the vicinity of his museum, all Ford drivers have added pressure to perform. Between the 2 powerhouse teams of Penske and Stewart-Haas, expect multiple Fords to be in contention on Sunday. Defending Michigan August winner Kevin Harvick leads 4 Fords in the top 10 favorites for Sunday. If Ford Performance is to make it 4-straight Michigan wins though, they will likely have to out-duel the Toyotas of Kyle Busch and Martin Truex, Jr.
A Rare Down Week For Fords
A strong run is much needed for Ford as a manufacturer. Last week at Watkins Glen the Mustangs were at a significant disadvantage to the Chevrolets and the Toyotas. Ryan Blaney carried the banner for Ford by finishing 5th. Kevin Harvick (7th) and Brad Keselowski (9th) were the only 2 other Fords in the top 10 on the upstate New York road course. Despite the lackluster results from The Glen, expect Fords to be much faster this week.
Be sure to tune into NBCSN on Sunday to see if a Ford Mustang can roll into Michigan victory lane again. Coverage of the Consumers Energy 400 begins at 3 PM EST on NBCSN, MRN, and SiriusXM NASCAR Radio Channel 90.
Written by Peter Stratta
Be sure to follow us on Youtube and Twitter.
Be sure to follow the writer on Twitter.
Photo credit to NASCARMedia