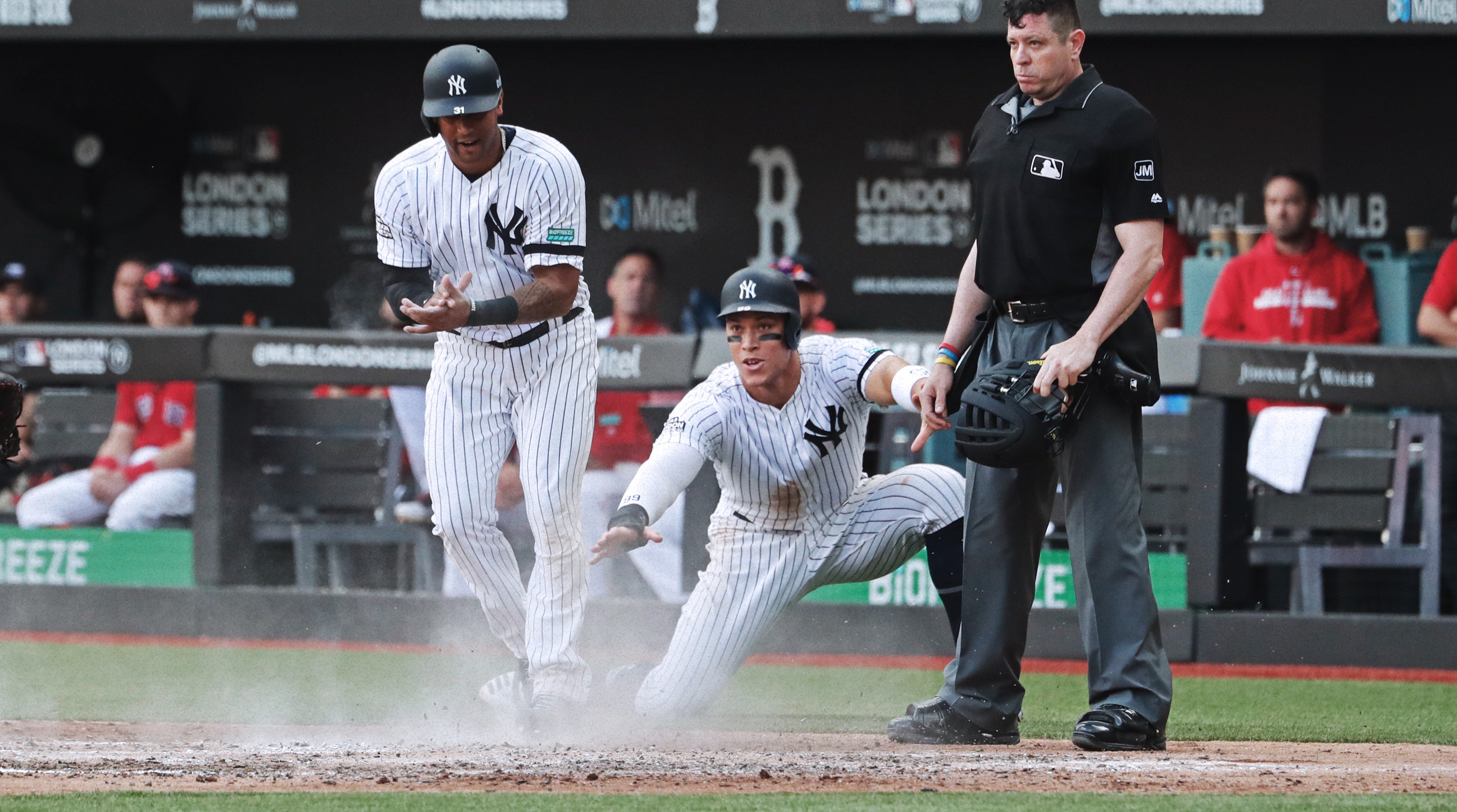 Yankees-Red Sox London Series Recap
Game 1: Yankees 17, Red Sox 13
We saw fireworks in Game 1 of the Yankees-Red Sox London Series. Both teams put up a 6 spot in the first inning alone. The 12 total first inning runs exceeded the betting line over/under of 11.5 runs. Rick Porcello got rocked in the top of the first and only got 1 out. Then Tanaka came in for the Yanks and he only got 2 outs. It was an exciting beginning to a LONG game (three minutes shy of the longest 9 inning game ever).
Needless to say, it was an exhilarating experience for fans attending their first ever baseball game. Aaron Hicks hit the first MLB home run in Europe, and Gardner and Judge each went deep as well. The baseballs really took a beating as the teams combined for 30 runs on 37 hits. The Yankees ultimately pulled away in the football-like scoring affair between the longtime division rivals. 
Game 2: Yankees 12, Red Sox 8
The scoring in the second game was a little bit tamer… for the first 6 innings. Boston jumped on the board early, scoring 4 runs in the 1st off of opener Stephen Tarpley. The Yankees put up 2 in the 2nd on RBIs from Gardner and Urshela to make it a 4-2 game. Luis Cessa held it down for the Yanks, pitching a scoreless 4 innings before turning it over to the heart of the bullpen. The Bombers took off in the 7th, scoring 9 runs, including a Didi home run that extended the team's home run streak to 31 games. The Red Sox added 4 more runs in the 8th but the damage was already done. Chapman came in for the 9th and secured the win and sweep. The Yankees have now won 13 of their last 14 games and 7 of 8 against Boston this year. 
Takeaways From the London Series
The Yankees-Red Sox London Series was a very unusual move for the MLB to make. Baseball is a very traditional sport; to go against the pastime and play games in London in front of a whopping 60,000 fans is different, but it adds to the new wave and shows the direction in which the sport is headed as a whole. The idea to spread baseball overseas and really make it a global sport is an incredible idea. This series between the two most notable and compelling teams and the biggest rivalry in the sport was a genius marketing move and a great way to get ideas, such as this one, started. MLB got lucky that the offensive thrill of the game was the centerpiece of the series. Pitching a game to new faces and fans revolving around pitcher's duel would've been difficult. 
Written By Avi Nat
Follow Avi and TSJ:MLB on Twitter!
Photo credit to Yankees via Twitter
Follow TSJ on YouTube and Twitter