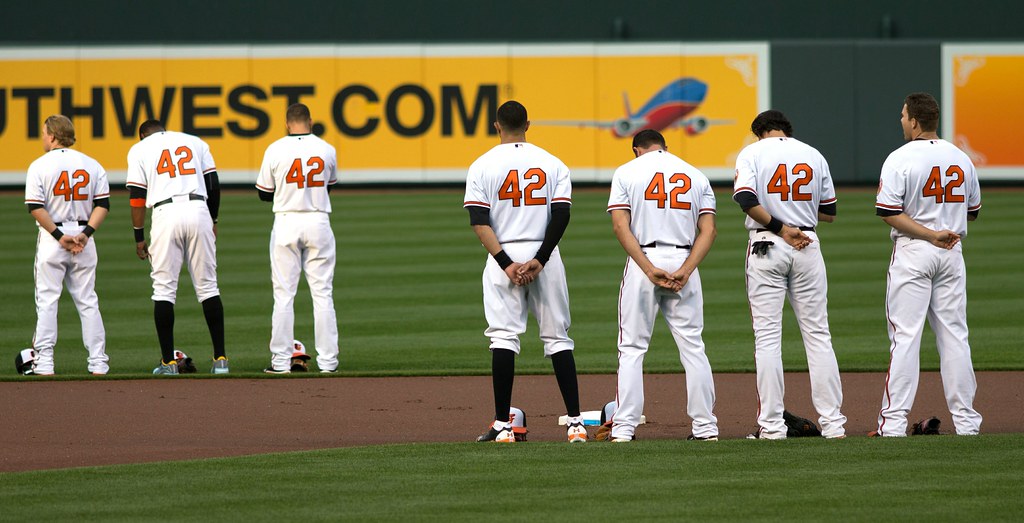 MLB Set For 72nd Anniversary Of Jackie Robinson
Across Major League Baseball, players and coaches will honor the legacy of Jackie Robinson. Everyone across the league will wear number 42 (which was retired league-wide in 1997 and is the only number retired league-wide) and will hold some sort of event to commemorate Robinson. The Robinson family will also be in Los Angeles for Jackie Robinson festivities.
In addition, Robinson would have been 100 years old this past January. To recognize this, players will have a commemorative patch that says, "Jackie 100" on them. The league has celebrated "Jackie Robinson Day" since 2004.
The Legacy
On April 15th, 1947, Major League Baseball saw something no one had ever seen before. An African-American was not only on an MLB roster but starting at first base. His name was Jackie Robinson. Robinson was the first African-American to play in a Major League Baseball game and forever changed the game of baseball. He set the table for the Civil Rights movement and for more African-Americans to abandon the Negro Leagues and play in the MLB.
When Robinson first came up, of course, there was controversy across the country. Players would rather be benched than play with him, fans would yell vulgar slurs at him, and pitchers were throwing at him on purpose. However, when racial tensions rose in the Dodger clubhouse, manager Leo Durocher took a stand by saying,
"I do not care if the guy is yellow or black, or if he has stripes like a f***** zebra. I'm the manager of this team, and I say he plays. What's more, I say he can make us all rich. And if any of you cannot use the money, I will see that you are all traded."
The Dodgers front office, led by Branch Rickey (who originally signed Robinson) was set to make a change across Major League Baseball. It was a dangerous change, but a change that was needed, and a change that would forever last.
After ten successful years with the Dodgers, Robinson would retire. He would retire a six-time All-Star, a batting champ in 1949, an NL Rookie of the Year in 1947, an MLB MVP in 1949, and a first ballot Hall of Famer in 1962. Robinson would open the door to Frank Robinson (the first African-American Manager), Hank Aaron, Willie Mays, Ernie Banks, and countless other baseball heroes.
Follow Us On Twitter:
Site: @T101Sports
Department: @T101SportsMLB
Writer: @zach_nau
Photo Credit to Keith Allison via Flickr