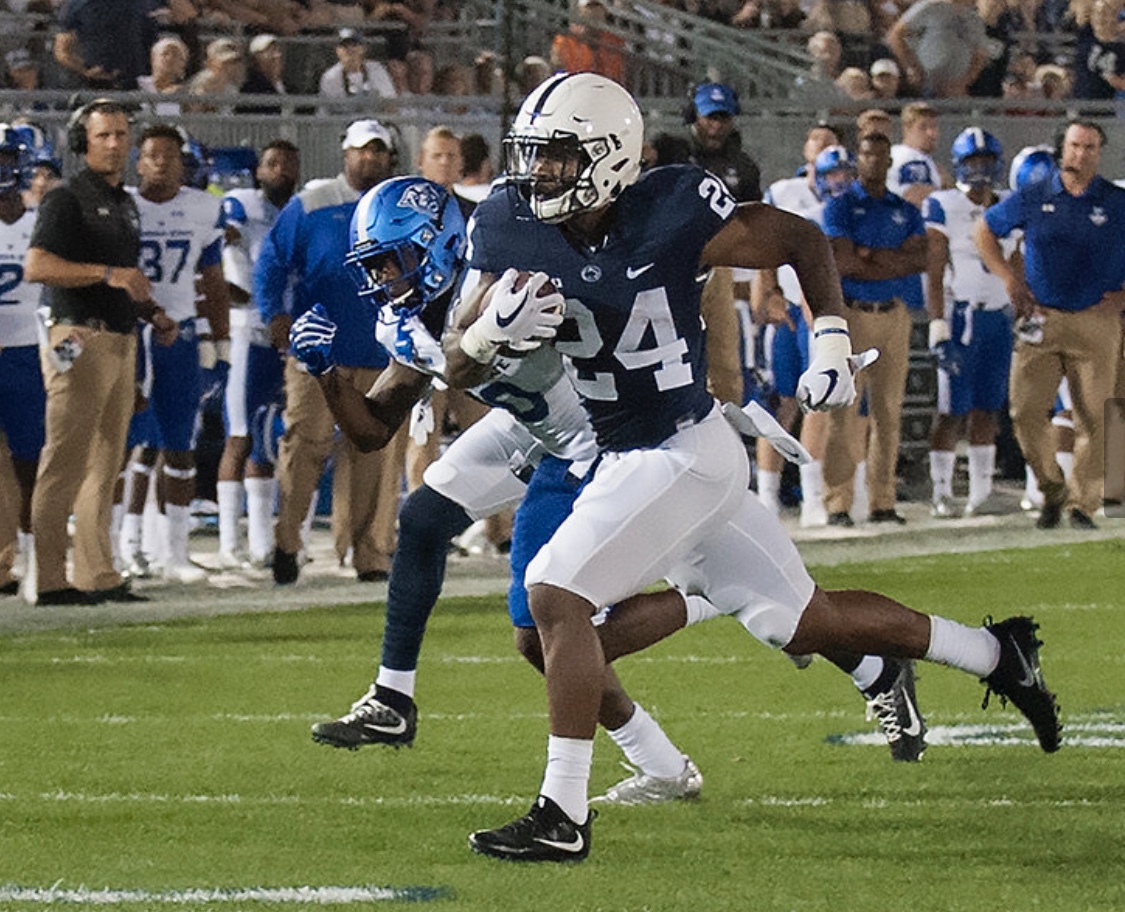 Miles Sanders Declares for NFL Draft
After some speculation, Penn State running back Miles Sanders declared for the 2019 NFL Draft Thursday morning. Sanders had himself a decent year as a first year running back rushing for over 1200 yards.
Background of Miles Sanders
Miles Sanders was a prized recruit of the class of 2016. As a five-star recruit, Sanders was the top-ranked player in the state of Pennsylvania and at the running back position. However, Sanders was ranked 21st nationally in the 2016 recruiting cycle. Sanders overall composition ranking was 0.9865 according to 247 Sports.
Career at Penn State
Coming into his freshman campaign at Penn State; Sanders did not get the go ahead to become the starting running back. Sanders spent the first two seasons behind the starter at time, which is now New York Giants' running back Saquon Barkley. During Sanders' first two seasons, he split time between being a kick off returner and special downs running back such as third down when Barkley needed rest.
During Sanders' freshmen campaign as a running back in 2016, Sanders gained a total of 184 yards in 13 games. Sanders averaged 7.4 yards per carry along with one touchdown. In Sanders' sophomore season in 2017, Sanders played in 10 games and had 31 rushes for 191 yards and averaged 6.2 yards per carry. Sanders had two rushing touchdowns during his sophomore campaign.
Fast forward to his Junior year, Sanders imploded and showed how hard he worked and it payed off. in 13 games. Sanders had 220 rushing attempts for 1274 yards. He averaged 5.8 yards per carry and tacked nine touchdowns on the ground.
Sanders in the NFL and draft stock
Let's not sweeten the pot. Some people think that Sanders should have stayed for his senior year. However, when you look at the running back draft class for this upcoming draft, it's weak. Just to highlight a few players at the running back position that will enter the NFL draft: Damien Harris of Alabama, David Montgomery of Iowa State, Justice Hill Oklahoma State, Bryce Love Stanford and Josh Jacobs of Alabama just to name a few.
Currently, Sanders is projected as a mid-round guy (fourth or fifth round). However, that could be improved by a great NFL combine performance but not by that much.
Running back situation at Penn State now
Since Sanders now departed, the depth chart shifts. Ricky Slade now takes the top spot  and sophmore Journey Brown takes the second spot. Behind those two are two incoming freshman Noah Cain and Devyn Ford.
Conclusion
When you break down the entire situation, this was the best decision. Like I mentioned earlier in the article, speople believe Sanders should've stayed for his senior year. However, the truth is, next year's running back class will be a lot better per say and Sanders maybe berried under elite talent.
Photo Credit to Penn State live via Flickr