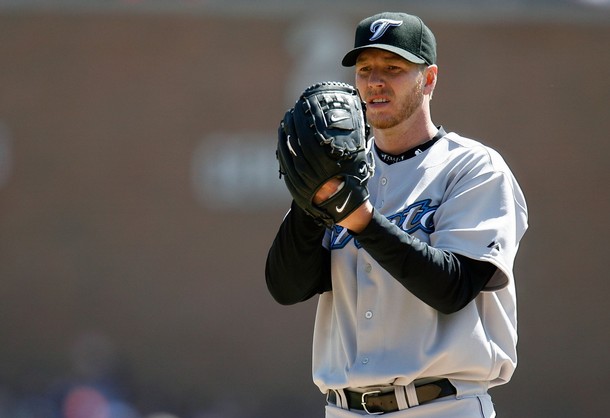 One year ago today, the baseball world lost an icon. Roy "Doc" Halladay was flying his ICON A5 Founder Edition amphibious aircraft on November 7, 2017, when it crashed into the Gulf of Mexico. An autopsy would later reveal a significant amount of morphine, and minor traces of amphetamine, alcohol and Ambien in Halladay's system at the time of the crash. He is survived by his wife Brandy and their two sons, Braden and Ryan.
Arrival in the Bigs
Roy Halladay burst onto the scene in late 1998 with the Toronto Blue Jays. Three years later, after posting a 10.64 ERA in 19 games in 2000, he was optioned back to Class A Dunedin to work on his delivery. This was the worst season in MLB history for a pitcher with at least 50 innings. After a month and a half in Dunedin reworking his delivery, Halladay was promoted to Double-A Tennessee. A month later, he was at Triple-A Syracuse. By the middle of the season, he was back in the Jays' rotation. He finished the year with a 5-3 record and a 3.19 ERA in 16 starts.
In 2002, Halladay played for the American League All-Star team and finished the season 19-7 with a 2.93 ERA. He had 168 strikeouts in 239.1 innings. His success continued in 2003 when he had a 22-7 record and a 3.25 ERA in 266 innings. He pitched an extra-inning shutout game against Detroit on September 6, working 10 innings without allowing a hit until the eighth. He again made the All-Star team, and won his first Cy Young award.
In the years that followed, Doc became something of a legend in the city of Toronto. Every fifth day, the flagging Jays would see an upstroke in ticket sales. Fans came from around the country to see Doc pitch. Once every five days, the fans got to see an echo of the World Series days. There was hope when Doc was on the mound, although it never amounted to much.
Off-Field Work
Halladay was also well-known for his charity work and his genuine love for his teammates. Each home game, he and wife Brandy would bring children from Toronto's Hospital for Sick Children (Sick Kids) and put them up in the suite called "Doc's Box". The children got to watch the game with their families, and the seats in the box were red so the Jumbotron camera man could find them easily.
Minor league players spoke up about how often he would take time out of his busy schedule to speak with them and work with them if he could. Right-hander Aaron Sanchez, currently of the Toronto Blue Jays, tells a story about how Halladay took time to sit down with him and talk about his pitching techniques. Sanchez was very grateful to Doc for taking the time out of his busy schedule to talk to a young minor leaguer, and has made it his goal to emulate that in his own career.
Final Blue Jays Line
Halladay finished his Blue Jays career after the 2009 season. His final stats as a Blue Jay are impressive, especially for the time in which he played in Toronto. During his time in Toronto, Halladay had 148 wins, 2046.2 IP, and a 3.43 ERA. He pitched 49 complete games and was a 6x All-Star.
Beginning Anew in Philly
After being traded in the 2009 offseason, Halladay played four seasons with the Philadelphia Phillies. In his first season he pitched a perfect game on May 29 against the Florida Marlins. He also helped lead the Phillies to their fourth straight NL East title. The team finished with the best regular season record in baseball. Doc pitched game one of the NLDS, a no-hitter against the Cincinnati Reds. He gave up only one walk, to Jay Bruce in the fifth. The Phillies won 4-0. Doc became the only pitcher to pitch a perfect game and a no-hitter in the same year.
Halladay won the NL Cy Young Award unanimously that year. My favourite story from this event has to do with Halladay's catcher with the Phillies, Carlos "Chooch" Ruiz. Halladay, being an exceptional human, recognized that his success was not all his own making. He wanted something to commemorate the catcher who had helped make his success happen. He therefore had a replica statue of his Cy Young Award made for Chooch, and left it in the catcher's locker the next season.
Halladay ended his career with the Philadelphia Phillies. He retired after the 2013 season to spend more time with his young family. He came home to Toronto, signing a ceremonial one-day contract that allowed him to retire a Blue Jay and endeared him to Jays fans everywhere.
Retirement
Halladay retired to Florida with his family. He was very involved in the baseball dreams of his sons Braden and Ryan, coaching both of their teams. Braden pitched for the Canadian Junior's team in their exhibition game against the Toronto Blue Jays during 2018 Spring Training in Dunedin, Florida. He pitched a scoreless inning, and there wasn't a dry eye in the place. He has committed to play baseball at Penn State University.
Doc is eligible for the Hall of Fame beginning in 2019. Many people think he will be a first-ballot posthumous entry. We'll have to wait until January to see what the Baseball Writers Association of America voters think. Whether he is admitted this year or sometime in the future, his contribution to the world of baseball cannot be overstated.
On February 12, 2018, the Blue Jays announced that on Opening Day they would be retiring Doc's number, 32, and honouring their late icon. The ceremony included a memorial video and tears were flowing throughout as baseball fans of all ages said goodbye to a legend. The ceremony, including the video, can be viewed here. 
Halladay is remembered fondly in Toronto and Philly for his many contributions both on and off the field. The baseball world, and the world in general, lost a wonderful man that fateful November day in 2017. He may be gone, but he will never be forgotten. Rest in peace, 32.
Follow us on twitter:
Site: @T101Sports
Department: @T101SportsMLB
Writer: @SusannahElyse
Photo credit to kellypb1492 via Flickr