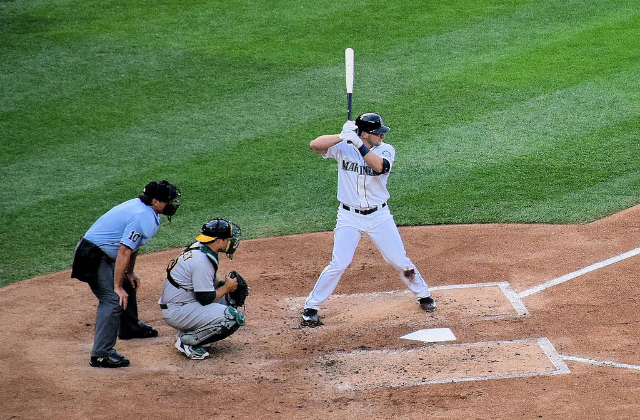 Days after announcing that all Mariners players are up for trade (aside from Mitch Haniger, Edwin Díaz and Marco Gonzalez), Jerry Dipoto has made his first trade. He said the Mariners are not going for a full rebuild, but also did not refute the claims that all his players are up for grabs. His first 2018 off-season trade sent AL Wilson Defensive Catcher of the Year Mike Zunino, outfielder Guillermo Heredia and minor league LHP Michael Plassmeyer to Tampa Bay. The Mariners in return get outfielders Mallex Smith and Jake Fraley.
Heading to Tampa
Mike Zunino's 2018 batting average was .201. His career batting average is only .207. No one keeps Zunino on the roster for his small ball abilities. In 2018 he hit 20 home runs and had a WAR of 1.9. He had a career high 35% caught stealing. He didn't win the Defensive Catcher of the Year award for nothing. Zunino was the everyday catcher for the Mariners, and now they have no catcher. David Freitas, the backup in 2018, is their only option currently. Look for the Mariners to try and sign or trade for another catcher to be their starter in 2019.
Guillermo Heredia appeared in 125 games for the Mariners in 2018, 120 of them in the outfield. He was their main centre fielder for a while after the Cano suspension sent Dee Gordon back to second base. His average was .236 and his WAR was -0.1. He is considered an average fielder.
Heading to Seattle
This is not the first time Mallex Smith has been traded to the Mariners. He was a Mariner for all of 77 minutes before being traded to Tampa Bay. This past year when the Rays travelled to Seattle, the Mariners' PR department went all out with the "triumphant return of Mallex Smith" jokes. Now they're all "welcome (back) to Seattle, Mallex Smith".
The Mariners certainly improved their outfield by picking up Smith. In 2018 he appeared in 138 games playing outfield, the majority of those (71) in centre. His batting average was .296 and his WAR was 3.5. The Mariners were desperate for a good centre fielder, and it would appear they found one. Was it worth the cost of their catcher? I guess we'll have to wait and see what happens in 2019, and who they can find to replace Zunino.
Follow us on Twitter
Site: @T101Sports
Department: @T101SportsMLB
Writer: @SusannahElyse
Photo credit to JamesV34 via Flickr