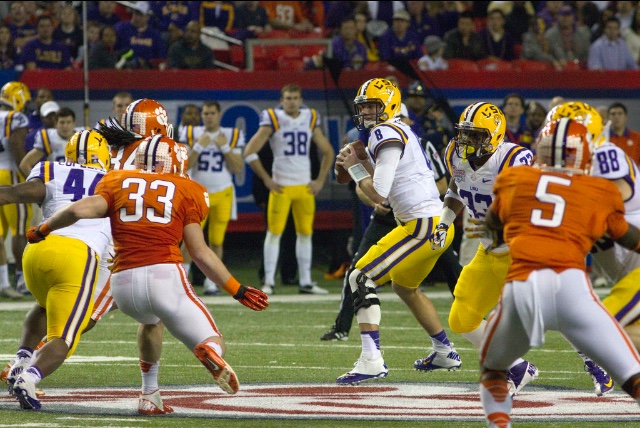 Clemson to Schedule a Football Series with Georgia and LSU?
Potentially big news for Clemson fans regarding future football scheduling may have been foreshadowed today by the Greenville News. Rumblings have been going on about a potential series with the regional rival Georgia Bulldogs. However, today, a new name has entered the mix as a future opponent for Clemson: the LSU Tigers. As a Clemson fan, I cannot help but hope this news that Clemson scheduling a football series with Georgia and LSU is true!
Clemson vs Georgia
First, let's not forget the series I LOVED watching almost five years ago: Clemson vs Georgia. As a young Clemson fan, I only heard stories of how awesome this rivalry used to be. The 2013 game between the two programs was one of my favorite of all time. Although the 2014 game didn't have the same result, I still wanted to see more games between Clemson and Georgia. Fun fact: Clemson is actually closer to Athens than Columbia (aka Clemson's in-state nemesis: the Gamecocks), so why wouldn't these two teams want to play more??!
Clemson vs LSU
Honestly, I remember the last game between these two teams to a tee. I remember walking around the local gym the day of that game asking fellow Clemson fans how they felt about the match up. Most were hesitate to say we had a chance to win. I told them Clemson was ready to go and believed they could pull off the victory. Regardless if I had sipped too much of the orange kool-aid beforehand, Clemson shocked the world and beat LSU in a thrilling bowl win. This game had everything you could want as a college football fan and the ending was more dramatic than a soap opera. Although, LSU is not where they were when Clemson won back in 2012, a home-and-home series with this SEC-foe would be welcomed!
Which match up would you be most excited to see? What would be your dream match up for Clemson or your favorite team?