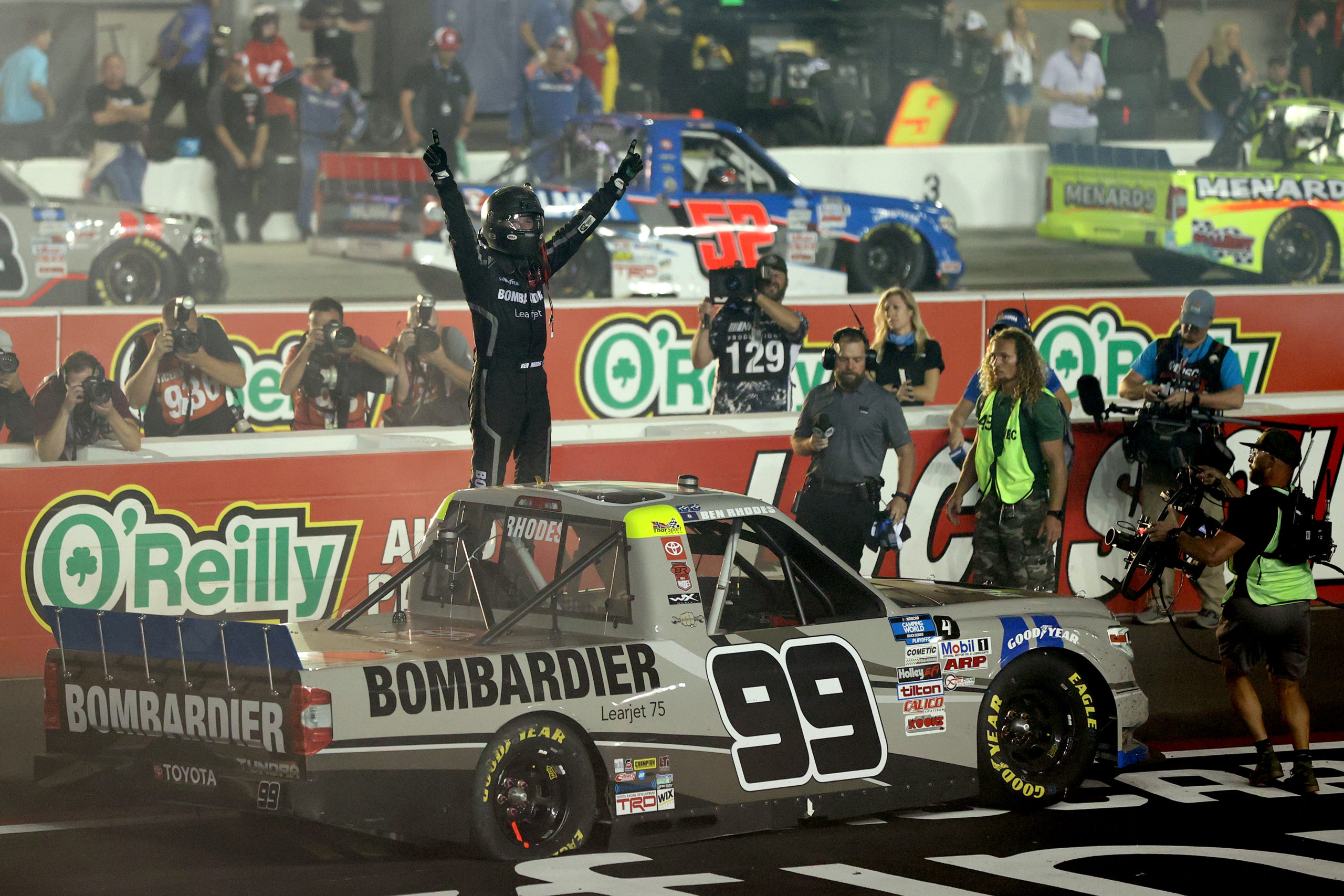 Third-Place Finish Good Enough to Earn Ben Rhodes First NASCAR Truck Series Title
AVONDALE, Ariz. – 24-year-old Louisville, Kentucky native Ben Rhodes took home his first-ever Truck Series Championship by virtue of finishing third at Phoenix. Although Rhodes' No. 99 Toyota failed to ever lead a lap, he did beat his three competitors to the checkered flag. Rhodes only trailed non-contenders Chandler Smith and Stewart Friesen in the Truck Series finale. This marks the fourth championship for ThorSport Racing, coming on the heels of Rhodes' best statistical season.
Rhodes' championship-winning campaign came on the heels of two wins, 17 top-10s, and an average finish of 9.3. His victories came at Daytona to start the season, both on the oval and the road course.
Championship favorite John Hunter Nemechek struggled for much of the night in his Kyle Busch Motorsports truck, scraping the wall early and losing multiple laps. However, the 4 would eventually get back onto the lead lap, but only raced up to seventh by the checkers.
Late Contact Determines the Champion
The eventual championship-winning move was a battle for fourth place between Zane Smith and Ben Rhodes with under 10 laps left. Rhodes nudged Smith out of the groove and rocketed on by the 21, leaving the GMS driver in the dust.
In addition to Smith and Nemechek, Rhodes also outlasted his veteran teammate, Matt Crafton. Crafton's loose No. 88 Toyota would only muster a 12th-place finish, the worst of the Championship 4.
Rhodes' Championship Reaction
"I thought it was gone," Rhodes said on the Championship stage about Zane Smith getting by him late. "When the 21 drove past me, I thought it was all over. [Zane Smith] kept driving away, further and further and further. At the end of the race, when everyone started wearing their stuff out, I didn't think I had anything left. I was sideways after every corner, but we had just enough."
"That was the hardest last 40 laps I think I have ever driven in my life," said Rhodes, who won the first two races of the season and none since. "I was doing things to the race car I probably shouldn't have been doing. It was dumb, but I had everything to lose.
"And we brought it home and won it. I don't even know what to say. This is crazy. Bookends for the season—I'm so proud of my ThorSport Racing group. This wasn't like a vision we had, right, everyone wants to win it, but you just don't know, it's so hard. I just can't thank (owners) Duke and Rhonda (Thorson) enough. They are the reason I'm here tonight.
"I can't even talk right now, I'm so excited."
Not only did Rhodes secure ThorSport Racing a fourth Truck Series driver's title, but he also won their first-ever Owner's Championship. The Ohio-based team is the oldest-running Truck Series organization, and only continues to add onto an impressive winning pedigree.
Former Playoff drivers would be the show up front all night long. The trio of Chandler Smith, Stewart Friesen, and Sheldon Creed swapped the lead amongst themselves throughout the race, with Smith's No. 18 sweeping both Stages and eventually winning by nearly five seconds. Smith and Friesen were the only drivers ahead of Ben Rhodes at the finish. With the victory, Smith also clinched Rookie of the Year honors.
Now that the Truck Series season is over, stay tuned all weekend long for Xfinity and Cup Series championship coverage. The Xfinity Series Championship will go green on Saturday at 8:30 p.m. ET on NBCSN, MRN, and SiriusXM NASCAR Radio Channel 90.
Written by Peter Stratta
Be sure to follow us on Twitter
Be sure to follow the writer on Twitter
Photo by Christian Petersen/Getty Images for NASCAR