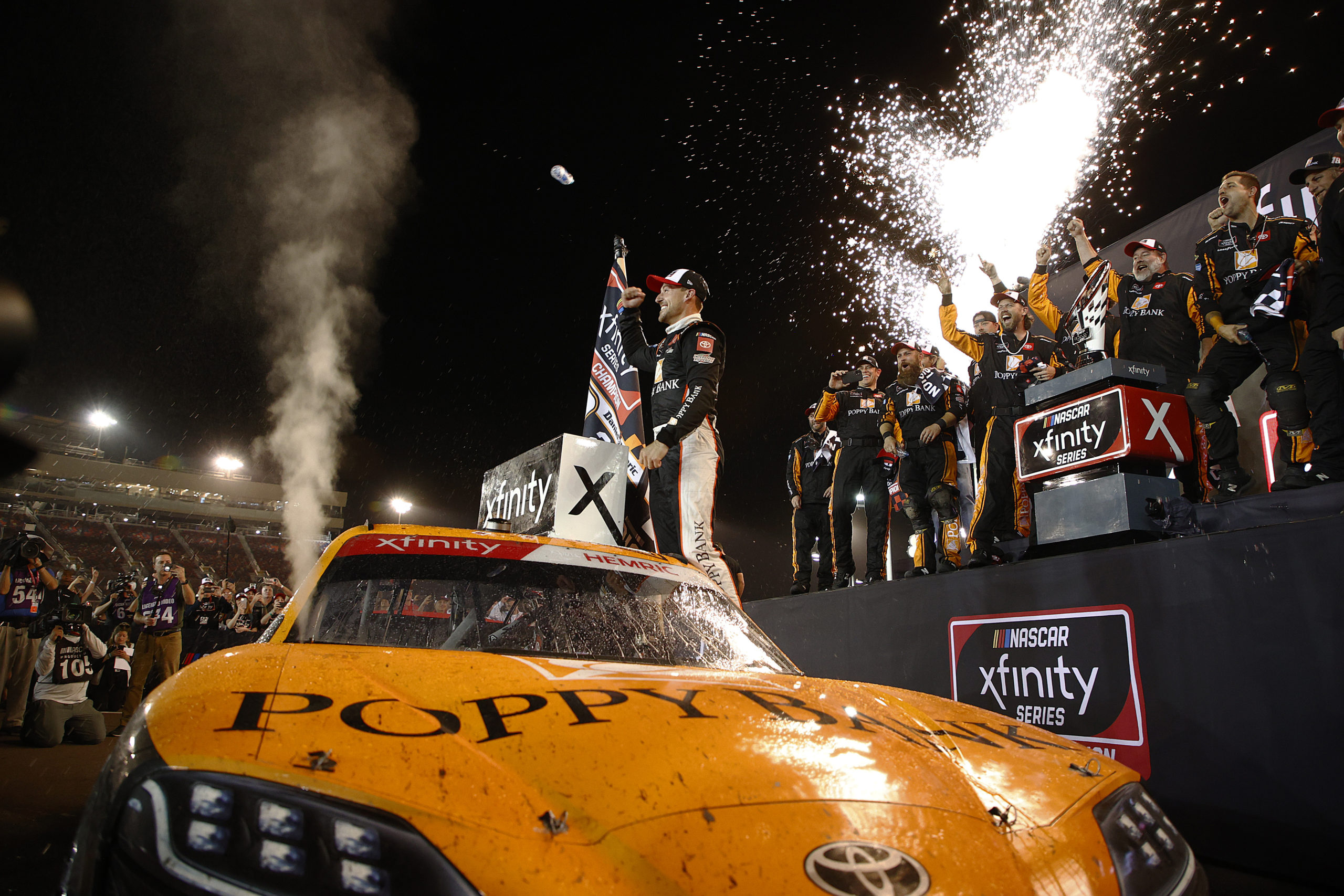 Daniel Hemric Earns First NASCAR Win, 2021 Xfinity Series Championship
AVONDALE, Ariz. – In one of the most feelgood NASCAR moments in recent memory, Daniel Hemric finally breaks through into victory lane. The Joe Gibbs Racing No. 18 moved Austin Cindric out of the way with the checkered flag in sight to take his maiden win, in addition to the 2021 Xfinity Series Championship. Cindric may have dominated the race, but the night belonged to the 30-year-old Kannapolis, N.C. native.
Hemric got the job done in an overtime finish. Initially he lost the top spot to Cindric, but the 18 willed his way back to the 22's bumper just enough to edge him to the line by mere feet. Hemric's first NASCAR national series win comes in his 208th start.
In an odd twist of fate, Hemric performed his signature backflip celebration five years to the day of Carl Edwards' last NASCAR win. Both drivers share a winning crew chief, Dave Rogers. This marks Rogers' first victory since the 2016 Texas triumph.
Other championship contenders face late adversity Saturday night in Phoenix. Noah Gragson only mustered a 12th-place result after hitting the wall late, while AJ Allmendinger recovered from a late spin for 14th.
Hemric's Championship-Winning Reaction
"They've asked me all year, 'how bad do you want it,'" Hemric said. "I gave one away here in the spring, felt like we had to give one up last week to get here, we were not going to be denied. Thank you Dave Rogers, everyone at Poppy Bank, man they took a chance on me in 2015 in some form or fashion. They've stuck with me through times they probably shouldn't have, to be honest.
"I've been waiting a long damn time to do that [backflip]. Thank you Joe Gibbs, everyone at TRD, everyone here who makes this program what it is. I know I've given up a lot. People have doubted me. I'll do it all over again for a night like this."
"This win is about people in life, it's about coming from nothing and making yourself all you work for. This is the American dream, I'm living history of it, living proof. Un-be-lievable."
Just as Daniel Hemric has hit the highest of highs in his racing career, he will undergo a big offseason change. Hemric will move from the Joe Gibbs Racing 18 car to the Kaulig Racing 11 machine. Certainly look out for Hemric to be a contender for many more wins and another championship in 2022.
Phoenix Championship weekend rolls on with the Cup Series finale tomorrow afternoon. The season-ending race will go green just after 3:00 p.m. ET on NBC, MRN, and SiriusXM NASCAR Radio Channel 90. Larson, Elliott, Hamlin, or Truex will end tomorrow with the Bill France Cup. Be sure to stay tuned to see which driver comes out on top.
Written by Peter Stratta
Be sure to follow us on Twitter
Be sure to follow the writer on Twitter
Photo by Jared C. Tilton/Getty Images for NASCAR