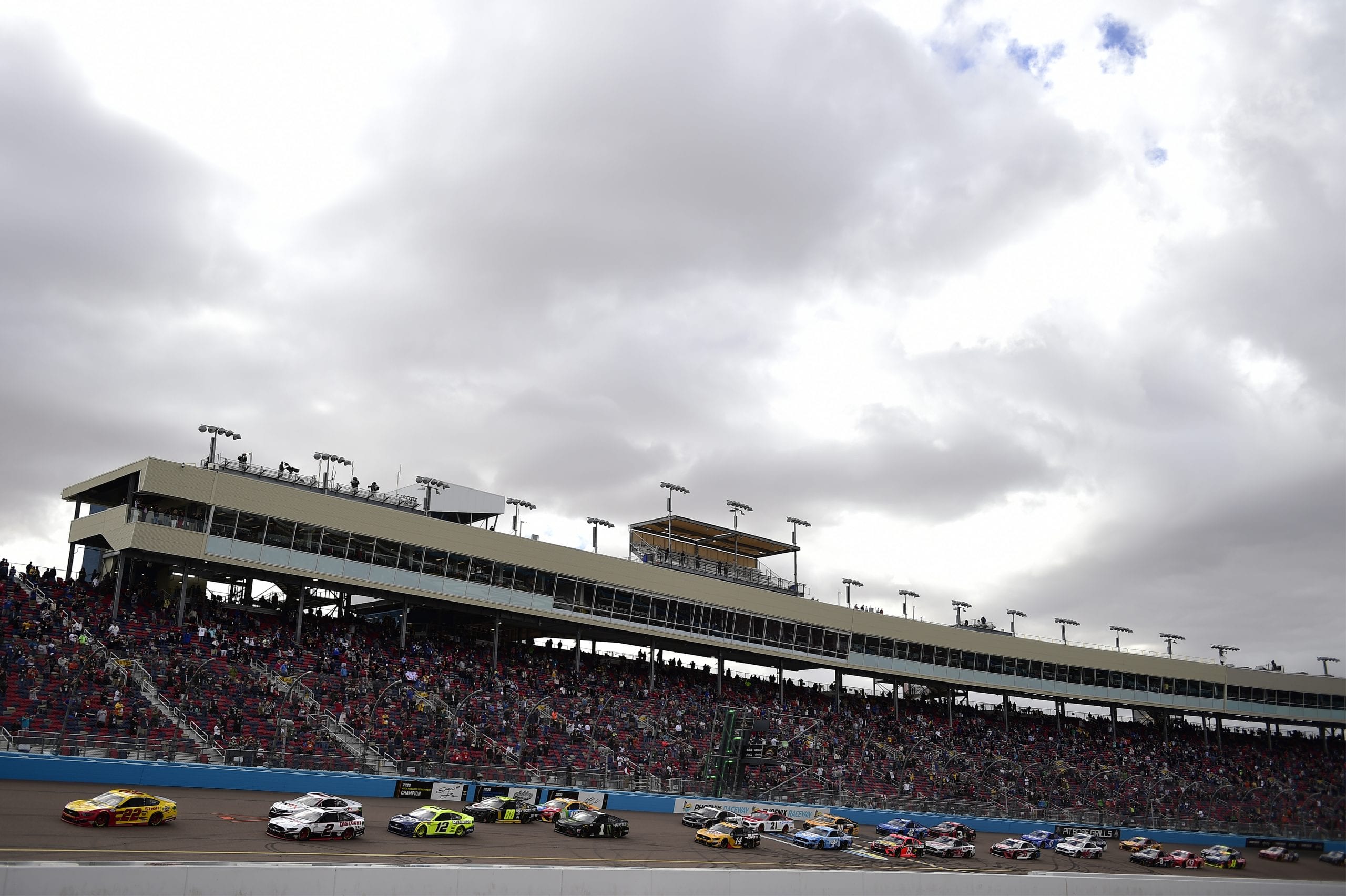 Breaking Down the 2021 NASCAR Cup Series Championship 4 at Phoenix
AVONDALE, Ariz. – The NASCAR Cup Series Championship all comes down to Sunday at Phoenix. After a wild and chaotic finish last week at Martinsville, the final four are determined. Kyle Larson, Chase Elliott, Denny Hamlin, or Martin Truex, Jr. will end this week with NASCAR's biggest prize. How do each of the Championship 4 fare at Phoenix, and who has the best odds at hoisting the Bill France Cup?
Martin Truex, Jr.
Prior to this season, Phoenix Raceway was far from the best venue for Martin Truex, Jr. In March however, the 19 Toyota led 64 laps en route to the victory. Now returning to the desert mile eight months later, can the Joe Gibbs Racing team pull off a Phoenix sweep? Truex somehow survived the chaotic finish last week to transfer on to the Championship 4, and is thankful to have another shot at the title.
"We've had a great season – definitely some ups and downs – and I feel like we've fought for everything we've got this year," Truex said. "That's just our team's mentality to never give up and keep fighting. I think that definitely showed last weekend in Martinsville. We ran up front all day, then got knocked back late in the race and had to do everything we could to advance, and we were able to do that. This weekend is something we've been working for this entire season and have really been excited for after how we ran in the spring. We're definitely looking forward to the opportunity and we're ready to give it our best shot."
Truex has the longest odds at Sunday's victory, with a 9-2 winning chance. Coming into Phoenix as the most recent desert winner though, the 19 cannot be counted out.
Denny Hamlin
Of all Championship 4 contenders, nobody has better numbers at Phoenix Raceway than Denny Hamlin. The FedEx 11 team has two career wins in Arizona, most recently in 2019. In addition, Hamlin has 15 top-fives, 19 top-10s, and an average finish of 10.8 here. In March, the 11 paced the field for 33 circuits before finishing third. Joe Gibbs Racing Toyotas have been the class of the field on 750-horsepower tracks all season long, and Hamlin has also been the fastest in these races. After coming just eight laps shy of a Martinsville win, Hamlin is eyeing a vengeance this week for his first ever championship.
"We have been stronger at the 750-horsepower tracks this year, and I think that's going to help us," Hamlin said. "Last year, that was the weaker type of track for us, and the results showed that. This year, we worked on this package and our results are showing that improvement. So, this is an ideal track for us to get out there and run up front."
"I'm just trusting in my team. Joe Gibbs Racing has been focusing on this race for a long time, and I know we'll bring a fast FedEx Camry. Ultimately, we just need to do the same things that got us to this point and made us successful."
Hamlin has 4-1 odds to take the Phoenix victory. Veteran experience may just pay off in Hamlin's quest for his first title. 2021 marks the 11 team's fourth Championship 4 appearance, can this time end with Hamlin holding the Cup?
Chase Elliott
Defending NASCAR Champion Chase Elliott has made the Phoenix finale again. This year however, driver 9 only has two wins. A season ago however, Elliott came into Phoenix in a bit of an underdog role and was lights-out, taking a dominant win after starting in the rear. A year removed from his title-winning performance, can the pride of Dawsonville, Georgia go back-to-back? Will any lessons from 2020 transfer over to 2021 for Elliott?
"I think a little bit of everything," Elliott said. "We will look at obviously our car side of things from how we raced the last few years, not just that particular race last year. Then, obviously, the spring race in Phoenix – we have some things to look back at. So, I think we will definitely dive through every bit of that information that we have.
"I think from the mental side, having that experience of going and experiencing the emotions of the week and leading up to it and all those things, it is kind of nice to have been through that before. It didn't really seem to matter last year so I don't know that it really matters; I don't know whether it really affects your performance or not, but there were things and experiences that I learned last year that I'll try to carry forward to better myself and to better our team and that's all you can do with that information."
9 Team's Dynamic
"I feel like we have a great team, like our approach is very similar; I let him do his job and [Crew Chief Alan Gustafson] lets me do my job. We don't question it and I feel like it ends up being a really nice working relationship. Our team has grown and has changed a little bit over the course of my six years. I think that as you go, you evolve and you get to know people better, you start doing better. You start finding that little bit in each person that helps performance each week and it all adds up. So, we have a great group people. I am proud to have them and I am excited go to work this weekend."
"Getting in that final four is really the goal every year. The goal is to go win the championship, so it's just nice to have another shot. It wasn't the exciting transfer walk-off type like it was last year but nonetheless, to have a shot to go race for to the championship is really all that matters to us right now. I would love to have won at Martinsville, but I feel like our teams in a good place, performing well over the last couple weeks so I am excited for the opportunity. That's all I can ask for this time of year."
7-2 are Chase Elliott's odds to win the Championship race. Elliott had to pass everyone a year ago to take the title, expect the 9 to be up front again all day long in his hopes at consecutive Cup wins.
Kyle Larson
By far the most consistent driver all season long, Kyle Larson enters Phoenix with an astounding nine wins. Four of those victories have come in the Playoffs, including two in the Round of 8. The 5 team has been just about perfect on nearly every track type this season, but Phoenix is a curveball. Back in March, Larson placed seventh here and only led one lap. In his first Championship 4 appearance, Larson more than likely needs a 10th victory on 2021 to secure the championship, can he get the job done?
Larson Optimistic for Phoenix
"It's definitely the most important race ever in my career," Larson said. "I'm fortunate that it's at Phoenix. It's a track I haven't won at before, but I've had some really good runs there, and earlier this year we had a really, really good race car. I just made two mistakes and sped on pit road two different times. If I can clean up those mistakes, I think we'll have a great shot to win as well as the other three guys who I'm sure I'll be going up against. It'll be tough, but I'm looking forward to a chance to race for a championship."
Larson enters Phoenix as the favorite for the championship, with 7-4 odds at the victory. The 5 team has notably been the car to beat all year long in 550-horsepower races. Amazingly though, Larson has more victories in 750-horsepower events like Phoenix. Unlike any of his competitors, Larson has been locked into Phoenix for three weeks. This amount of preparation may just be the difference in making the 5 team unbeatable yet again.
The 2021 NASCAR Cup Series Championship race will go green Sunday, November 7 just after 3:00 p.m. ET on NBC, MRN, and SiriusXM NASCAR Radio Channel 90. Either Hendrick Motorsports or Joe Gibbs Racing will take home another championship, which of the four drivers will be celebrating on the biggest stage?
Written by Peter Stratta
Be sure to follow us on Twitter
Be sure to follow the writer on Twitter
Photo by Jared C. Tilton/Getty Images for NASCAR