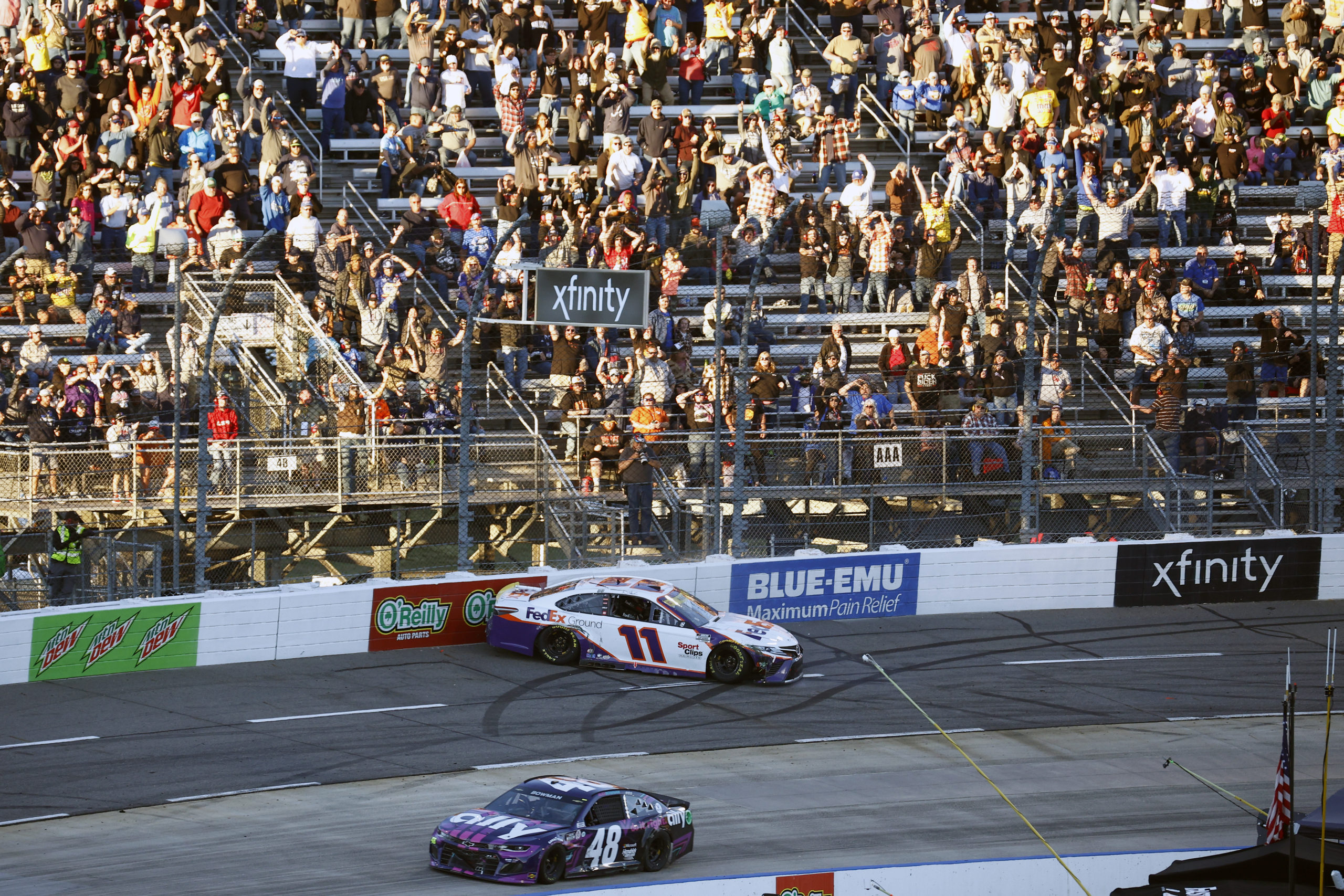 Alex Bowman Takes Home the Clock as Chaos Unfolds at Martinsville
RIDGEWAY, Va. – 500 laps at Martinsville Speedway gave a season's worth of drama yet again. While non-contender Alex Bowman walks away with the victory, all attention was on the Playoff cut line battle. By virtue of winning both Stages, Chase Elliott locked up his Championship 4 spot early. After the checkers, both Denny Hamlin and Martin Truex, Jr. also made it in by the slimmest of margins.
The first 350 laps were relatively clean and green, as Elliott paced the field for 289 circuits. However, mixed pit strategy set the 9 back late in the going. After starting in the rear and incurring an early speeding penalty, Denny Hamlin took command for the first time on lap 389, and the closing laps were indeed a battle between the 11 and the 19 of Truex.
A late tire rub put Truex's Playoff future in doubt, as he was trying to fend off the points battle from both Brad Keselowski and Kyle Busch. The 2 and the 18 were both fighting and digging for every position, as Keselowski got loose under Elliott at one point, sending the 9 spinning.
After being sent into the wall late, all hope appeared lost for the 19. Especially with Keselowski and Busch fighting among the top five, Truex's championship hopes seemed to vanish.
After stalking the 11 down on a late restart, Alex Bowman made contact with Hamlin in turn three. As a result, Hamlin went spinning and finished 24th. Meanwhile, Bowman would hold on to win. Hamlin voiced his displeasure with driver 48 though, hitting him during his victory celebration and also calling him "just a hack."
By virtue of finishing fourth, Martin Truex, Jr. had just enough points to be ahead of Kyle Busch, who was second to the 48. Keselowski would also miss the final cut by eight points, as the 2 took the checkers in third. Despite the poor finish, Hamlin did have enough points to make the Championship 4 by just eight markers.
Bowman's Winning Reaction
"I got in too deep, knocked him out of the way, and literally let him have the lead back," Bowman explained. "For anybody that wants to think I was trying to crash him, that obviously wasn't the case considering I literally gave up the lead at Martinsville to give it back to him. He's been on the other side of that, he's crashed guys here for wins. I hate doing it, obviously I don't want to crash somebody. I just got in, got loose underneath him and spun him out. Regardless, we get a pretty grandfather clock, it's pretty special. I struggled here for a long time. Obviously hate we wrecked the 11, but how about that for Chevrolet, Ally and everyone on this 48 team? 48 car's won here a bunch, cool to do it again."
Despite being eliminated previously in the Round of 12, Alex Bowman pulled off his fourth victory of 2021. Coming into this season, the Arizona driver only had two career wins, and now he has six checkered flags.
Eliminated from the Playoffs after Martinsville were Keselowski, Busch, Ryan Blaney, and Joey Logano. The 2021 Championship 4 features a pair of drivers from both Team Hendrick and Joe Gibbs Racing, as all three Penske Fords were eliminated.
How to Watch the Championship Race
Larson, Elliott, Hamlin, or Truex will be crowned 2021 NASCAR champion next week at Phoenix Raceway. The Cup Series Championship is Sunday at 3:00 p.m. ET on NBC, MRN, and SiriusXM NASCAR Radio Channel 90. Any of these four drivers are deserving to raise the Bill France Cup as champion, who will get it done on the biggest stage?
Written by Peter Stratta
Be sure to follow us on Twitter
Be sure to follow the writer on Twitter
Photo by Jared C. Tilton/Getty Images for NASCAR