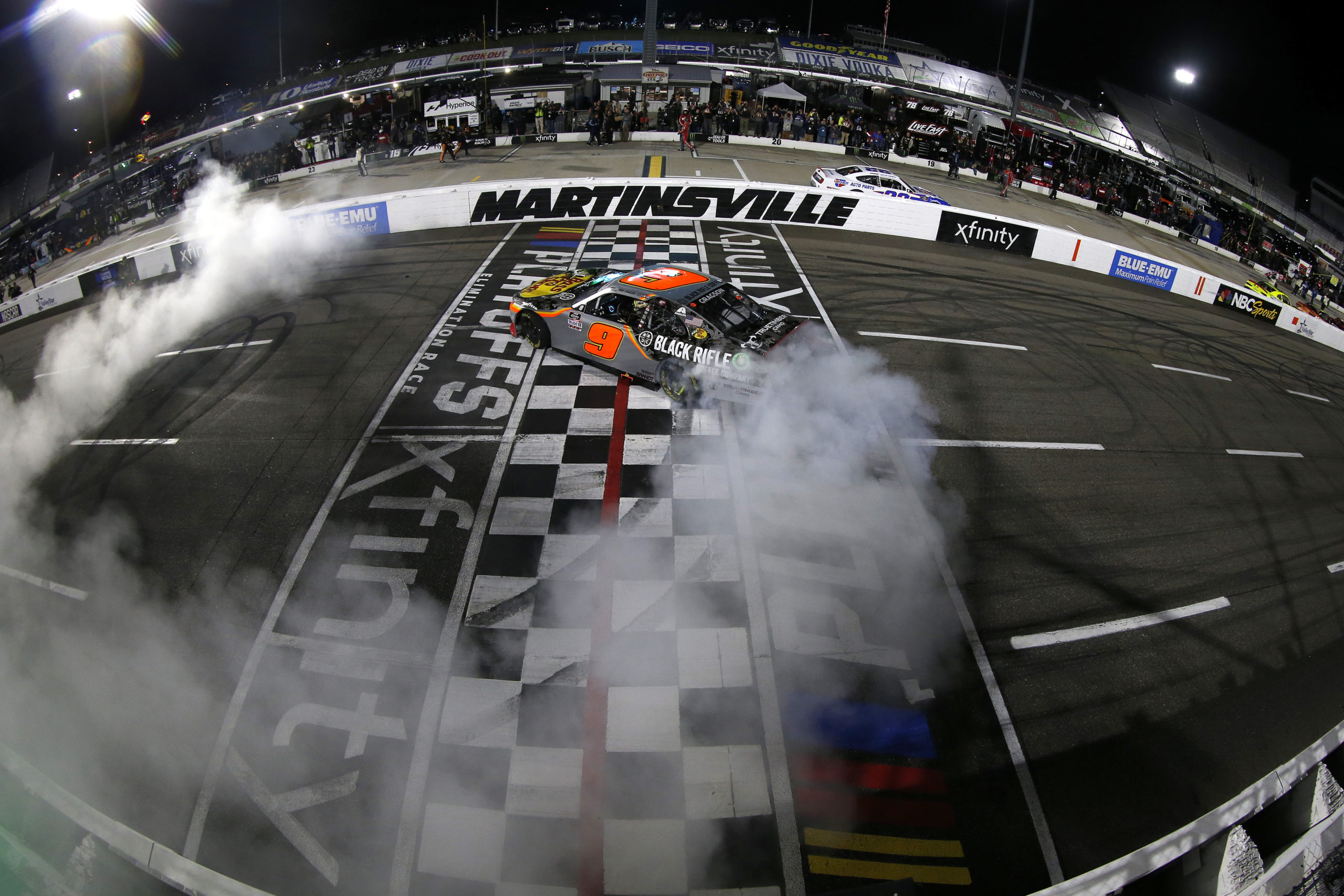 Noah Gragson Capitalizes in Must-Win Scenario at Martinsville, Joins Xfinity Title Fight
RIDGEWAY, Va. – It took a double-overtime finish, but it was Noah Gragson's time to rise to the occasion at Martinsville. Coming into the Round of 8 finale facing a must-win to move on, the Bass Pro Shops No. 9 led a race-high 145 laps en route to win three of 2021. Gragson joins Austin Cindric, AJ Allmendinger, and Daniel Hemric in the 2021 Xfinity Series Championship 4.
After Daniel Hemric got by Gragson under green with less than 20 to go, a series of late cautions shook things up. Justin Haley spinning late set the stage for a no holds barred restart. On the jump, the 9 got just ahead of the 18. Another incident triggered a second Overtime finish, where Gragson held off Austin Cindric by half a car length. Winning for the third time this season, Gragson now is a part of the Championship 4.
"This team, this team, man I want to cry right now," Gragson said overwhelmed with emotions post-race. "t's been a rough, rough season. We got a couple wins there, at Darlington and Richmond, but it wasn't looking good after last weekend. I was pretty fired up. I told my guys that we got an opportunity, we're still in it. Just such an awesome opportunity, second win here at Martinsville, get to take home a clock. This team is unbelievable. Overall just an awesome day. This is Martinsville baby!! We're going to the final 4 baby!!"
Eliminated from Playoff contention after Martinsville were Justin Allgaier, Brandon Jones, Harrison Burton, and Justin Haley. Both Burton and Jones also faced must-win scenarios, and Justin Haley's day was plagued with failing brakes.
Where to Watch the Championship Race
The race for the 2021 Xfinity Series championship heads to Phoenix Raceway. The champion will be crowned on Saturday, November 6th at 8:30 p.m. ET on NBCSN, MRN, and SiriusXM NASCAR Radio Channel 90. Gragson led at the white flag last year as a non-contender, who will walk away as the desert winner Saturday?
Written by Peter Stratta
Be sure to follow us on Twitter
Be sure to follow the writer on Twitter
Photo by Brian Lawdermilk/Getty Images for NASCAR