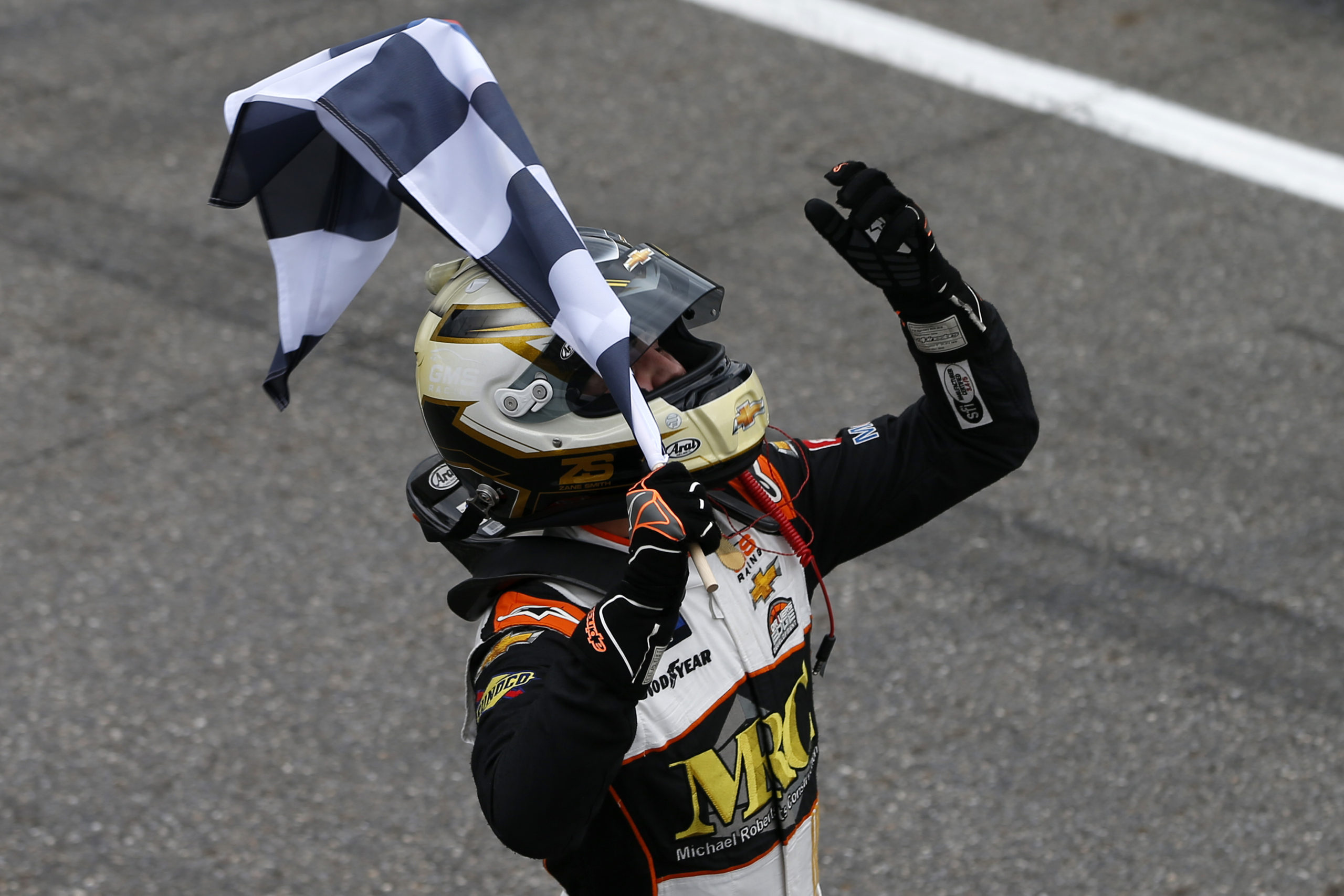 Zane Smith Advances to Championship 4 in Must-Win Situation
RIDGEWAY, Va. – Zane Smith has punched his ticket to the Camping World Truck Series Championship 4 with a win at Martinsville Speedway. Smith, 22, was in a must-win situation (-40) heading into this race and got the job done for his GMS Racing No. 21 team. This marks Smith's first victory of 2021, sending him back to the championship-finale for the second-straight year.
The other Truck Series drivers who will move on to fight for a championship in Phoenix are Matt Crafton, Ben Rhodes, and John Hunter Nemechek.
A late race restart lined Smith up in the second row on the inside for the first attempt at NASCAR Overtime. Smith quickly took advantage of the spot by bumping the leader, Todd Gilliland, and moving his nose to the inside of the No. 38. Meanwhile, on the high side another Playoff competitor, Stewart Friesen, hung tight to Gilliland.
The trio went three-wide down the backstretch and into turn three, but a bump to the No. 38 from Friesen caused Gilliland to lose control and spin. Trucks behind piled in and Zane Smith came away in front taking the white flag. The caution came out with the track blocked, giving Smith the victory.
"Man, I did not want Todd in front of me," Smith said after climbing from his truck. "He's a good buddy of mine. Honestly, I got shoved from behind by the No. 16, I pissed him off earlier in the race so that wasn't all me. Man, such hard racing…I'm looking for a job right now. I have nothing. It's a good day."
When asked about once again racing for the Camping World Truck Series championship, Smith said this: "I'll do whatever it takes to win the damn thing."
Drivers eliminated from Playoff contention today include Stewart Friesen, Carson Hocevar, Chandler Smith, and defending champion Sheldon Creed.
Where to Watch Final Race:
The race for the Camping World Truck Series title heads to Phoenix Raceway, where a champion will be crowned on November 5th at 8:00 p.m. ET. The race will air on FS1 and can be heard on MRN and SiriusXM NASCAR Radio Channel 90.
Written by Noah Lewis
Be sure to follow us on Twitter.
Be sure to follow the writer on Twitter.
Photo credit to Photo by Brian Lawdermilk/Getty Images via NASCARMedia.