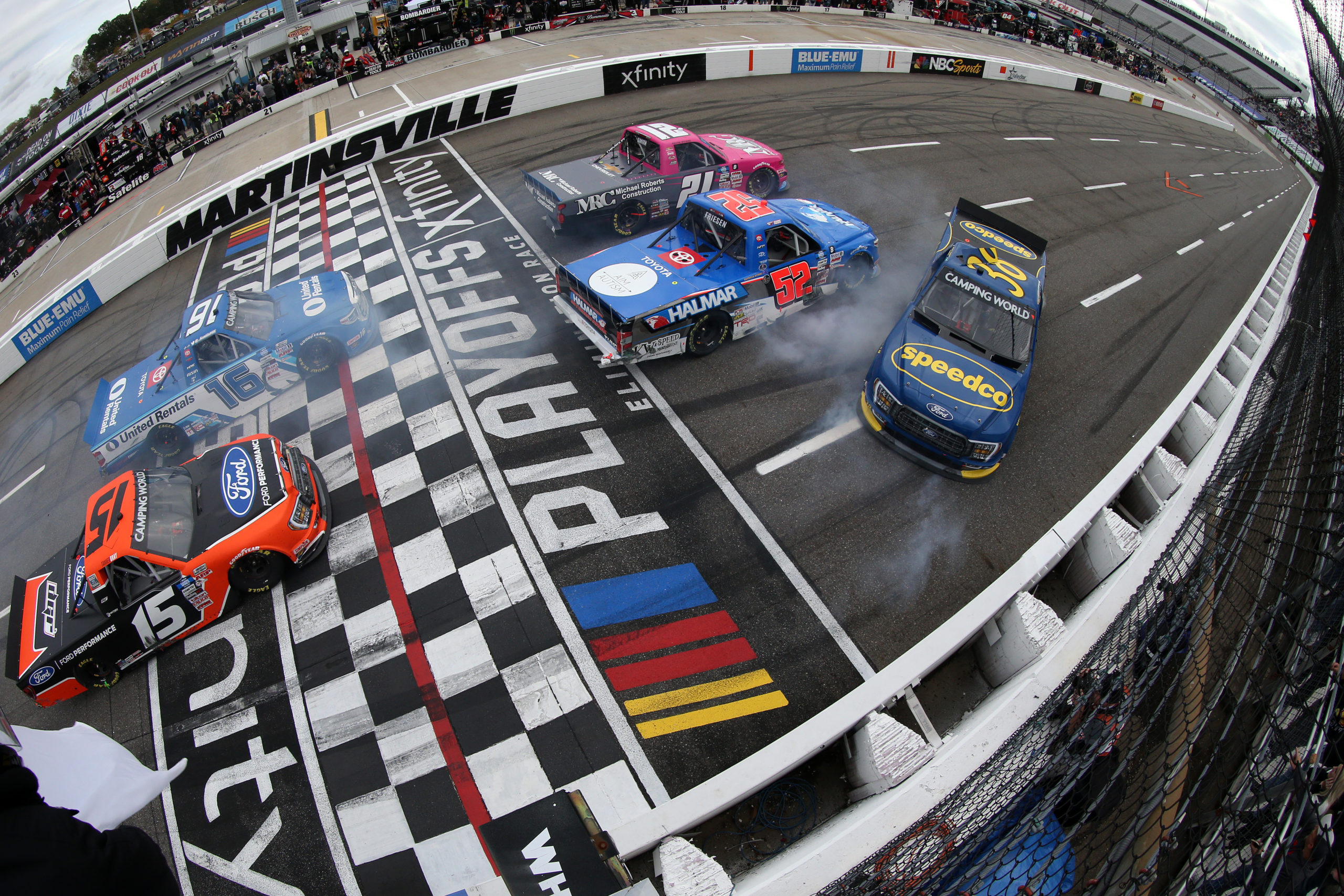 Truck Series Driver's Have Strong Comments on Over-Aggressive Driving at Martinsville
RIDGEWAY, Va. – NASCAR Camping World Truck Series drivers were unhappy with the over-aggression on track at Martinsville Speedway. In years prior, this has been a reoccurring comment, especially among drivers who have a long history with the series. After today's overtime finish that ended in a turn 1 pile up, even more drivers spoke out.
Matt Crafton:
Matt Crafton made his 497th Truck Series start today, finishing 5th and advancing to the Championship 4. However, throughout the race, Crafton was the most vocal on the radio about the aggressive racing. When speaking to the media post-race, those comments didn't change.
"At the end of the day, that isn't racing," Crafton said of today's wild finish. "What the 21 did to the 38 right there. The 21 don't have any respect. I mean earlier in the race, he never tried to pass me one time. All he tried to do was drive through me."
Crafton, in a later press conference, said that he wouldn't wreck a driver for the championship in Phoenix. He added, "If I do get wrecked for a championship, there's a gate and we'll go out and settle it there."
Ben Rhodes:
Ben Rhodes also advances to the Championship 4 after a 7th place finish at Martinsville. Rhodes said he spent the entire race just avoiding wrecks and making sure he didn't get into a "pissing match" with anyone on track.
"I mean there's a lack," Ben said when asked about the on-track lack of respect. "But, what do you do when you keep re-racking the field over-and-over for cautions. So I mean, it's just like it snowballs. Everyone knows when you go on these restarts, you gotta get it where you can and we turn into bumper cars. I guess I don't really have a comment on that because I actively tried not to participate in any of it."
Sheldon Creed:
Defending NASCAR Truck Series champion Sheldon Creed just fell short of advancing with teammate Zane Smith's victory. Creed finished the day 9th but was at times a victim of some tempers on track.
"It's just frustrating when you race like that and just get punted out of the way," Creed said post-race. "Not that I haven't done that. I've done that in situations but when you're in that circumstance and you're the one that gets the bad end of the deal, then here the 52 wrecks the 38 for the 21 to get the win. Which congrats to my teammate, but frustrating."
Stewart Friesen:
Stewart Friesen finished the race 17th after exiting turn 4 with a shot at victory. His result today, paired with the 21's win, knocked the 52 truck out of the Playoffs.
"I think it's getting worse and worse every short track that we go to," Friesen said about today's racing. "It's just bump and grind. I tried to hold my own on the top and ended up hooking the 38, wasn't trying to do that, was just trying to lean back a little bit and wrecked everybody there. It just sucks."
Friesen continued to comment on how drivers feel comfortable with these moves because NASCAR doesn't penalize for them.
"I mean it's a lack of reprimand from the top, down," Friesen continued. "I spoke to the Series director about that months ago. I mean, until you run into someone, spin them out and then get put back for it, it's another tool in your bag. It's how it is. If you dump a guy in the last lap and you win the race, you win the race. They don't put you back for it…It sucks. It's not fun."
Where to Watch the Next Truck Series Race:
Other drivers, including John Hunter Nemechek, also felt they were raced with no respect at times. Now, Nemechek needs to move on from today's poor result and focus ahead to the Championship race at Phoenix Raceway.
The race for the Camping World Truck Series title will be on November 5th at 8:00 p.m. ET. Coverage air's on FS1 and can be heard on MRN and SiriusXM NASCAR Radio Channel 90.
Written by Noah Lewis
Be sure to follow us on Twitter.
Be sure to follow the writer on Twitter.
Photo credit to Photo by Brian Lawdermilk/Getty Images via NASCARMedia.