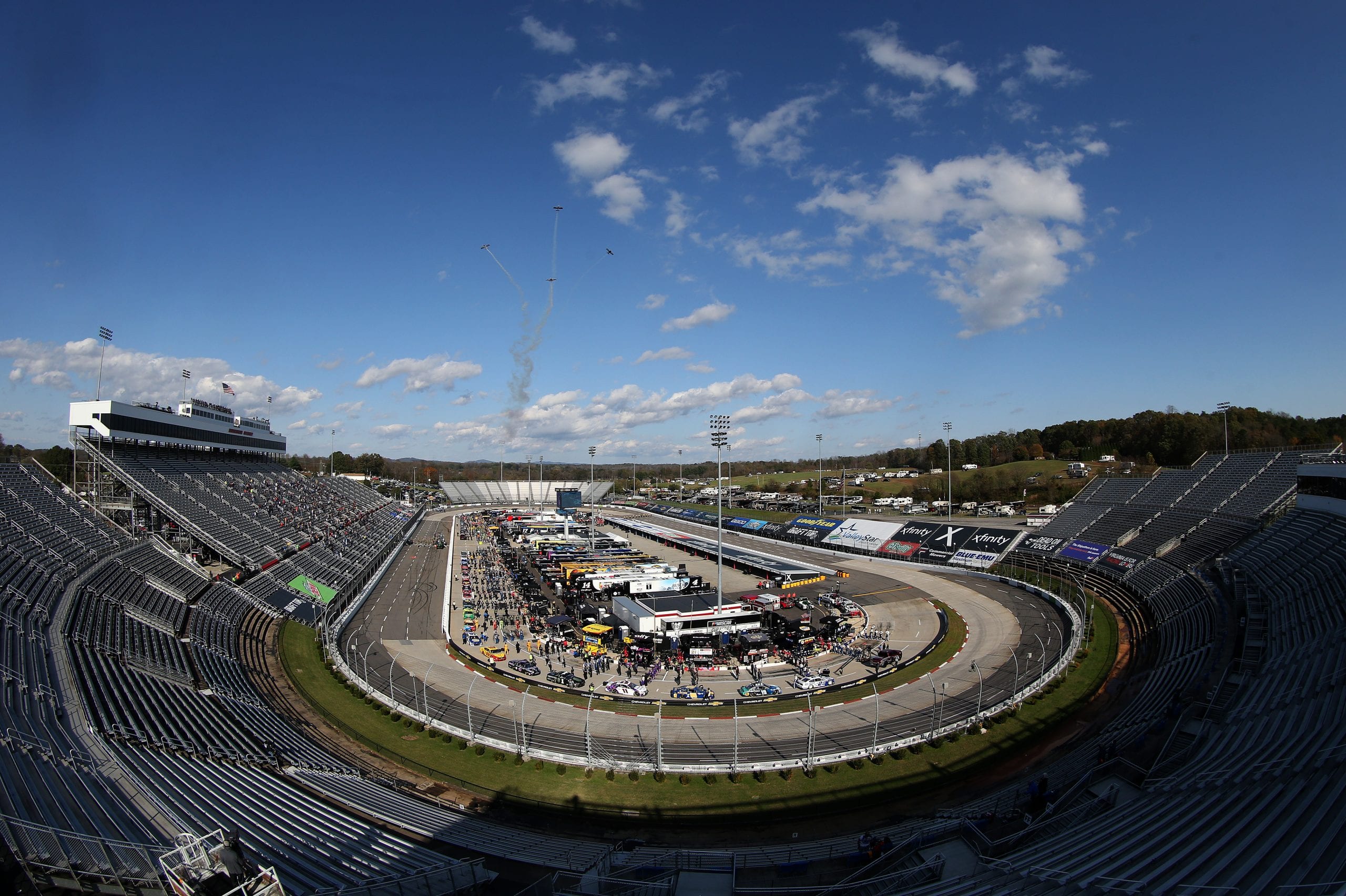 Which Playoff Driver Locks Up a Championship 4 Spot with a Martinsville Win?
RIDGEWAY, Va. – 500 laps at Martinsville hold seven driver's Playoff fates in the balance. Three drivers will join Kyle Larson in the Championship 4 at Phoenix Raceway for next week's finale. The half-mile in Virginia and its unpredictability for the three remaining teams will be can't-miss action. Time will run out for four drivers, as their clocks will strike midnight while one other will take home a grandfather clock trophy. Who can lock up a huge momentum-building win in the wake of Championship week?
Denny Hamlin
Perhaps the best active driver at Martinsville is hometown hero Denny Hamlin. Driver 11 has five wins at the half-mile, most recently in 2015 though. In April's Martinsville race however, Hamlin led 276 laps before fading late to third. At 32 points above the cut line, Hamlin must balance finishing well with also being aggressive for the victory.
"I'm confident in our chances at Martinsville," Hamlin said. "We've been very strong at these types of racetracks. I'll think we'll have a really good FedEx Toyota when we go there. We want to battle for a win. Because if we're in the battle for a win, we'll be fine no matter where we finish. I think we should be OK. But, of course, you just never know what can happen. I just need to make sure I get some stage points and don't give it away early, and I think we'll be alright to advance."
The FedEx Toyota will start third at Martinsville, going for a third victory in 2021. With Kyle Larson's past struggles at Martinsville, it may just be Hamlin's time to shine in the Round of 8.
Martin Truex, Jr.
Just beating Hamlin late in April at Martinsville was the 19 of Martin Truex, Jr. With three of the last four Martinsville victories, the 19 is a heavy favorite once again. In April, MTJ only led 20 laps to outduel Hamlin for the victory. How does he feel about returning to the paperclip?
"I feel good about it," Truex said. "We're going to have a good starting position and good pit selection. That place has been good to us. So if we can run up front and win a couple stages and battle for the win, I think we'll be able to get ourselves in. We'll wait and see how it goes; you never know how these things are going to play out."
"I expect it to be pretty similar [to April]. We'll just wait and see how it plays out. Martinsville is funny because it can change 10 or 15 degrees, or the start time of the race can be a little different and you can find yourself being a little off. It's a funny, quirky little place, but we have a lot of confidence. It's been good to us over the past few seasons. Hopefully, we can go there and get the job done."
Truex will roll off fourth in his quest for a fourth grandfather clock, and another Championship 4 appearance. With such prime track position to start, the 19 may be tough to beat. Only being three points out of the top four, Truex is easily within striking distance.
Brad Keselowski
The Penske 2 crew with Brad Keselowski can never be counted out of the list of Martinsville contenders. Keselowski has two spring victories at Martinsville, as well as a top 10 in 12 of the last 13 trips here. Only furthering his Martinsville prowess, Keselowski has five top-fives in the last six races. Keselowski has been fighting and clawing his way up the standings for the entire Round of 8. The 2 enters elimination weekend just six points shy of a transfer spot. However, don't expect the slim points deficit to change how Keselowski attacks this weekend.
"I think, for me, it doesn't affect my mentality," Keselowski said. "If you compare it to last year, we had a great race at Martinsville. We scored stage points, a lot of stage points, ended the race I think fourth or fifth and under that scenario. I don't know how many points we scored, but it was probably upper forties. That would probably be enough for this weekend. So if we can just repeat that, we'd be in a good spot."
Keselowski's Martinsville History
"I made my first-ever NASCAR start there in the Truck Series. It didn't go very well and I learned so much from it and it's been a great track for me ever since then.  I've had some tough breaks. One year we blew a tire and this past year we lost power-steering and had a mechanical failure and then got caught up in a wreck because I didn't have any steering, so that was not a good run, but outside of that, I feel like we've ran 15 maybe 20 races there that have gone really, really well."
"It's been a great track for us. I always get excited about going there. The Team Penske group has worked very hard to bring great cars for that track over the last half-dozen years and I think it shows. We've put up some great numbers, so I'm excited about it and feel like we've got a great opportunity."
Starting sixth, the 2 could play upset to some of his faster foes who are more favored for Sunday's win. A Keselowski Martinsville win would certainly be spooky for the Playoff picture, as it would upend the standings.
Kyle Busch
For Kyle Busch, Martinsville is one of his most consistent venues on the circuit. The 18 team has two victories and 10 top-10s in the last 12 races on the half-mile. After a tough day at Kansas, Busch enters Martinsville amazingly on the right side of the cut line, by just one point.
"I was expecting much worse with how our race went at Kansas," Busch said. "We still have a decent shot, but it's just going to be tough. Just going to be a hard-fought fight for that final spot with our M&M'S Halloween Camry. You don't necessarily have to win, but certainly we are going to have to work hard to get up front and stay up there. Get as many stage points as possible and see where things shake out. Whether we can get a top-five or even a win, we'll see."
Keys to Taking Home the Grandfather Clock
"It's a tough racetrack and, any time you come in the pits and make an adjustment on your car, you certainly hope it goes the right way, or you make enough of it, or you don't make too much of an adjustment. The last run can be tricky, too, because you can be coming off a 50-lap run on right-side tires and take four and you've only got 30 (laps) to go, or you could have 80 to go and you know you have to manage that run all the way to the end."
"Typically, you are off the throttle more than you are on the throttle at Martinsville. So your time is lost or made when you are off the gas. That lends itself to guys dive-bombing and making moves and being light on the brake and running into the back of guys, or rooting them out of the bottom and getting them shuffled back. The more that track becomes a bottom feeder-type racetrack and you can go and get a guy shuffled out, there's no worry to you because he can't get back in line. If he goes back five spots, then you have that cushion again. There are all kinds of different ways Martinsville has always put on really good and exciting racing."
The M&M'S Halloween Toyota of Busch will take Martinsville's green flag from seventh. The 18 can never truly be counted out at Martinsville, as Busch is an especially stout short track talent.
Chase Elliott
The defending winner of the Xfinity 500, Chase Elliott is incredibly underrated at Martinsville. 2020 may have been his first win at the Virginia track, but it was far from his first chance at the grandfather clock. In 12 career Martinsville starts, Elliott has seven top-10s, including six of the last seven races. Much like Hamlin, Elliott has a bit of a points cushion entering the elimination weekend, but feels anything but safe.
"I don't know if it allows you to do much of anything now," Elliott said. "After what we saw in Kansas, I am not really sure that any amount of points is safe. I really think anyone in this round can win this weekend. So, we are really going to have to be on it, but I'm looking forward to the opportunity and excited for the challenge."
9 Team Thrives in Do-or-Die Situations
"As a group, we've done a better job at just enjoying those moments. And I feel like I've done a better job of enjoying them and performing in those situations. It's really become exciting for me and our team, which is a great thing. Hopefully, we can lock in one of the first two weeks or at least have some really good runs as far as points. If it comes down to it, we'll embrace it and enjoy that moment and try to move on."
Trying to defend his title once again at Phoenix, the 9 of Elliott will start second at Martinsville. Winning this race a year ago propelled the Hendrick team to taking the title with the Phoenix victory. If Elliott is in position late, expect the 9 to do whatever it takes to join his teammate in the finale.
The last chance for anyone to make Phoenix is sure to be chaos. Be sure to not miss a moment of Sunday's 500-lap thriller, as the eventual champion may arise from Martinsville. Coverage of the Xfinity 500 kicks off Sunday at 2:00 p.m. ET on NBC, MRN, and SiriusXM NASCAR Radio Channel 90. In recent years, the fall Martinsville race has given us some classic moments, don't expect that to change this time.
Written by Peter Stratta
Be sure to follow us on Twitter
Be sure to follow the writer on Twitter
Photo by Brian Lawdermilk/Getty Images for NASCAR