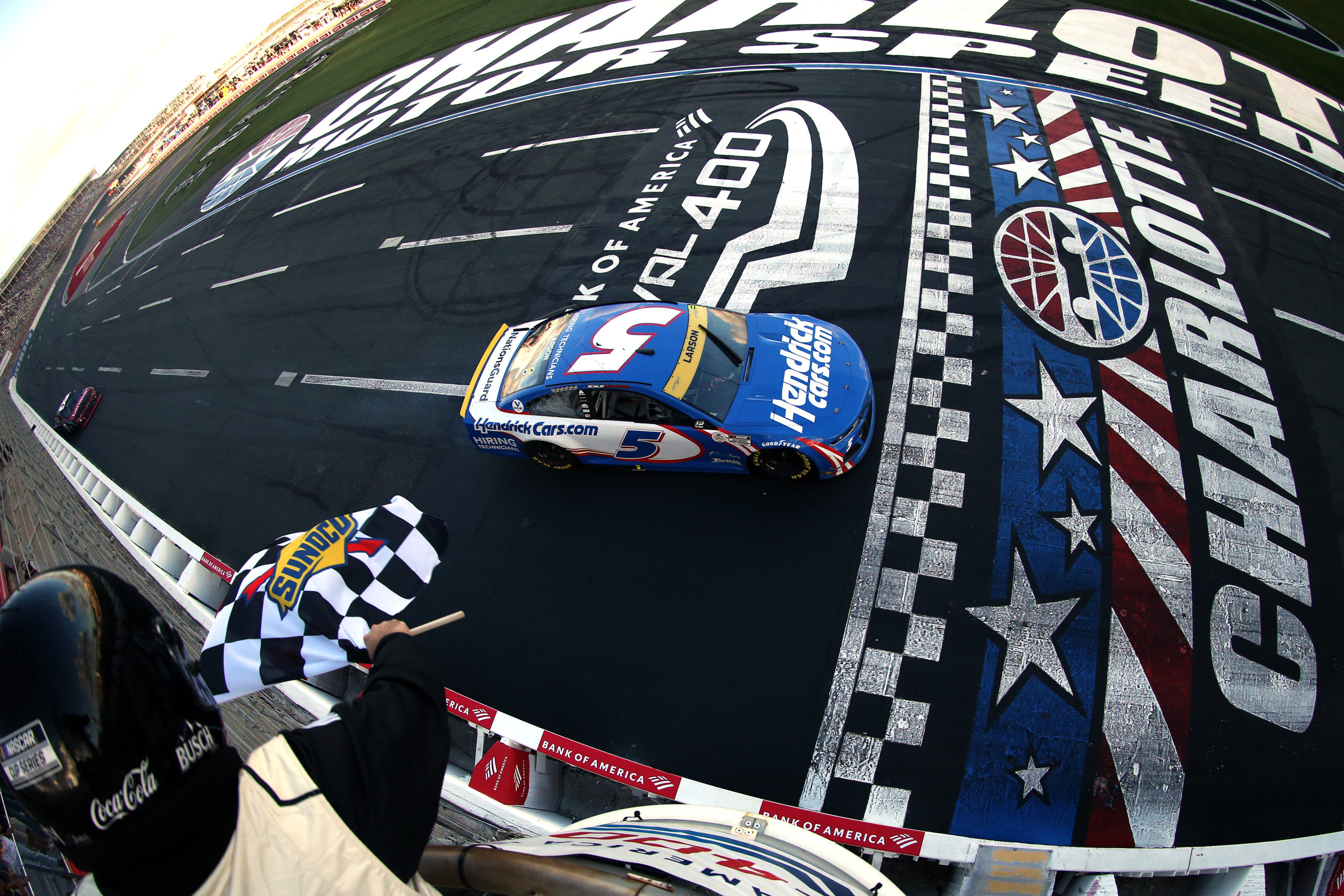 Kyle Larson Earns Seventh Victory of 2021 at Charlotte Roval, 4 Others Eliminated
CONCORD, N.C. – The fourth running of the Bank of America Roval 400 from Charlotte was a very up-and-down day for Hendrick Motorsports. While half of their four contenders were eliminated, Kyle Larson picked up win number seven on 2021. This win was far from an easy Sunday drive for the 5 though, as he battled back from early mechanical woes.
Behind Larson, his three other teammates were all involved in some controversy throughout Sunday's race. The Roval also marks the end of the championship fight for Harvick, Byron, Bowman, and Bell.
Elliott Teaser in Stage 1
After starting eighth, Chase Elliott found himself in position to capitalize late in Stage 1. The 9 got by the 16 of AJ Allmendinger on the last lap to take the Stage win, earning valuable points. Going for a Roval three-peat, Elliott looked as stout as ever after just one Stage.
Hendrick's Stage 2 Struggles
Kyle Busch would lead the entirety of Stage 2, but major drama unfolded behind the 18. Hendrick teammates Alex Bowman and Kyle Larson would both suffer electrical issues, forcing long pit stops for repair. Larson's 5 team would have to replace a missing alternator belt, as Bowman's crew also changed batteries. Despite these setbacks, both the 5 and 48 would recover to finish Stage 2 in the top 10.
After strategy gave him the lead for the restart, William Byron took off for the final Stage. Byron, in a must-win scenario for Playoff advancement, was putting together the laps of his life in the 24 car. Byron's seemingly perfect strategy would only unfold after some untimely late yellows.
Harvick's Temper Flares
While racing through turn seven, Chase Elliott went for a spin after contact from Kevin Harvick. This was an act of retribution for Elliott costing Harvick the win at Bristol last round. While Elliott had major rear end damage, the 9 would weather the storm and try to ward off elimination.
Elliott and the 9 team did their due diligence and went to work on repairing their Chevrolet. After their rear bumper fell off, Elliott began to pick off positions on the restart. Elliott would eventually rally to finish 12th. Pitting under the debris caution from Elliott would be Byron, while Denny Hamlin and others opted to remain on track.
Hamlin would hold serve out front for many laps, appearing to be in position for a third win of 2021. Even after tight racing with Kyle Larson, the 11 still had the lead. Hamlin's race only got away on the final restart.
The last caution of the day was the end of the Playoffs for one past champion. Kevin Harvick overcooked turn one, locking up his front tires and nosing hard into the inside wall. After spinning Elliott earlier, Harvick would take himself out. Oddly enough, Elliott was just behind the 4 when he wrecked, as the 9 eyed vengeance. After exiting the car and not finishing, Harvick would not advance past the Round of 12.
The final restart was a great jump for Larson over Hamlin, which decided the win. Hamlin fell back after getting shoved off track in turn 17, giving the second spot to Tyler Reddick. Meanwhile, Larson was long gone, and held on for his seventh victory of 2021.
Eliminated from Playoff contention after the Roval were Harvick, plus the three who had to win: Byron, Bowman, and Bell.
Larson's Winning Reaction
"I'm not going to get knocked out of the Playoffs like this," Larson said of his mechanical issues earlier. "It wasn't looking too good, but thankfully everyone on our 5 car did a great job of staying calm. Cliff (Daniels, crew chief) has always done a great job of communicating with me about what was going on and getting everything changed, the battery and alternator.
"William was obviously really good, so it's a bummer to not see that work out for him. Looks like the 9 made it, that was some great perseverance from that team too. Just an awesome day for Hendrick Motorsports, glad to get another win, looking forward to the next round a lot.
"I knew I was going to have some sketchy moments. Just had to pick my way through traffic, staying calm and having some good restarts there at the end. Was able to use my tire advantage to squeeze under Denny and run him out of real estate there."
Top 10 from the Roval
Behind Larson, non-Playoff drivers Tyler Reddick and Chris Buescher both earned podium results. Teammates Kyle Busch and Denny Hamlin also rounded out the top five. Matt DiBenedetto, Joey Logano, Christopher Bell, Ryan Blaney, and Alex Bowman rounded out the top 10.
Playoff Standings Reset
The Playoffs now realign for the Round of 8, as only four races remain in the 2021 season. A seventh win on the year gives Larson a 35-point advantage over second-place Denny Hamlin. The pivotal fourth seed is Ryan Blaney, only one point ahead of Kyle Busch.
What's Next in Cup
The Round of 8 kicks off next week at Texas Motor Speedway. The Autotrader Echo Park Automotive 500 can be one driver's ticket to the championship race, who will stand tall as a Lone Star winner? Coverage begins Sunday, October 17 at 2:00 p.m. ET on NBC, PRN, and SiriusXM NASCAR Radio Channel 90. Larson won the All-Star Race at Texas in June, can the 5 take another Texas checkered flag?
Written by Peter Stratta
Be sure to follow us on Twitter
Be sure to follow the writer on Twitter
Photo by Brian Lawdermilk/Getty Images for NASCAR