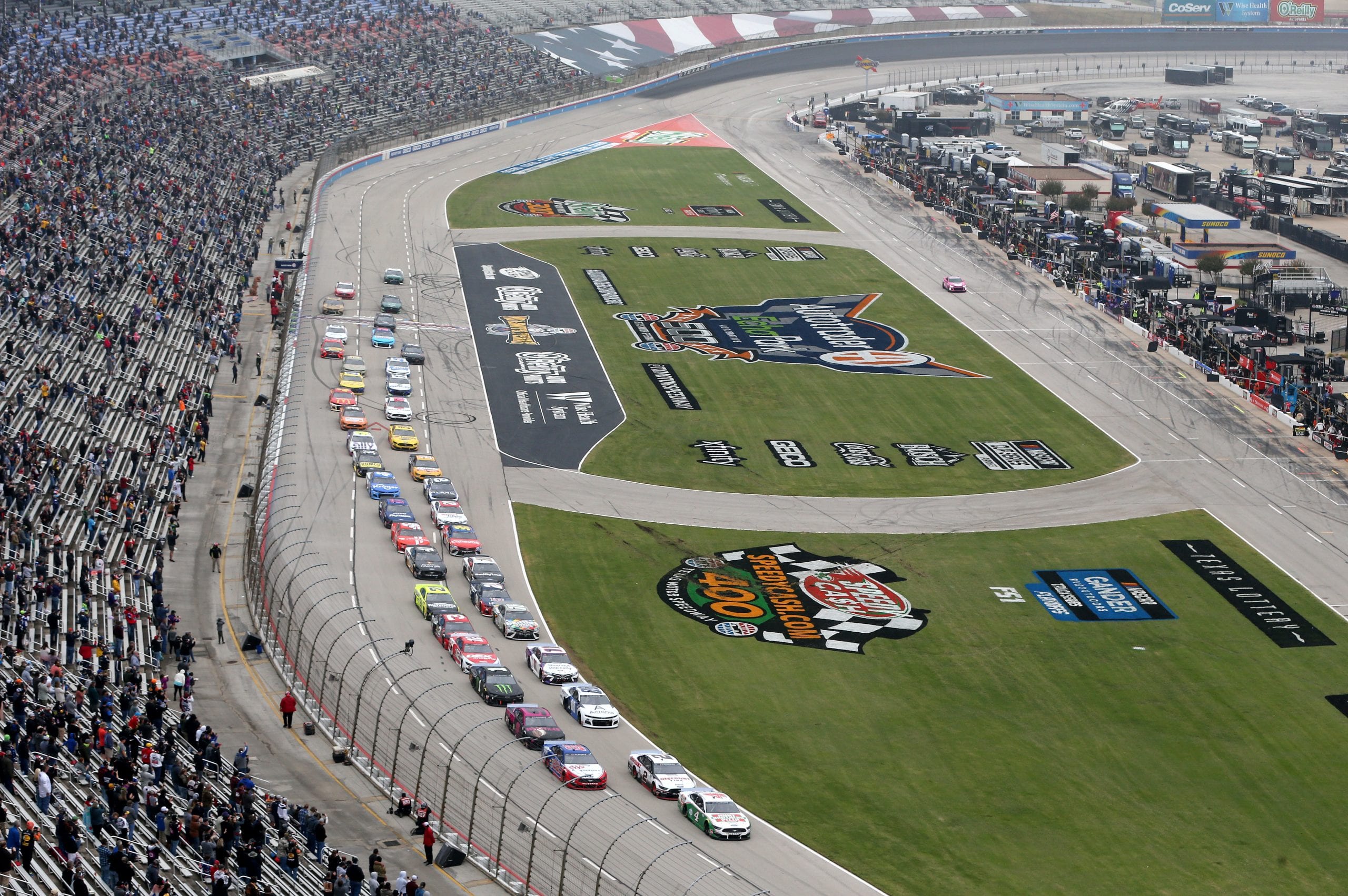 Which NASCAR Playoff Driver Can Lock up Championship Finale Berth in Texas?
FORT WORTH, Texas – It's just now getting to crunch time in the NASCAR Playoffs, as the Round of 8 begins at Texas Motor Speedway. In the final 500-mile race of the season, who can lock up a spot in the championship finale? A Texas win for any of the eight remaining contenders is an automatic ticket to Phoenix. The Texas All-Star Race in June went to points leader Kyle Larson. Can the 5 keep his momentum alive and sweep 2021 in the Lone Star State?
Kyle Larson
Coming off a seventh win of 2021 at the Roval, how likely is Kyle Larson to go back-to-back at Texas? Driver 5 won the All-Star Race here in June, but that event did feature a different rules package. Horsepower aside, Larson and the Hendrick 5 have been the team to beat all year long on intermediate tracks. With a 35-point gap over the field, Larson is sitting very pretty heading into Texas.
"We've been good on the intermediate tracks this year and we have two to start this round," Larson said. "We weren't as good as I would have liked at Texas, but we were able to get the victory in the All-Star Race. And we led a lot of laps at Kansas, so we are looking forward to getting back there. We ran top five at Martinsville, and that is a track where I don't have much success but feel positive about it because of how we ran there in the spring."
Larson will be racing for the Texas sweep, back-to-back wins, and also an eighth victory of 2021. The 5 will start from the pole Sunday, as energy in their camp is as high as ever heading into the Round of 8.
Denny Hamlin
Three-time Texas winner Denny Hamlin could upset the Hendrick favorites this weekend. Hamlin won the most recent intermediate race at Las Vegas, and was most recently in Texas victory lane in 2019. Hamlin is arguably the championship favorite right alongside Larson, so how should he feel about Texas? The 11 team has shown very impressive speed on all tracks of late. As a result, Hamlin should be a heavy contender for Sunday's victory.
Denny Hamlin will start alongside Larson in second, as the top two in points will both occupy the front row. Hamlin is no stranger to success in 500 mile races, can Texas deliver Denny back to the Championship 4?
Ryan Blaney
Just barely cracking the top four in standings, Ryan Blaney has done everything but win at Texas. Six of the last seven Texas races have seen Blaney finish in the top 10, including a runner-up in 2018. During this span, driver 12 has also led 255 laps at Texas, including 150 in June 2020. Blaney may be Penske's best shot at upsetting with a Championship 4 appearance, and does head into Texas confident.
"I think we've run pretty good at all three of them," Blaney said of the Round of 8 tracks. "We may have a shot to win each week, but I've been close at all three of those places." Ryan Blaney will start fourth in Texas, keep an eye out on the 12 to perhaps be the fastest Ford in Fort Worth.
Kyle Busch
Texas a year ago was the one bright spot of 2020 for Kyle Busch, as he upset with the win as a non-Playoff driver. This was Busch's fourth career Texas victory, the most of all active drivers. As the most recent points-paying Texas winner, is Rowdy more comfortable heading to a familiar track?
"Yes and no," Busch said. "You look at last year, we did what we needed to do to save fuel and win the race, so not sure it really translates from that one race. But, we've won at Texas four times and feel like it's a really good place for us. The biggest part of a lot of Texas races is having Interstate Batteries on board for a least one race a year there, and we've gotten them a few wins at their home track over the years. Would be a really big deal to get them a win as we celebrate 30 years with them and JGR, and then also advance us to Phoenix, as well.
Texas Always Kind to KB
"It's always been a really good place for me, whether that was before the repave or after the repave. A lot of credit goes to Joe Gibbs Racing and the cars they bring there for me. We've had a lot of success at Texas over the years, whether that is in the Xfinity Series, winning five in a row as we did there, winning in the Trucks, and now we have four Cup wins there, too, after the win last fall. It's just been a really good place for me, and our team has been better with the 550 (horsepower) package this year, and hoping we can get into victory lane there this weekend with our Interstate Batteries Camry and punch our ticket to Phoenix early."
The Interstate Batteries 18 Toyota of Kyle Busch will roll off third at Texas. Busch does boast four-straight Texas top-10s, so expect to see the 18 up front again.
Chase Elliott
Entering Texas below the cut line, can Chase Elliott earn his first Fort Worth win? Texas has been a very hit-or-miss track for the 9 team, with recent finishes here of 13th, 32nd, 12th, and 20th. However, Elliott did place third in the All-Star Race at Texas earlier this year.
"Texas, obviously, has been a real tough place for us," Elliott admitted. "I feel like the good news is we had a really good run there at the All-Star Race for the first time since the repave, so that was really encouraging. Sometimes you've got to be careful about having a good run and going back because it doesn't always work out. The way that we've performed at all three of the upcoming tracks earlier in the year, I feel like we can go and have a shot to win any of them, really. I hope we can lock ourselves in and go have another shot at a championship."
Elliott will go for a second-straight Championship 4 berth after starting sixth in Texas. Elliott's last victory was Road America in July, he may just have to win one of the upcoming races to remain a true title threat.
500 miles Sunday from Texas offers one driver a 25% chance at the 2021 Cup Series championship. Coverage of the Autotrader EchoPark Automotive 500 will be Sunday on NBC, PRN, and SiriusXM NASCAR Radio Channel 90 at 2:00 p.m. ET. While Larson was lights-out in the All-Star Race, a 500-mile event in the daytime at Texas will be radically different track conditions. Who can capitalize and score the timeliest of wins in their quest for the championship?
Written by Peter Stratta
Be sure to follow us on Twitter
Be sure to follow the writer on Twitter
Photo by Brian Lawdermilk/Getty Images for NASCAR